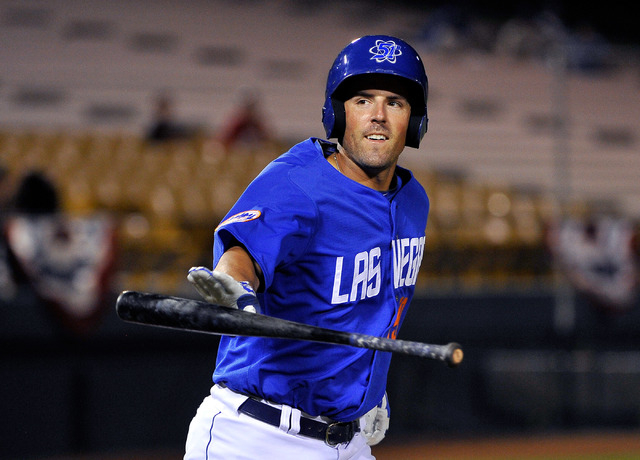 Coming out of high school, 51s third baseman Zach Lutz narrowed his college choices to Notre Dame, South Carolina and Alvernia.
Lutz chose to attend Alvernia, a small Division III school located five minutes from his family's home in Reading, Pa., where his father, Yogi Lutz, has been the baseball coach for 27 years.
"People were like, 'Why would you even think about Alvernia?' " Lutz said. "But that's where I wanted to go. I could've went to other schools, but my dad was the head coach there, and I told him since I was little, 'This is where I want to play.'
"He knows my swing better than anybody, and I just kept working hard and things worked out."
Of almost 2,000 players who appeared in the big leagues last season, Lutz was one of only nine who had played in Division III.
Improbably, when Lutz was called up by the Mets, he was reunited with New York catcher Anthony Recker, his former Alvernia teammate.
Recker was a senior at the school of 1,100 students when Lutz was a freshman.
"A lot of scouts came to see him play, and whenever they were there I always did well," Lutz said. "One thing led to another, and last year we were playing together (for the Mets). That was pretty sweet."
The 27-year-old Lutz, who hit .300 (6-for-20) in 15 games for New York, said he always has been motivated by the fact he's a Division III product.
"That's what drives me the most," he said. "Every other guy I play with here is from a big (Division I) school or something. A lot of people told me going from a Division III school to professional baseball was going to be hard, but I took that as fuel to my fire to get going.
"That's why I work hard. That's why I'm basically always the first one to the field."
Locked in during spring training, when he hit .333 with three homers and seven RBIs for the Mets, Lutz has started the season on a hot streak for Las Vegas.
He launched a grand slam in Thursday's season opener, drilled a walkoff RBI double Sunday and leads the 51s (5-1) in batting (.500, 9-for-18), RBIs (nine), runs (nine) and walks (eight).
Lutz, who has a career .388 on-base percentage, went 1-for-3 with a run and a walk in a 7-6 win over the Sacramento River Cats on Tuesday night at Cashman Field.
"Lutzy can hit," Las Vegas manager Wally Backman said. "His ticket to the big leagues is his bat, without question. He's got a lot of thunder in his bat.
"He's a determined young man, and he wants to get back to the big leagues."
After earning Division III national player of the year honors in 2007, Lutz was drafted by the Mets in the fifth round, then broke his foot in his first professional game.
It was a harbinger of things to come, as Lutz has overcome an assortment of injuries — incurring a broken hand on a line drive hit into the dugout and suffering two concussions in 2011, when he was twice hit in the head by a pitch.
"I had some freak injuries," he said. "The thing with me is whenever I would play, I would always do well. That's why I think the Mets had confidence in me that I could always swing the bat."
Lutz stayed healthy last season, when he batted .293 with 13 homers and 80 RBIs for Las Vegas.
However, as long as Mets third baseman David Wright stays healthy, Lutz's path to the majors is all but blocked in New York.
"The only thing I can do is keep coming out there and keep working hard every day," Lutz said. "Maybe something will come up one day. Until then, I've got to keep swinging the bat."
A lifelong Mets fan, along with his father, Lutz admires Wright.
"I've been around David a couple years now, and he's taught me a lot about the game," Lutz said. "He made me a better fielder last year. I'm just over there picking his brain at third base, doing whatever I can possibly do."
With Wright signed through 2020, Lutz's best chance to make the majors might be with another organization.
"You never know when you get a break," Backman said. "I've told a lot of players, 'When you play the game, you've got to play it hard and play it right, because there's 29 other teams other than the Mets watching you every day.' "
Not surprisingly, Lutz wants to stay loyal to the only organization he has played for.
"The Mets have always been there for me," he said. "They've always had my back."
Just like his father, who has compiled a 721-330-6 record at Alvernia.
"To this day, I still talk to him every single day," Lutz said. "We're always talking baseball."
Contact reporter Todd Dewey at tdewey@reviewjournal.com or 702-383-0354. Follow him on Twitter: @tdewey33.