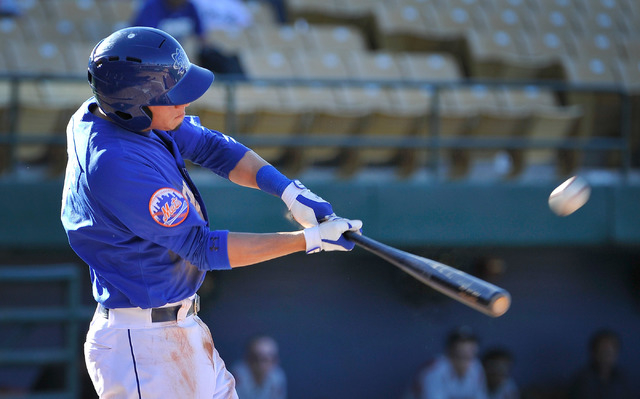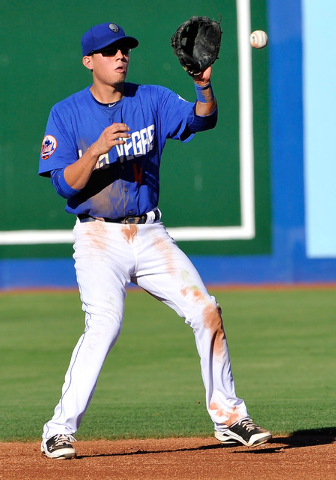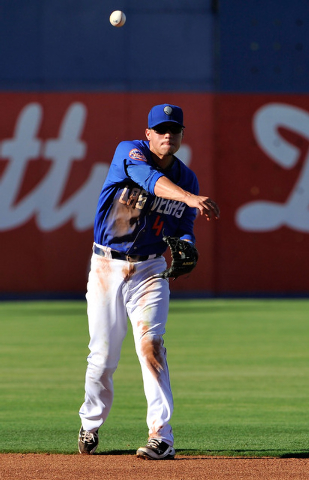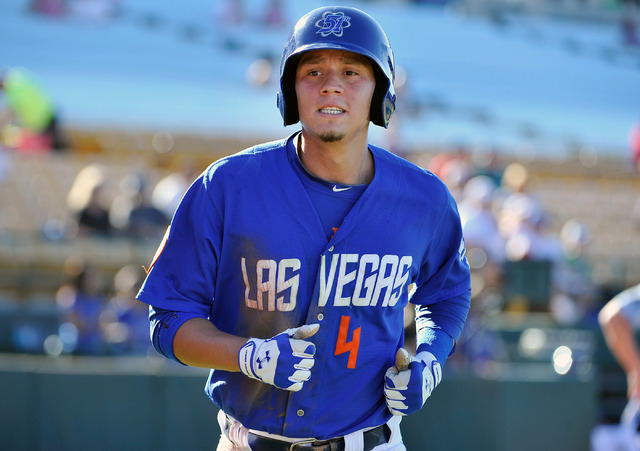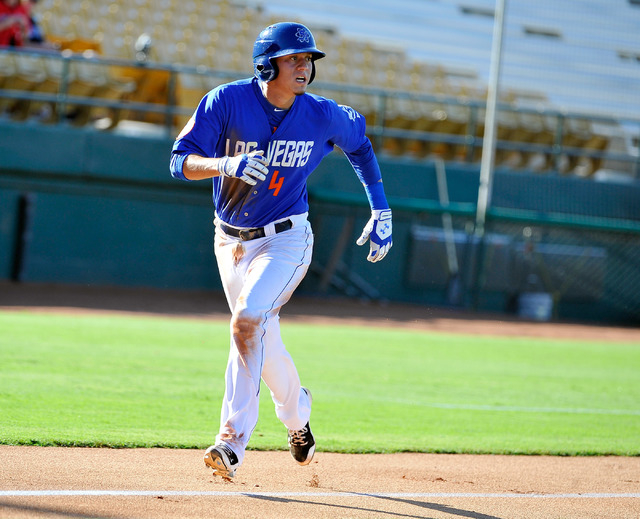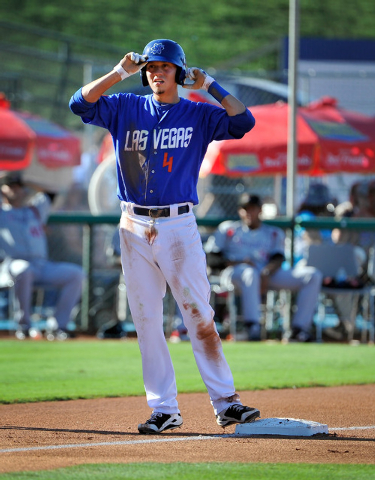 In advance of baseball's annual All-Star break, which starts Monday, 51s infielder Wilmer Flores is putting on his personal version of Home Run Derby.
The 22-year-old Venezuelan hit six homers in five games from July 3 to Sunday during a power surge not seen by a Las Vegas player since 1994, when Melvin Nieves accomplished the feat for the Stars.
The New York Mets' No. 6 prospect, according to Baseball America, Flores homered against Salt Lake at Cashman Field to start the hot streak, then went deep in four straight games at Albuquerque, N.M. He belted two homers July 4, added two more July 5 — when he homered in both games of a doubleheader — and added another long ball July 6.
Named the Pacific Coast League Player of the Week on Monday for his efforts — which produced 13 hits, 12 runs and 16 RBIs — Flores was at it again Friday night at Cashman. He launched a leadoff solo shot in the third inning — his sixth homer in five games against the Isotopes — and scored three runs to help the 51s to a 8-1 victory over Albuquerque in the first game of a doubleheader.
The blast extended Flores' season-high hitting streak to 16 games (.375, 24-for-64).
"He's on fire," 51s manager Wally Backman said.
Flores, who sat out the second game — which Las Vegas lost 5-2 — has been on a tear since the Mets demoted him June 26. His New York batting average — .225 with a grand slam and seven RBIs in 25 games — dwindled, along with his playing time, as Mets shortstop Ruben Tejada's rose.
"He wasn't getting a whole lot of playing time up there, and they felt he needed to play," Backman said. "For a kid that's that young to go to the big leagues to sit on the bench, you're not developing him. That's part of the reason they sent him back. He wasn't getting enough at-bats."
Flores, who made his big league debut for the Mets last season on Aug. 6, his 22nd birthday, struggled while seeing sporadic playing time for New York.
"It was tough. I've never been in that situation before," he said. "I had to adjust to that. And I couldn't. But we'll see what happens. I'm still young."
Flores, who is batting .322 with 12 homers and 52 RBIs in 47 games for the 51s, said playing every day has been one of the keys to his success since returning to Las Vegas.
"And I'm just swinging at the right pitches and being on time," he said. "I don't think there's anything different (I'm doing.)"
Known for his prowess at the plate, Flores — who hit a grand slam and had six RBIs in a June 2 rout of the Philadelphia Phillies — has excelled in the field for New York this season, making one throwing error in 14 games at shortstop. He's played all four infield positions for the 51s this season and made his 10th error Friday when he booted a hard-hit ground ball by Delvis Morales at second base.
But Backman said he has made strides on defense since last season.
"He played fine defensively up there, and from last year to this year, I've seen an improvement in him," he said. "Speed-wise, he's about a step faster, and he's increased his range a little bit."
Flores said he benefited from the team-supervised conditioning program he attended in Michigan last winter.
"I definitely got a step quicker," he said. "It did help a lot. You can see it in my defense at short now."
In his first season in Triple A last year, Flores hit .321 with 15 homers and 86 RBIs en route to Pacific Coast League and Topps' Triple-A All-Star honors. He added a homer and 13 RBIs for the Mets to finish with a career-high 99 RBIs, and Backman is most impressed with his knack for driving in runs.
"He's just a very good hitter with guys on base," he said. "His bat plays (in the majors). It's just that he needs to play. When he gets playing time, he's shown he can drive in runs.
"He hasn't had that opportunity in the big leagues yet, but I'm sure that opportunity will come about at some point in time. He's a young kid waiting for an opportunity. He's just a puppy still."
A career .292 hitter in the minors, Flores sounds confident that it's just a matter of getting more playing time in the majors before he starts hitting for a high average.
"I just need to play," he said. "It's still the same pitching and the same baseball. I've struggled down here, and I've struggled up there. And I've been hot up there. There's no difference.
"I'm just waiting for the opportunity."
Albuquerque's pitching staff will be grateful if he gets one.
■ NOTES — Allan Dykstra drilled a three-run triple in the opener and Kevin Plawecki hit a solo shot for the 51s (56-41), who have won six of nine.
Contact reporter Todd Dewey at tdewey@reviewjournal.com or 702-383-0354. Follow him on Twitter: @tdewey33.