Yankees selling 'No Runs DMC' shirts in honor of 3 relief pitchers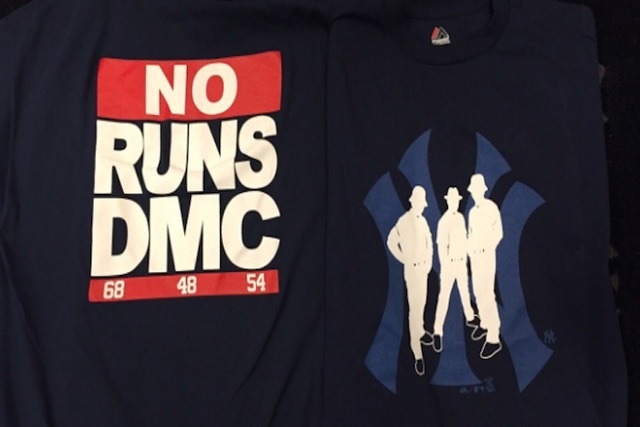 NEW YORK — The Yankees hope their relief trio of Dellin Betances, Andrew Miller and Aroldis Chapman make music at the cash registers.
Seeking to capitalize on the bullpen's success, New York put "NO RUNS DMC" T-shirts on sale for $39.99 each Thursday after reaching a licensing agreement with the former hip-hop group Run-D.M.C.
The mostly navy shirts feature the initials of the relievers — the first name of Betances and the last names of Miller and Chapman — with lettering in white and "NO" and their uniform numbers boxed in red. The other side has the three members of Run-D.M.C — Jam Master Jay, Darryl McDaniels and Joseph Simmons — silhouetted in white with a lighter blue Yankees' "NY" logo backdrop.
T-shirts were distributed to players in the Yankees' clubhouse before Thursday night's game against the Los Angeles Angels. Caps will go on sale soon, the team said.
Media lining up to take a photo of the new @MajesticOnField "No Runs DMC" shirts pic.twitter.com/5QNCF5ZThF

— Yankees PR Dept. (@YankeesPR) June 9, 2016
New York is 7-0 when the trio pitches in the same game.
Chapman was acquired during the offseason and joined the bullpen last month after serving a 29-game suspension under Major League Baseball's domestic violence policy. He has thrown the 30 fastest pitches in the big leagues this season, at to 103.2 mph, according to the sport's Statcast software.
Run-D.M.C. was active from 1981-02. Jam Master Jay, whose given name was Jason William Mizell, died in 2002.