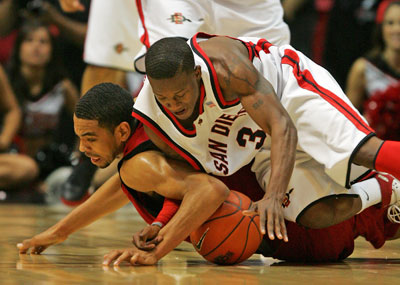 SAN DIEGO — As the regular season ended in anguish and more disappointment for UNLV, Lorrenzo Wade had reason to celebrate.
Wade remained calm, though, after leading San Diego State to a 57-46 victory over the Rebels on Saturday night at Cox Arena.
The Aztecs senior forward was reserved, he said, because the true judgment day for both teams is still to come.
"The job isn't done. We don't look forward to playing UNLV again," Wade said. "It's hard to play a team you've beaten twice. Those guys are going to be angry and ready to go."
The Rebels, the preseason pick to win the Mountain West Conference, are 21-9 overall and fifth in the league at 9-7 heading into this week's conference tournament.
UNLV and San Diego State (21-8, 11-5) will meet again at 2:30 p.m. Thursday in the MWC tournament quarterfinals at the Thomas & Mack Center. The Aztecs, who earned the No. 4 seed, are going for a three-game series sweep.
San Diego State's 68-66 overtime win over the Rebels on Feb. 3 stopped UNLV's 27-game home winning streak in the conference.
One more loss and the underachieving Rebels certainly will be broomed into the National Invitation Tournament. "We wanted to build as much momentum as we could going into the conference tournament," said Wade, a Cheyenne High School product. "There definitely was a lot riding on this game, and hopefully it carries over into next week."
UNLV must make a complete turnaround in a short period to reach its third consecutive NCAA Tournament. Kyle Spain scored 16 points and Wade added 15 for the Aztecs, who blew open a tight game late in the second half.
Spain made two 3-pointers in a 24-second span as San Diego State took a 45-35 lead and gained control with 6:24 remaining.
The Rebels shot 15-for-45 from the field, including 3-for-17 on 3-pointers, en route to scoring 46 points for the second straight game.
"It was a hard-fought game. Both teams were having trouble scoring," UNLV coach Lon Kruger said. "I thought on defense we fought like crazy, but it's too much to ask when you're not scoring on the offensive end."
Tre'Von Willis and Rene Rougeau were the only players immune to the Rebels' offensive futility. Willis scored 16 points and Rougeau 12.
Senior guard Wink Adams shot 1-for-9 and was held to three points. Adams, averaging 14.3 points, scored his first point on a free throw with 7:03 remaining.
"When you're as good a player as Wink, you're on every scouting report and it's going to be hard to do what you do," Wade said.
Willis' 11 points helped UNLV edge ahead 25-24 at halftime. The game was still close when Wade's two free throws put the Aztecs up 34-32 with 12:36 remaining.
A 3-pointer by Matt Thomas with 7:54 left started San Diego State's 9-1 run that ended with Spain's 3s, which whipped the Senior Night crowd of 11,553 into a frenzy.
"I really got it going, and it was a huge momentum change," Spain said.
Rougeau grabbed eight rebounds, but the Rebels were pounded 39-20 on the boards, a theme that has carried throughout the season.
Aztecs coach Steve Fisher said the conference tournament should be a tightly contested thriller.
"This is a very good league filled with really good teams," Fisher said. "There are five teams in this league that could be pulled out of a hat and put anywhere in the country for the NCAA Tournament and nobody would be surprised if any of the five get to the Sweet 16."
Contact reporter Matt Youmans at myoumans@reviewjournal.com or 702-387-2907.