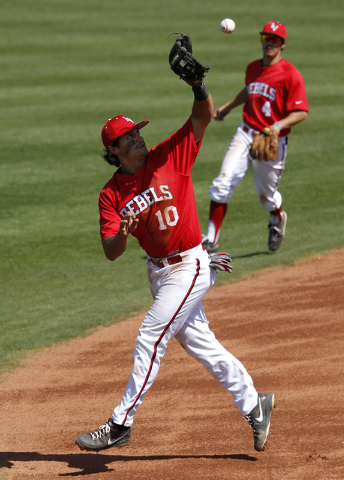 San Diego State right-hander Bubba Derby is undefeated for a reason, and there was a reason major league scouts scrambled into their seats when closer Michael Cederoth entered Saturday's Mountain West baseball game.
UNLV hitters had some success, but not nearly enough, with both Aztecs pitchers bearing down most when they had to.
Derby allowed only two runs in 6 2/3 innings before giving way to Cederoth to finish a 5-2 San Diego State victory at Wilson Stadium.
The teams split the first two games of this series, and they meet in the finale at 1:05 p.m. today.
"They're a good team," UNLV coach Tim Chambers said. "Their record shows it. We've just got to show up (today) and try to win the series, and then it will be a successful weekend."
Added importance has been applied to road victories and home losses in how the NCAA calculates the Ratings Percentage Index, making the series finale even more crucial. UNLV's unofficial RPI — the NCAA releases its rankings next month — was 15th before Saturday.
The Rebels (15-7, 8-3 MW) also are concerned about the conference race, and they are competing against San Diego State (17-5, 5-3) and New Mexico (15-8-1, 5-3) for the regular-season conference title. Because the Mountain West will have a play-in game in the conference tournament, the No. 1 seed gets a bye and will bypass the opponent's ace in the opener.
Against San Diego State, UNLV had plenty of offense — each team had 11 hits — but had trouble stringing together enough for any meaningful rally.
Derby allowed two hits through the first five innings and improved his record to 4-0 with a 2.60 ERA.
Cederoth, a right-handed power pitcher considered a potential first-round draft pick, held the Rebels to two hits and no runs in the final 2 1/3 innings. He picked up his eighth save and dropped his ERA to 2.61.
UNLV's Joey Swanner, who went 3-for-4 with an RBI, said it was natural to press against such quality pitchers when the Rebels had opportunities to score.
"Some guys try to do too much," Swanner said. "Some guys understand what it takes and sit back and understand that the game has to be slow at times and on our own pace."
UNLV right-hander John Richy suffered his first loss after a 4-0 start. He gave up 10 hits and three earned runs in 5 2/3 innings, giving his ERA a bump up to 2.59.
This also was just the second game in 21 outings this season one of UNLV's top four starters didn't produce a quality start. A pitcher must go at least six innings and give up no more than three earned runs to register such a start.
"It's frustrating," Richy said. "I always expect the best out of myself. Even when I don't have my best stuff, I want to go out there and give us a 'W.' But today was a tough day. They've got some good hitters, put together some really good at-bats."
San Diego State scored single runs in the first and fourth innings and went up 4-0 in the sixth on Brad Haynal's two-run homer to left field. UNLV cut the deficit in half on run-scoring singles by Swanner in the sixth and Johnathan Torres in the seventh.
But the Aztecs extended the lead to 5-2 in the eighth on UNLV third baseman T.J. White's error that scored Tyler Adkison.
"Today, we just scratch it off and go back into the clubhouse and play some music and forget this loss," Swanner said.
Contact reporter Mark Anderson at manderson@reviewjournal.com or 702-387-2914. Follow him on Twitter @markanderson65.