Aztecs display love for Hoke after loss
September 25, 2011 - 1:00 am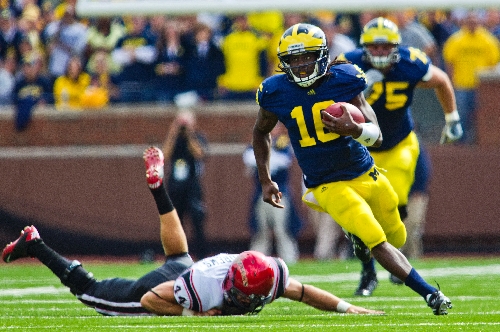 ANN ARBOR, Mich. — San Diego State assistants and players shook hands and hugged Brady Hoke one by one after he beat them.
Instead of being bitter about Hoke bolting the beach to coach at the Big House, the Aztecs praised him and raved about Michigan's future after the No. 22 Wolverines' 28-7 victory Saturday.
"Brady will win a national championship here," Aztecs coach Rocky Long said. "I don't know how long it will take, but he will win one here."
Hoke coached San Diego State over Navy in the Poinsettia Bowl last year for its first bowl win since 1969 and guided the program to nine wins for the first time since 1977.
The Aztecs (3-1) put pictures of Hoke and other former assistants on cards they used to signal plays in what they intended to be a sign of respect.
In the days before the game, Hoke publicly downplayed facing his former players. But he didn't treat the postgame like just another one with warm embraces and encouraging words.
"That part of it is, I guess is being a human being," Hoke said.
Michigan quarterback Denard Robinson rushed for three scores in the first half to give the Wolverines a 21-0 lead and finished with a season-high 200 yards rushing.
The Wolverines (4-0) sputtered on offense after halftime because Robinson struggled in the passing game. He completed 8 of 17 passes for 93 yards and two interceptions.
"We are a very aggressive defense, and in the first half we were too aggressive," Long said. "That was my fault."
■ No. 4 Boise State 41, Tulsa 21 — At Boise, Idaho, Kellen Moore threw four touchdown passes, two to Tyler Shoemaker, while playing less than 2½ quarters as the Broncos (3-0) routed the Golden Hurricane (1-3).
Moore was 23 of 29 for 279 yards, helping Boise State gain its 33rd consecutive regular-season victory.
■ No. 9 Nebraska 38, Wyoming 14 — At Laramie, Wyo., Rex Burkhead rushed for two touchdowns and a career-high 170 yards as the Cornhuskers (4-0) pulled away from the Cowboys (3-1) in the second half.
Burkhead had TD runs of 45 and 16 yards, piling up the yards on 15 carries.
Wyoming, which trailed 14-7 at halftime, was led by Brett Smith, who passed for 166 yards and two touchdowns.
The game drew a sellout crowd of 32,617 to War Memorial Stadium. With a listed capacity of about 29,000, the stadium is the smallest Nebraska has played in since 1971.
■ No. 20 Texas Christian 55, Portland State 13 — At Fort Worth, Texas, the Horned Frogs (3-1) scored three touchdowns in a span of 1:18 just before halftime, two on passes by Casey Pachall, and Waymon James ran 65 yards for a score on the first play of the second half to fuel a blowout of the lower-division Vikings (1-2).
TCU extended a school record with its 22nd consecutive win at home since 2007.
■ Air Force 63, Tennessee State 24 — At Air Force Academy, Colo., Tim Jefferson threw for three touchdowns, and the Falcons (2-1) gained a school-record 792 yards in a blowout of the lower-division Tigers (1-3).
Air Force made up for some sloppy early play with a dominant ground game that churned out 595 yards on 66 carries. Asher Clark rushed for 148 yards and a TD on 13 carries.
■ Colorado State 35, Utah State 34 2OT – At Logan, Utah, the Rams (3-1) stuffed Robert Turpin on a 2-point conversion attempt after he ran 25 yards for his second overtime touchdown for the Aggies (1-2).
Crock Gilmore caught a 7-yard pass from Pete Thomas for Colorado State's second overtime TD. Chris Nwoke had the Rams' first OT score after scoring a last-minute touchdown in the fourth quarter.
■ Sam Houston State 48, New Mexico 45 OT — At Albuquerque, N.M., Tim Flanders scored his fifth touchdown, on a 4-yard run in overtime, lifting the Bearkats (3-0) over the Lobos (0-4).
New Mexico's Deon Long, who caught three touchdown passes and set a Mountain West record with 378 all-purpose yards, scored the tying TD with 27 seconds left in regulation.
But Sam Houston held the Lobos to a field goal in overtime, and Flanders ran for the winning score. He finished with 194 yards on 30 carries.