Bad baserunning bankrupts 51s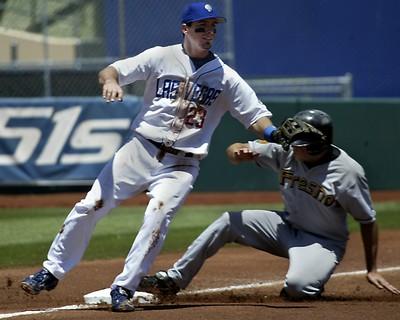 Seven and 11 can be good numbers for craps players, but they were bad ones for Las Vegas baseball players on Sunday.
Fresno catcher Justin Knoedler hit tiebreaking home runs in the seventh and 11th innings to lift the Grizzlies to an 8-7 win over the 51s at Cashman Field.
Las Vegas, which finished with seven runs and 11 hits, fell to 0-20 when trailing after eight innings and also dropped to 3-12 in division games and 5-14 in day games.
The 51s (28-34), who start a seven-day, eight-game road trip today at defending Triple-A champion Tucson, appeared poised to improve those numbers when they rallied to tie the score at 7 with three runs in the ninth, with Andy LaRoche on third and one out.
But Fresno reliever Dan Giese got Larry Barnes to hit into an unconventional double play to end the threat.
Barnes hit a hard grounder to first. Scott McClain fielded it, stepped on the bag and fired home, and Knoedler tagged out LaRoche in a play that wasn't close.
"On a ground ball, he's got to go, but unfortunately for us the ball was right on the bag," 51s manager Lorenzo Bundy said. "That's where he's got to read it and come back right away instead of going hard all the way.
"But that's a tough read in that situation."
The 51s made their first out of the ninth on a baserunning blunder by Wilkin Ruan, in his first game with Las Vegas after getting promoted from Double-A Jacksonville.
With runners on first and second and no outs, Ruan hit an RBI single to right field to make the score 7-5.
Delwyn Young followed with a run-scoring single to left to make it 7-6, but the throw home was cut off, and Ruan was thrown out at third.
"Wilkin just got a little caught up in the action," Bundy said. "He was a little bit too overaggressive, but even so we still had guys on first and third with one out.
"I'm really proud of the guys for the way they went after it today. They could've easily folded, but they battled to the end."
Choo Freeman tied the score with an RBI single for Las Vegas, which lost three of its top hitters while dropping three of four to Fresno (35-29).
Mitch Jones, who led the Pacific Coast League in homers with 19 and RBIs with 60, left the team Friday to play in Japan, and Matt Kemp took his .329 average to Los Angeles on the same day to play for the Dodgers.
On Sunday, 51s first baseman James Loney, hitting .279 with 32 RBIs, also was promoted to Los Angeles.
Losing those players, coupled with the previous departures of hot hitters Tony Abreu (Dodgers) and Larry Bigbie (free agent), have hamstrung the 51s.
"It's frustrating because we continue to pound on them and try to get guys to get balls down in the strike zone," Bundy said of his pitching staff. "We don't have guys throwing 95-96 (mph), so they have to realize if they don't make pitches, they're going to get hit and hit hard."
* NOTES — Infielder Michael Rivera was promoted from Class A Inland Empire to take Loney's place with the 51s. … Las Vegas infielder Sergio Garcia, batting .330, missed his fifth straight game with an eye infection. …
Bonanza High School product Justin Leone hit a first-inning sacrifice fly and a game-tying two-run homer in the sixth to finish with three RBIs for Fresno.
Las Vegas 51s
FRESNO — 8
LAS VEGAS — 7
KEY: The Grizzlies' Justin Knoedler hit two solo homers, including a go-ahead shot in the 11th inning that proved to be the game-winner.
NEXT: 51s (William Juarez) at Tucson (D.J. Carrasco), 7 p.m. today