Bank on Chiefs' road prowess
December 14, 2013 - 7:19 pm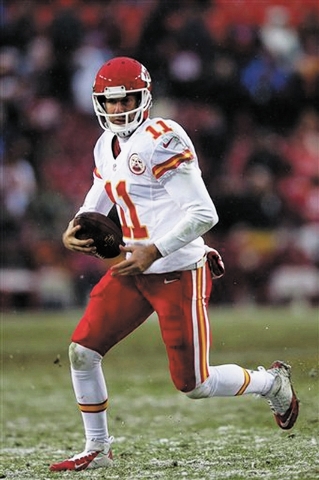 A month ago, the Kansas City Chiefs were undefeated and coach Andy Reid was hailed as a miracle worker. But soon enough, reality set in, as it often does in the NFL.
The fantasy portion of the season is history for the Chiefs, who have lost three of their past four games. As for the Oakland Raiders, who are 4-9 and at the bottom of the AFC West, they always seem to face a harsh reality.
"When the Chiefs started 9-0, there were several skeptics out there saying their success was a product of luck and an easy schedule, all of which was kind of true," said Micah Roberts, an analyst for "The Linemakers" on SportingNews.com and a former sports book director.
"At that juncture, there were 12 teams in the league that would have been favored over the Chiefs on a neutral field, showing that their statistical performance in each game on both sides of the ball wasn't overly impressive. So, when they lost three straight, there were a lot of 'I told you so's' from the peanut gallery.
"However, losing twice to the Broncos and at home to the Chargers was nothing alarming. Those are very good teams, and no harm was done."
Kansas City's early-season run included a 24-7 victory over Oakland in mid-October. At that point, the Raiders' quarterback was Terrelle Pryor, who has been replaced by undrafted rookie Matt McGloin.
The Chiefs are road favorites of 5 to 5½ points in today's rematch, and Roberts is siding with Kansas City to win 24-10.
"What I really like about this Chiefs team is that the nature of their vanilla game plan is executed well at home and away," Roberts said. "What has allowed them to win 10 games is not making mistakes and taking advantage of others."
Reid's quarterback, Alex Smith, is a reflection of the team's efficiency. Smith has 18 touchdown passes and six interceptions. The Chiefs have won and covered five of their six road games.
"This team just plays good, solid football, and when they play bad teams, even the skeptics will tell you, they take care of business," Roberts said. "The Raiders qualify as a bad team, and one that is getting worse."
Roberts breaks down the rest of today's Week 15 schedule:
■ Washington at Atlanta (-6½): The Redskins have failed to win or cover their past five games. But this number suggests the Falcons are considered an elite team, which is the furthest thing from the truth. With Robert Griffin III expected to start, this line was set to be minus-4½, and now with Kirk Cousins starting, it's 6½ to 7? The two quarterbacks are equal to the rating, so taking plus-7 offers value. This might be a good money-line play at plus-250. Redskins, 28-24.
■ San Francisco (-5) at Tampa Bay: The 49ers' 19-17 win against the Seahawks last week was the first time this season they won a game and did not cover. The question here is whether we consider the Buccaneers, who have covered five of their past six, a good team. It's a dangerous team but not one in San Francisco's class. 49ers, 27-13.
■ Arizona (-3) at Tennessee: The Cardinals have won and covered five of the past six. The trends say Arizona is the easy play, but I'm not so sure this team can be counted on to lay points on the road. Titans, 20-17.
■ New Orleans (-6) at St. Louis: The Saints have covered only one of six games on the road this season, but they should have more of an at-home feel indoors at St. Louis. The Rams have lost two straight after blowout wins over the Bears and Colts. I look for Drew Brees to lead the Saints to an easy win and for them to send the score over the total of 47½. Saints, 34-20.
■ Seattle (-7) at New York Giants: Laying points on the road always is difficult. But the Seahawks have covered an NFL-best nine of 13 games this season, with five of those on the road. They are 9-2 ATS in their past 11 road games. The Giants were home underdogs twice this season and failed to cover both times. Seahawks, 27-17.
■ Chicago (-1) at Cleveland: Bears quarterback Jay Cutler is under pressure to perform well after he was given his starting job back coming off an injury, even though Josh McCown was performing at an All-Pro level. Cutler does not fare well when the pressure is on, and if he's not on target early, it could be a long day for a Chicago defense that allows 32 points per game on the road. Browns, 34-24.
■ Houston at Indianapolis (-5½): After 11 straight losses for the Texans, I've given up on them to the point that I don't even want to bet against them. But this typically would be a good spot to side with Houston because of a coaching change. The Colts have been outstanding off losses this season, winning and covering all four times. Indianapolis also has gone over the total in six of its past seven games. Colts, 30-24.
■ Buffalo (-2) at Jacksonville: It's funny when a team that has lost seven of its past nine games is favored on the road. This line is more a matter of compiling both teams' entire body of work than what we've seen recently. Jacksonville has its first three-game win streak since 2010. One team is getting better each week as the other is getting worse. Jaguars, 27-17.
■ New England (-1) at Miami: The Patriots looked mediocre to start the season without tight end Rob Gronkowski, but they came alive with him, and now they have lost him for the season. The Dolphins have covered four straight and are fighting for a playoff spot, but they have lost seven in a row to the Patriots. Miami will find a way to win, but I'll stay away from the game. Dolphins, 24-21.
■ Philadelphia (-6½) at Minnesota: The Eagles are one of the public's popular plays, and it's understandable because they have won five straight (4-1 ATS) with consistent play by quarterback Nick Foles. Maybe even more impressive has been their defense. Since allowing 52 points to Denver in late September, Philadelphia has not allowed any opponent in the past nine games to score more than 21. But the Vikings have been competitive lately, going 5-1 ATS in their past six. If Minnesota is without running backs Adrian Peterson and Toby Gerhart, it would be easy to choose Philly. Eagles, 27-24.
■ New York Jets at Carolina (-10): The Jets have lost five of six on the road (2-4 ATS) by an average score of 30-13. The Panthers have stayed under the total in their past six, and look for this one to stay under 41. Panthers, 27-6.
■ Green Bay at Dallas (-6½): The Packers, still without injured quarterback Aaron Rodgers, have failed to cover their past six games. But they are the underdogs here, and the underdog has covered 38 of the past 51 Dallas games. The line probably is two points too high. Cowboys, 24-23.
■ Cincinnati (-2½) at Pittsburgh: The Steelers are 1-1 as home underdogs this season. This normally would be a good spot for them, but they have lost two straight to fall out of playoff contention. The Bengals are 2-4-1 ATS on the road, but they did win at San Diego. Cincinnati has won and covered the past two meetings with the Steelers, including at Pittsburgh last December. Bengals, 20-17.
COMPILED BY MATT YOUMANS