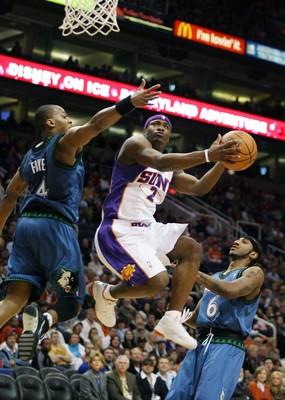 When Marcus Banks signed his lucrative contract last July with the Phoenix Suns, he figured his days of summer league basketball were over.
But after spending most of the season on the bench while collecting his $4.2 million, Banks, the former UNLV and Cimarron-Memorial High School star point guard, will be back on the court Monday when the Suns tip off their five-game run in the NBA Summer League against Cleveland at the Thomas & Mack Center. In 45 games last season with the Suns, Banks averaged just 11.2 minutes, 4.9 points and 1.3 assists.
"It's a combination of things," Mike Higgins, Banks' agent, said Thursday. "(Coach Mike) D'Antoni wants to see him out there with the new guys. Steve Kerr (the Suns' new general manager) doesn't know Marcus very well, so it's a chance for him to become familiar with him, and it's in Vegas. He's right there."
Higgins doesn't expect Banks, who is preparing for his fifth NBA season, to play the entire summer league schedule.
"My guess is he'll work out with the team in Vegas, play one or two games, and that's it," he said. "This isn't like he's a rookie or a free agent where he has to show off his game. He doesn't have to prove anything to anybody."
• REBELS CONNECTION — Banks isn't the only player with UNLV ties participating in the NBA Summer League.
Two of Banks' former teammates, Louis Amundson and Dalron Johnson, are on NBA rosters. Amundson is with Philadelphia, which plays at 1 p.m. today against San Antonio at Cox Pavilion, while Johnson is on the Los Angeles Lakers' roster. The Lakers' first game is at 3 p.m. Sunday against Milwaukee at Cox.
Former UNLV coach Bill Bayno, who is an assistant with Portland, will be on the bench today at Cox when Greg Oden makes his NBA debut with the Blazers at 7 p.m. against Boston. Tim Grgurich, who was an assistant and a head coach with the Rebels, is with Denver, as is former UNLV player John Welch.
Former UNLV great Reggie Theus, who recently was hired by Sacramento as the Kings' coach, will direct his summer league team.
• FIRST-TIMERS — In addition to the Lakers, Memphis, Milwaukee, Philadelphia, San Antonio and Seattle are participating in the NBA Summer League in Las Vegas for the first time. So, too, is the Chinese National Team.
In addition to Las Vegas, there are two other summer leagues sanctioned by the NBA, one in Orlando, Fla., which begins Monday and runs through July 13, and the Rocky Mountain Revue in Salt Lake City, which runs July 13 through 20.
• TV COVERAGE — NBA TV will televise 28 of the 55 summer league games. Locally, the games will be shown on Cox Cable 318.
In addition, all 55 games will be webcast on NBA.com.