Bareback competition tight
December 9, 2013 - 1:20 pm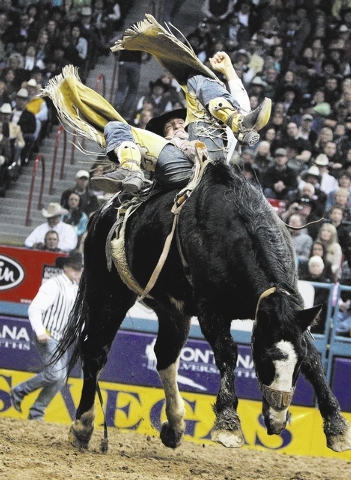 The race for the bareback riding gold buckle is the tightest of all the events for this year's National Finals Rodeo. One look at the standings before the 10-day rodeo started at the Thomas &Mack Center clearly showed why.
Bobby Mote, Kaycee Feild and Will Lowe have a combined nine bareback world championships among them. And the trio was 1-2-3 heading into the NFR. Mote racked up $126,187 in 2013, followed by Feild at $120,375 and Lowe at $115,045.
As it turns out, Mote also leads those two in world titles, with four. Lowe has three and Feild two. One of those three riders has won the crown all but three years since 2002, and Feild is the two-time defending champion.
Mote has the target on his back, having entered the NFR in first, but that doesn't bother a cowboy who has been there, done that and won that as often as he has.
"I don't feel like it adds any pressure," said Mote, who lives in Stephenville, Texas. "I want to be in that position. That's why I'm there. It's not a bad thing. Nothing adds any more pressure, and even if it does, it seems like I do better the more pressure there is."
After going on a run of three titles in four years (2007, 2009, 2010), Mote still had strong seasons in 2011 and '12, finishing third both years and adding a second-place finish in the all-around standings last year. A relatively injury-free 2013 has him ready to regain that world title.
"Being healthy most of the year has been a big asset, for sure. And just being consistent," Mote said. "I capitalized every time I had an opportunity, which is the same thing I plan on doing while I'm at the NFR."
Mote said spending more time in the gym has made a big difference, especially in the past two months. The rodeo regular season wraps up at the end of September.
"I've been working extra hard on my conditioning," he said. "During the year, I worked out harder than I used to, and with some downtime, I made it a point to get in the gym four to five days a week and spend one to two hours a day in there. And I've had a trainer.
"Conditioning has been one of my priorities. I feel like I'll benefit from that quite a bit."
The 10-day event certainly demands being in shape and being able to recover from the inevitable bumps and bruises. And you've got to focus on yourself, even with top-flight talent right on your heels.
"I can't really worry about what anybody else is gonna do," said Mote, adding that horses are a key element to success, as well. "I can't control the draw, and that will dictate a lot. I just have to get every available point every time I nod my head."
There's more to be concerned about than just Feild and Lowe, too. Before the first night, fourth-place Ryan Gray was just a go-round win away from potentially leap-frogging all three of those world champion riders, and with all the money on the line at the NFR, Mote said he wouldn't put it past anybody to make a big move.
"I want to compete against the best, and all these names speak for themselves," he said. "There are 15 guys in that field, and 15 guys (who) can come and get the money every day. They are the best in the business."
NFR contestants have varying opinions about what they enjoy most during the 10-day showdown. Mote most likes being alone atop the mountain when it's all over.
"After the 10th round, when you walk out there and they hand you a gold buckle, and you're standing there all by yourself," he said. "I enjoy that."