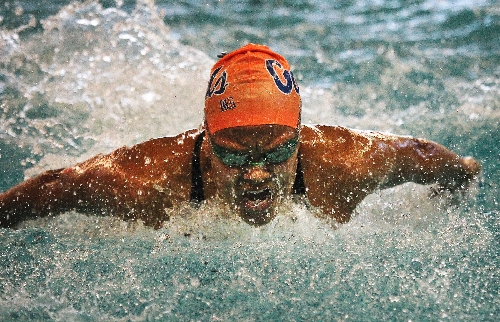 Olivia Barker remembers well winning Bishop Gorman's first girls swimming state championship as a freshman with only three teammates.
Barker had a dozen teammates around her Saturday, but the junior swam like she was the only Gael in the water.
Baker won two events – breaking her state record in the 100-yard butterfly and posting an upset in the 100 backstroke – and helped set records in the winning 200 medley and 200 freestyle relays, leading Gorman's girls to their third straight title in the Class 4A state meet at UNLV's Buchanan Natatorium.
"Now we're winning with 10 or 12 girls, and it's so great," Barker said. "It's like we're one big family, which is really nice."
Gorman won with 132½ points. Boulder City was second with 95 and Coronado third with 75.
The Gaels started the meet with a record-setting blitz in the 200 medley relay in 1:47.02. Barker's third-leg time of 24.33 seconds paced the team to knock off the mark of 1:48.69 set by Reno in 2002.
Gorman's winning time of 1:36.98 in the 200 freestyle relay downed Carson's record of 1:40.13 from 2002, and Barker used a new, lighter suit to add a win in the 100 butterfly in 54.66 – topping her mark of 55.09 set last year in Reno.
But Barker saved her best for last.
Barker tried a new event in the 100 backstroke and faced last year's state runner-up in Coronado's Nicole Mertel, the top seed. The Gorman standout used a late surge in the final 25 yards to nip the South Carolina signee, 56.55 to 56.86.
"The last 25, it really hurt really bad," Barker said. "I just wanted to finish. I thought if I kicked harder and threw my arms (faster), I would just get back to the wall faster so I wouldn't feel any more pain.
"I didn't really expect to win that. But I was really happy with my time. Nicole is amazing."
Catie Miller and Lindsey Englestead went 1-2 for Gorman in the 200 individual medley, with Miller winning in 2:03.90.
"For the first few years, there was a lot of pressure on three girls," Gorman coach Ron Aitken said. "But now we have the support of 11 or so girls who all have a role in this championship. They make it better for the whole team to be able to do what they're good at. Each one has their role, and that's the key."
Boulder City freshman Alex Hubel took the 50 freestyle in 23.54 and the 200 freestyle in 50.84.
Coronado's Sammy Harrison won the 200 freestyle in 1:49.72 and the 500 freestyle in a state-record 4:49.82.
In boys competition, Gunner Braden led Boulder City to a sweep of the relays, and Dylan Bunch added two individual wins to help the Eagles roll to their second straight title with 108 points. Green Valley was second with 80, followed by Coronado (72) and Palo Verde (70).
"We all had a mindset all week that we needed to start winning early," Braden said. "The records were within our reach. Last week, we didn't swim our best times, and we knew that. So we just stepped it up a notch. We just wanted to win, and we went out and did it."
Braden anchored the 200 freestyle relay to a win in 1:25.83, topping the state mark (1:26.40) held by Boulder City's 2003 state title squad – many of whom are assistant coaches to this year's program. His team's winning time of 1:34.51 in the 200 medley relay broke the record (1:36.55) held by the Eagles' 2004 title team.
Braden also swam second on the 400 freestyle relay team, which won in 3:10.04.
"I think (Braden) just felt bad about how he did last week, and his whole frame of mind was a lot more chipper, a lot more confident," Boulder City coach Sara Carroll said. "All of them did such a good job."
Bunch won the 200 freestyle in 1:42.12 and took the 500 freestyle in 4:31.07.
Boulder City sophomore Joey Gebhart added a win in the 100 backstroke in 52.26.
Contact reporter Sean Walker at swalker@reviewjournal.com or 702-383-0430.
In-depth high school sports coverage