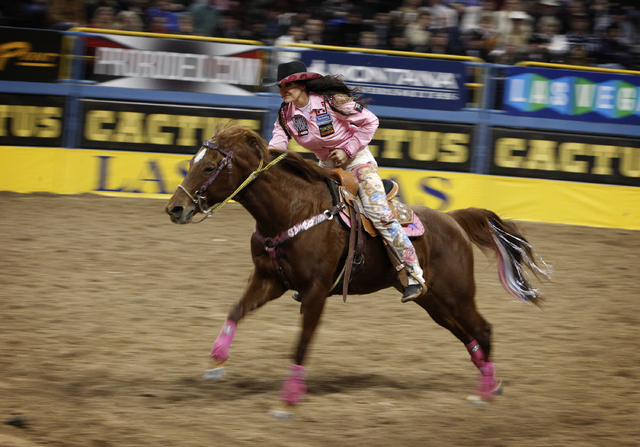 Making her first National Finals Rodeo appearance in 15 years, barrel racer Fallon Taylor had the words "Ride with Lady Luck" painted on her pants Friday at the Thomas &Mack Center.
Taylor was fortunate enough to make her NFR debut at age 13 in 1995 — when she finished sixth in the world — and qualified for four straight NFRs before giving up barrel racing to become a professional model.
The Whitesboro, Texas, native was offered a modeling contract while in Las Vegas for the NFR and spent a year working as a model in Manhattan (N.Y.) before heading to Los Angeles to pursue an acting career.
Taylor, 31, appeared in several TV commercials as the AXE body spray girl and also appeared in several movies and TV shows — playing one of Charlie Sheen's girlfriends in an episode of "Two and a Half Men."
"The guy's hilarious. He's really, really cool," she said of Sheen. "He's a winner."
Training horses back home in Texas in 2009, Taylor's luck appeared to run out when she suffered a broken neck after getting bucked off a horse.
She broke her C-2 vertebrae — the same injury that paralyzed late actor Christopher Reeve — and doctors told her there was only a 2 percent chance she would walk and talk again.
"They told me the 13-minute helicopter ride (to the hospital) would be the most fun I'd have in the next 10 years," she said. "Thankfully, they were wrong."
Taylor walked out of the hospital three days later, but doctors told her she would never ride horses again.
A year later, she was back in the saddle.
"I'm high risk still to this day, but it's what I love to do," she said. "I'm one of the lucky ones who gets to do my passion for a living."
Despite being out of barrel racing for more than a decade, Taylor said her injury — which required her to wear a halo on her shaved head for six months — inspired her to get back in the game.
"I just thought, 'Man, life's really short, and I need to do what I was meant to do,'" she said. "My husband kept encouraging me to go, and my family was real supportive, so I said, 'If a horse comes along, we'll do it.'"
Fortunately for Taylor, the perfect horse was standing in her pasture: 2013 AQHA/WPRA Horse of the Year Flos Heiress, aka Babyflo — the daughter of mare Flowers and Money (Flojo) and stallion Dr. Nick Bar, the two horses Taylor rode in the NFR as a teenager.
"We didn't know we had such a dynamic young mare in the pasture," she said. "The first time I got on her she was loping the barrel pattern within an hour of the first time having a saddle on her back.
"We immediately figured each other out. We were just made for each other."
Back on the rodeo trail last year for the first time since 1998, Taylor placed 16th, missing a trip to the NFR by about $700.
"It was a total heartbreaker, so then we just really went after it (this year)," she said.
Competing in 95 rodeos this year, Taylor cruised to the NFR, placing fifth with $100,860 in earnings. But she's prouder of the fact that Babyflo earned Horse of the Year honors.
"They could have had the NFR without me after we won that award," she said. "That's all I wanted. That was the coolest thing.
"It's very rare to get to raise and train the horse you go to the NFR on. It's so, so special, and to be honored by your peers — because the top 25 in the world vote on it — makes it more special."
Back in the spotlight at the Thomas &Mack Center for Thursday's first round, Taylor placed third, with a time of 13.83 seconds on Babyflo, to ascend to third place in the world standings.
She hit a barrel and didn't place in Friday's second round, dropping to fourth in the standings, but still has her sights set on a world title.
"Damn right," the energetic brunette said. "We didn't stay at home to practice up and not go for it. I'd be a complete liar if I told you the gold buckle wasn't on my mind.
"I've never won a world title, but I think I'm on the horse to do it, whether it be this year or another year."
It's barrel racing or bust for Taylor, who hungers for more than modeling will allow.
"I like steak. And eggs and bacon in the morning," she said. "And Snickers when I want them."
Contact reporter Todd Dewey at tdewey@reviewjournal.com or 702-383-0354. Follow him on Twitter: @tdewey33.