Bases-loaded wild pitch costs 51s in loss to Isotopes
April 23, 2016 - 11:48 pm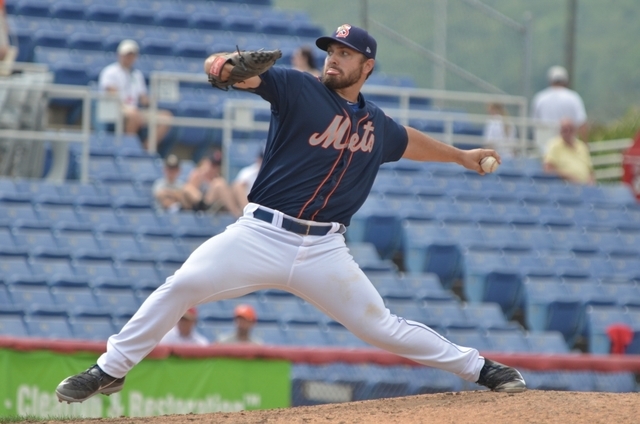 Ultimately, a Josh Smoker splitter that got away doomed the 51s on Saturday.
The bases-loaded wild pitch in the eighth inning cost the 51s in their 5-4 loss to Albuquerque at Cashman Field. But beyond the box score, missed opportunities before that — both to score and to get out of an inning unscathed — doomed Las Vegas first.
"There's so many different things that you can look at in a game like that," manager Wally Backman said.
Had catcher Johnny Monell tried to handle it differently, it might not have gotten past him.
"You can't try to backhand that pitch. You've got to try and get your body in front of it, too," Backman said. "If you call it, you have to anticipate it being in the dirt."
Had Roger Bernadina not completely airmailed a ball earlier in the inning from right field instead of going for a force at second, Smoker would have been out of the inning a batter before the wild pitch happened.
"He was actually trying to throw that ball to third that (shortstop Gavin) Cecchini jumped and tried to cut off, but the out was supposed to be at second base," Backman said. "It's the closest play for him."
Two innings earlier, had reliever Dario Alvarez retired the left-handed hitter he was brought in to face rather than walked him, the inning would have been over and the Isotopes wouldn't have eventually scored three more runs to take a 4-3 lead.
Had the inning been over, there wouldn't have been an opportunity for a ball to tick off center fielder Brandon Nimmo's glove for an error, allowing two runs to score.
And had the 51s broken the game open when they loaded the bases with no outs in the third inning to pad a 3-0 lead, everything after might have been a nonevent.
"Not being able to hit situationally really hurt us tonight," Backman said.
Saturday's game started out promising for a team that had come in scuffling at the plate. Three straight singles followed by a Travis Taijeron double on the 12th pitch of his at-bat put the 51s up by three runs in the first.
After losing their lead in the sixth, the 51s were unable to score in the bottom half of the inning despite getting back-to-back one-out hits from shortstop Gavin Cecchini and Nimmo.
They tied the game an inning later on a two-out, pinch-hit single by Nevin Ashley, but after the Isotopes took a lead in the eighth, Las Vegas couldn't score a run despite having the leadoff runner on in the eighth and ninth innings.
The 51s finished 4-for-16 with runners in scoring position — better than they had in some recent games but not good enough on Saturday.
Backman said situational hitting was something they addressed in batting practice earlier in the day.
"Obviously it didn't help very much today. But we have to work on it. … The guys are in a rut," Backman said. "We've got to get back to our game. We are supposed to be a lot better than we're showing offensively, especially situationally."
But if a series of other things hadn't happened to compound the offensive problems, the 51s might have been able to escape Saturday with a victory.
"There's a lot of things we could pick at if we wanted to, and that's why I say in all facets, we just need to get better," Backman said. "We have a really good bullpen, and they pitched (well) enough for us to win tonight because we should have scored more runs and we made mistakes in the field."
Betsy Helfand can be reached at bhelfand@reviewjournal.com. Follow on Twitter: @BetsyHelfand