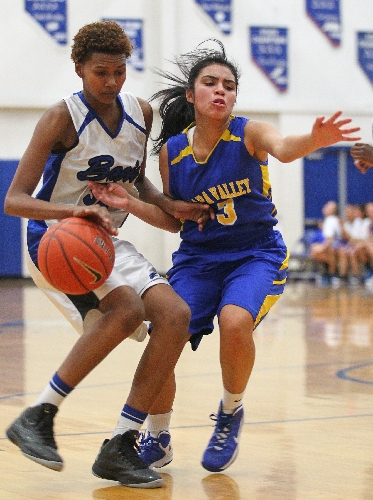 Basic High girls basketball coach Teresa Gallegos did not deliver a complicated lecture before sending her team onto the court Thursday.
Instead, she simply asked her players to protect the ball.
The Wolves got the message, committing only 11 turnovers and rolling to a 55-41 victory over Moapa Valley in the opening round of the Lady Wolves Holiday Tournament at Basic.
Jayla Brown compiled 23 points and 13 rebounds for the Wolves, who took over with a 15-2 first-quarter run.
"We wanted to cut down on turnovers," Gallegos said. "That's been our goal. I think that and the fact that we also hit our shots were the keys."
Brown sparked Basic's early run with eight points and four rebounds in the first four minutes.
"When Jayla is in the paint, she is so dominant," Gallegos said. "She has that heart and desire for rebounds, and most of her points come off rebounds. She knows that and it drives her."
The Pirates, who committed 24 turnovers, struggled to slow the Wolves' fast-paced offense, and trailed 33-17 at halftime.
But Moapa Valley battled back during the third quarter, as Shelbie Gray scored eight points in the period to help close the deficit. Her layup with 2:52 left in the quarter started a 6-0 spurt that helped the Pirates get within 44-36.
Basic squelched that momentum when Dana Deloney opened the fourth with a 3-pointer that started a 6-0 run.
The Wolves intensified their defensive pressure, holding the Pirates to five points in the final quarter. They worked the clock down the stretch, and Moapa Valley was unable to regain momentum.
Gallegos said it was just the tournament start her squad needed.
"I told the girls that we have never won this tournament," she said. "It's definitely one of our goals to win it. But we've still got some tough games ahead of us."
Deloney finished with 13 points and three steals to help Basic, and teammate Samiyah Abdullah added six points and two steals.
Gray led Moapa Valley with 14 points and 11 rebounds, and Kimberly Lewis had 10 points and 12 boards.
In-depth high school sports coverage
THURSDAY'S HIGHLIGHTS
BOYS
• Eldorado's D.J. Billingsley had 18 of his 28 points after halftime, and the Sundevils held off Hazard (Ky.), 67-60 in overtime in the Las Vegas Prep Championship at Valley.
• Valley's Spencer Mathis tallied 28 points in an 89-80 victory over Woodbridge (Calif.) and 30 points in a 78-60 win over Vista Murrieta (Calif.) in the Las Vegas Prep Championship at Valley.
• Coronado's Jordan Willis had 27 points and 10 rebounds to carry the Cougars past host Mitchell (S.D.), 80-63 in the Mike Miller Classic.
GIRLS
• Eldorado's Denisheun Jackson poured in 35 points, leading the Sundevils to a 73-71 victory over McQueen in the Silver State Slam in Reno.
• Bonanza's Trane'e Jenkins recorded 21 points, eight rebounds and seven steals in the Bengals' 57-40 win over Truckee and 14 points, 10 rebounds and four steals in a 55-52 win over Ukiah (Calif.) in the Silver State Slam in Reno.
• Las Vegas' Shomari Harris tallied 23 points in the Wildcats' 52-49 win over host Green Valley in the Gator Winter Classic.