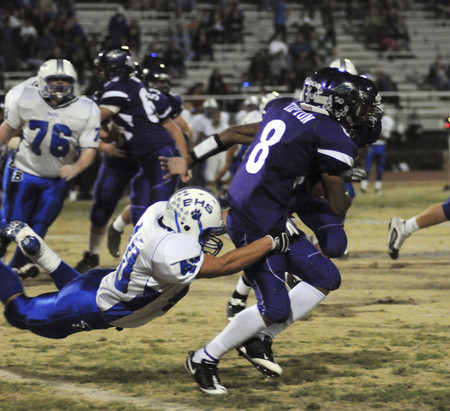 With 16 seconds to play and Silverado 7 yards from a game-tying score, Basic coach Jeff Cahill told senior linebacker Marty Christensen he could win the game.
"We needed a big play, and Marty Christensen is one of our captains," Cahill said. "I told him 'If you get a sack the game is over,' and he got the sack."
Christensen raced into the backfield and dragged down Skyhawks quarterback Kyle Simmons. Silverado, which had no timeouts left, could not get off another play before time expired, and the seventh-ranked Wolves escaped with a 7-0 road victory Friday.
"Coach said we needed a sack and I needed to beat the tackle off the edge," Christensen said. "I guess I did. I got the sack."
Christensen's play capped a superb effort by the Basic defense, which held 10th-ranked Silverado (5-3,1-3 Southeast) to 127 yards of offense. The Wolves (7-1, 4-1) had limited the Skyhawks to 66 offensive yards — and had not let Silverado cross the 50-yard line — until the final drive.
Silverado's Teran Madu-Jules, who came in averaging more than 8 yards a carry, was held to 3.3 yards per rush, finishing with 56 yards on 17 attempts.
"That's a credit to Basic being good on defense. They put the clamps on us," Silverado coach Andy Ostolaza said. "We just never could get anything going.
"But I thought we had a chance there (on the final drive). We were one play away but just came up a little short."
On that drive, the Skyhawks took the ball at their 15 with 3:21 left and moved to the 7, behind 50 yards of passing from Simmons and three pass interference penalties.
"They started passing, and it scared me a little bit," said Christensen, whose interception on the drive was wiped out by a penalty. "They moved the ball, and we kept getting stupid penalties. But we stuck it out in the end and got the win."
Basic's offense — which had problems of its own for most of the game — scored on the opening drive of the second half. Quarterback Tyler Dobbins threw a 25-yard touchdown pass to Kelly Armistead with 7:02 left in the third quarter.
"I told Kelly if that kid bites up, I'm gonna pump-fake and you go long, and he executed perfectly," said Dobbins, who connected on 8 of 15 passes for 84 yards. "This (Silverado) defense did a great job. But my line did a great job, and I think I got hit once tonight."
The Skyhawks forced two fumbles and partially blocked a field goal. They kept the Wolves from scoring on five drives into Silverado territory.
• Palo Verde 76, Faith Lutheran 21 — At Palo Verde, the Panthers pulled away from Faith Lutheran after a wild first quarter, scoring 55 consecutive points to win their first game since the death of defensive coordinator Dave Castro.
After allowing the Crusaders (1-7, 1-6 Northwest) all 21 of their points in the opening quarter, Palo Verde (8-1, 6-1) clamped down on defense and wore out Faith Lutheran with its running attack. The Panthers ran up 529 yards on the ground, led by 201 on 16 carries by Brandon Wright and 167 on 13 carries by Chappell Thomas. Both had three touchdowns.
Tyrone Blake passed, rushed and returned a punt for touchdowns. He also snagged one of Palo Verde's two interceptions of Crusaders quarterback Joe Portaro.
Portaro completed 18 of 44 passes for 305 yards with three touchdowns. Don Pearson caught nine passes for 161 yards and two touchdowns.
— Adam Candee
• Foothill 21, Green Valley 10 — At Foothill, Parker Riggin threw for 225 yards and two touchdowns as the Falcons beat the Gators.
Riggin threw a 31-yard scoring pass to Darius Gates in the first quarter and a 13-yard strike to Kyle Keplinger in the third period.
Leading 7-0, the Falcons (5-3, 3-1 Southeast) got a big play from their defense when 6-foot-4-inch defensive lineman F.J. Funtila intercepted a pass and returned it 33 yards for a two-touchdown lead.
Green Valley (3-5, 1-3 Southeast) trimmed the margin to 11 on a 31-yard field goal by Nolan Kohorst at the 7:53 mark of the second quarter.
Riggin's second scoring pass early in the third pushed the lead to 21-3.
Green Valley's Rakeem Griffith finished the scoring with a 7-yard run with about two minutes left in the third.
Foothill's Connor Afoa carried 21 times for 144 yards, 117 in the second half.
Griffith led the Gators with 106 on 20 carries.
— Sam Leeper
• Cheyenne 27, Mojave 0 — At Cheyenne, the Desert Shields (5-4, 5-3 Northwest) clinched a playoff berth with a win over the Rattlers (2-6, 1-6).
Duhjuan Miller blocked a punt, and Emone James recovered the ball in the end zone to break a scoreless tie midway through the second quarter.
Cheyenne forced a Mojave turnover on the first drive of the second half and capitalized with a 10-play, 83-yard drive capped by Jordan Butler's 10-yard touchdown reception from Kody Stahl.
Xavian Johnson and Tyler Spight added fourth-quarter touchdown runs of 4 and 29 yards, respectively, to seal the victory.
— Adam Berchin
• Durango 63, Western 6 — At Western, Julio Mora rushed for 163 yards and four touchdowns on 19 carries to lead the Trailblazers (7-2, 6-1 Southwest) over the Warriors (1-7, 1-6).
Mora had TD runs of 1 yard, 10 yards and 15 yards in the second quarter to give Durango a commanding 42-6 lead at the half.
Chase Roberts threw three touchdown passes, and Durango's Michael Mehling had a 14-yard touchdown run and a 12-yard TD reception.
Brian Mikol had a 94-yard kickoff return in the second quarter for Western's only score.
— Kevin Klein
• Canyon Springs 20, Valley 12 — At Valley, Paul Woodward intercepted a pass near the goal line as time expired, and the ninth-ranked Pioneers (5-2, 4-1 Northeast) held off the Vikings (2-6, 2-3).
With 2:10 left to play, Valley linebacker Taylor Herrington sacked Tyler Ward, forcing Canyon Springs to punt.
Vikings quarterback Garic Wharton completed 4 of 5 passes on the final drive moving his team to the Pioneers 23 before throwing the interception to end the game.
Canyon Springs' Deavin Rimmey rushed for 282 yards on 21 carries, including TD runs of 24 and 42 yards.
The Pioneers' Daveon Collins blocked a punt at the Vikings 18 in the second quarter, setting up a 13-yard TD pass from Jamaal Martin to Treyveon Evans.
— Michael S. Jackson Jr.
• Arbor View 49, Bonanza 42 — At Bonanza, Demon Scurry's 3-yard rushing touchdown in the second overtime lifted the Aggies (5-4) over the Bengals (3-6).
The game was tied at 35 after four quarters.
Bonanza's Dasean Martin scored on a 3-yard run in the first overtime. Arbor View answered with a 3-yard pass from Kyler Nielson to Scurry.
After Scurry scored in the second OT, Arbor View's defense held the Bengals on four plays.
DeMarlo Virgil led the Aggies with 184 yards on 28 carries. Martin paced Bonanza's ground game with 163 yards on 24 carries.
— Vincent Hernandez
• Desert Pines 34, Rancho 9 — At Rancho, Jaguars quarterback Dalton Leilua threw three touchdown passes, and Desert Pines (5-3, 3-1 Northeast) rushed for 310 yards to overwhelm the Rams (1-7, 1-3).
Leilua completed 5 of 7 passes for 107 yards, including two 39-yard touchdowns to Eric Tuiloma, who finished with four receptions for 94 yards.
Leon Hayes had 11 carries for 165 yards, including a 40-yard touchdown, and Chancellor Davis added 100 yards rushing, with a 12-yard TD. The duo had run for 177 yards by halftime as the Jaguars took a 20-0 lead.
— Sammy Scherr
• Cimarron 26, Shadow Ridge 0 — At Shadow Ridge, the sixth-ranked Spartans (6-2, 5-2 Northwest) rolled over the Mustangs (1-7, 1-6), racking up 390 yards of offense.
Kenny Banks passed for 127 yards, including a 43-yard TD to wide receiver Tim Hasson late in the first half.
Cimarron's James Poole had 14 carries for 101 yards, Stephen Nixon rushed 13 times for 94 yards, including a 6-yard TD run, and fullback Zach Barbara had a 31-yard TD run.
— Nolan Lister
• Las Vegas 58, Eldorado 12 — At Eldorado, Farrell Victor rushed for 241 yards and four touchdowns as the fifth-ranked Wildcats (6-1, 4-0 Northeast) routed the Sundevils (1-7, 1-3).
Las Vegas' Hasaan Henderson completed 8 of 17 passes for 112 yards and a touchdown. He had a 1-yard TD run in the third quarter.
Eldorado's JaQuorrey Williams passed for 123 yards and a touchdown.
— Sean Walker
• Clark 19, Pahrump Valley 7 — At Clark, running back/defensive back Rodderick Perrera scored on both sides of the ball to lead the Chargers (5-4, 3-4 Southwest) over the Trojans (0-8, 0-6).
Perrera scored on a 6-yard run in the third quarter. He also had a 26-yard interception return for a touchdown on Pahrump Valley's final drive.
Shane Ervine had a 1-yard plunge in the fourth quarter for the Trojans' lone score.
— Brian Danise
• Desert Oasis 39, Sierra Vista 0 — At Desert Oasis, Ronald Hunt rushed for 143 yards and three touchdowns as the Diamondbacks (6-2, 5-2 Southwest) routed the Mountain Lions (1-8, 1-6).
Desert Oasis scored 20 points in the second quarter, including a 65-yard interception return by Elijah Mitchell.
— Jennifer Miller
In-depth high school sports coverage