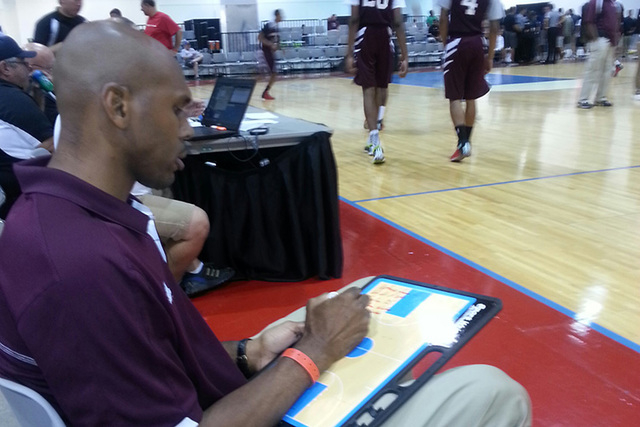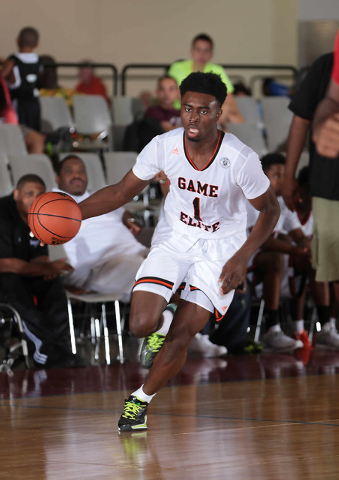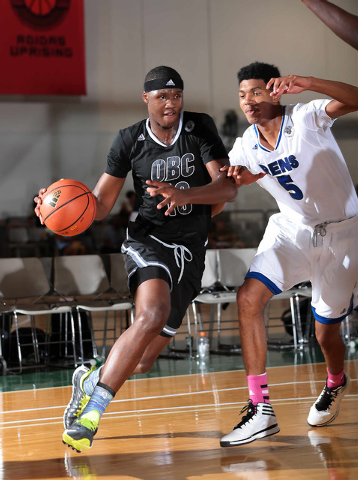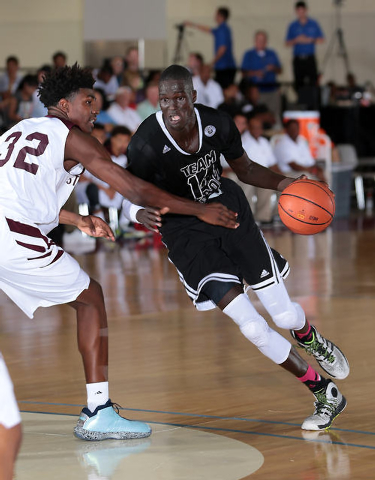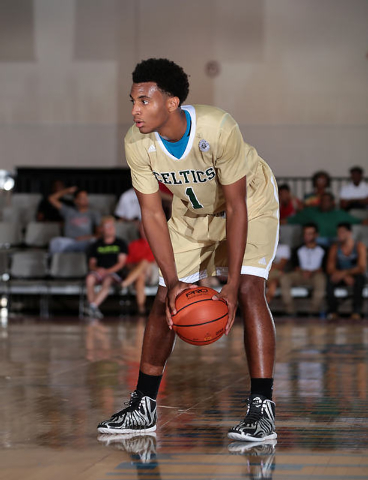 JERRY'S KIDS
Former NBA standout Jerry Stackhouse has his club team – Stackhouse Elite – entered in the Super 64 at Cashman Center, and had plenty of things to say about the differences between his playing days on the AAU circuit, to how players have it nowadays. The most noticeable difference in his eyes: social media and AAU becoming big business.
"It's so much different now," said Stackhouse, who spent 19 years in the NBA. "You get a chance to know talent and know kids as soon as they burst out on the scene."
But as good as that can be for players and coaches, Stackhouse said he stays on top of what all his players post on Twitter.
"I follow all of my kids so I can see what they're tweeting," he said. "You give them a little leeway (but) we have to check 'em sometimes. They're still 16, 17-year-old kids and you have to let 'em know that ain't cool. I think sometimes it's too much, too fast. We don't want these kids to get too ahead of themselves."
Stackhouse added that funding and sponsorships hadn't begun playing a big role with summer teams yet. Though he played in Las Vegas during the high school regular season with Oak Hill Academy, in the old Holiday Prep Classic, he never made it to town during the summer circuit.
"Shoe companies weren't really big on doing much with AAU at that point," he said. "We were just going to nationals, wherever they were."
Stackhouse, who starred for North Carolina in college, said the 16-and-under AAU team he played for was the nation's No. 1-ranked club team, which included fellow eventual Atlantic Coast Conference stars Jeff McInnis (North Carolina) and Jeff Caples (Duke), but couldn't travel to nationals because the team lacked the funding to travel. The following year the 17-and-under North Carolina-based team he played on competed in nationals since it was held in Winston-Salem.
Through Thursday's action, Stackhouse Elite was 1-2 after a 57-51 loss to Mass Rivals in the final game of the evening.
—
RICE CAPADES
Gorman coach Grant Rice not only has wife Brooke, his 11-year old daughter Carli and 10-year old son Blake working the event, but he keeps two air mattresses on hand. Last year during the five-day event he slept on campus three times. Rice said he didn't leave the campus until midnight on Wednesday, and was back on Thursday by 6:30 a.m. This year, he's says, he is prepared. Just walking with him for 30 minutes can be exhausting. Between greeting college coaches, workers, his assistant coaches, players, I was dizzy trying to keep up with everyone he introduced to me and all the details he covers. That included finding a spot for Carli to work — in the main concession stand — and having Blake tagalong as his sidekick. And when Rice told his son he couldn't join his sister in the concession stand because it was full already, Blake promptly replied: "Yeah, but I'm still getting paid, right dad?"
TOURNAMENT SOLDIERS
Rice assigned three people — Geoff Lincoln, Scott Porter and Rob Rosenblatt — to run the Fab 48's hub for tournament operations, an isolated back room behind the gym which he calls the "war room." The trio is in charge of updating schedules and brackets from all the tournament sites, and keeping fresh copies printed to post throughout the venue. With games running from 8:30 a.m. through about 10:30 p.m., it's not surprising Rice's war-room soldiers' drink of choice is either Mountain Dew or VPX Sports' "bang," an energy drink that has become widely popular in local nutrition stores.
WHO'S WHO OF COACHING
Of the near 400 college coaches in town to recruit, some of the biggest names at the Division I level had already made their way through Bishop Gorman's two gyms for the Fab 48 early Thursday, including: Dana Altman (Oregon), Rick Barnes (Texas), David Carter (UNR), Tom Crean (Indiana), Johnny Dawkins (Stanford), Scott Drew (Baylor), Steve Fisher (San Diego State), Travis Ford (Oklahoma State), Lon Kruger (Oklahoma), Greg McDermott (Creighton), Dave Rice (UNLV), Wayne Tinkle (Oregon State), Bruce Weber (Kansas State), Roy Williams (North Carolina).
—
Basketball fans fiending for more, now that the NBA Summer League has concluded, don't have to wait long.
Several top-rated summer basketball tournaments on the AAU circuit began Wednesday night in Southern Nevada, at scattered locations, including the adidas Super 64 and the Las Vegas Fab 48.
Many of the nation's best prep basketball players are in town for the events, and I've got (enter Mac Miller music) "J's On My Feet," as I'll be making my way around town to the various sites, blogging live with interesting tidbits, observations, sightings, notes, quotes and anecdotes.
The Fab 48 17-and-Under event is my first stop for Thursday, as play continues in the top age bracket at Bishop Gorman, Desert Oasis, Sierra Vista, Green Valley and Liberty High Schools. All five schools will have three courts going. Some of the top local talent I'm looking forward to see include Horace Spencer (Findlay Prep) and Nick Blair (Bishop Gorman), both of whom will be playing for Belmont Shore.
Already spoke with legendary high school coach Al LaRocque, who led Durango to multiple state titles back in the day, and I'm excited to catch up with him at the Super 64, which is taking place at the Cashman Center, the same spot LeBron James held his Skills Academy two weeks ago.
Be sure to check back frequently throughout the day, or follow me on Twitter on @AP_WG, as I'll be updating here frequently and tweeting live from the sites I visit.