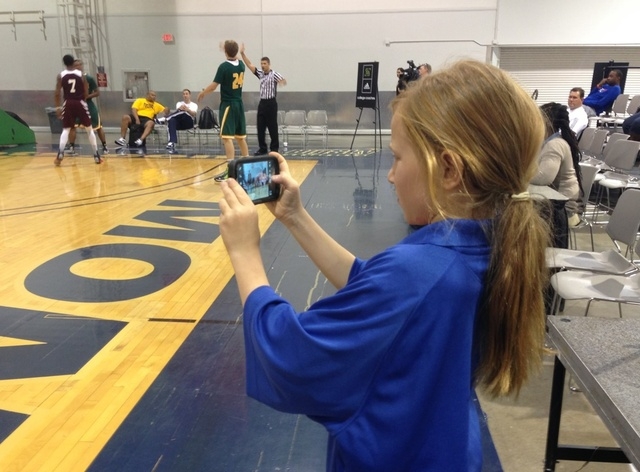 Day 3 of my AAU Tournament coverage, as I continue blogging live from the two biggest 17-and-under events taking place this week – adidas' Super 64 at Cashman Center, and the Las Vegas Fab 48 at Bishop Gorman and four remote locations – blogging live with interesting tidbits, observations, sightings, notes, quotes and anecdotes. Be sure to check back frequently throughout the day, or follow me on Twitter on @AP_WG, as I'll be updating here frequently and tweeting live from the sites I visit.
ST. JOHN'S COACH STEVE LAVIN DRAWS INSPIRATION FROM FIGHTING CANCER
St. John's men's basketball coach Steve Lavin is an inspiration in his own right.
While his 10-year head coaching record includes seven seasons of 21 wins or more, nine postseasons – seven in the NCAA Tournament and two NIT appearances – plus five trips to the Sweet 16, it was a victory over cancer in 2011 that stands out.
"I'm grateful to have a clean bill of health," Lavin said in a private interview Friday during the Las Vegas Fab 48 at Bishop Gorman. "I have now turned my focus to raising awareness and dollars to support cancer research so we can develop a cure to eradicate the dreaded disease. At this moment there are people all over the world that are fighting this disease. It's a understatement to say we have an arduous task ahead of us to work toward finding a cure for cancer – but it's a cause I enjoy championing."
Lavin is back at full strength, but said he is mindful of making good choices so he can sustain a level of good health.
"When I was recovering from my cancer surgery, I was fortunate to be able to continue recruiting because of my iPhone," Lavin said. "Recruiting is a 24-7-365 proposition because basketball talent is the lifeblood of the program. Even when I had the challenges of the cancer, the smartphone allowed continuing to communicate with prospects, parents and coaches.
"It's the information age, the new millennium, and you have to adjust to the way this generation of players communicate. I've got the Twitter (@SJUCoachLavin) and Instagram (coachlav64) in full effect."
But it's not the fact he overcame the prostate cancer, returned to the bench 33 days after seven hours of surgery and coached four games in a nine-day span, albeit he was benched and had his schedule modified to reduce stress during the recovery process. What amazed me in talking to the 49-year-old coach, who will be 50 in less than two months and looked more like he could pass for 40, it was that during our chat about him, he was emphatic to whip out his iPhone photo gallery and show me cancer-stricken kids who have touched his heart, and the things he and his St. John's personnel have done to help them.
It didn't matter for one moment he was trying to watch some of the nation's elite prep basketball players – they could wait. Lavin's eyes beamed, and his voice heightened excitedly, as he talked about Danny Alini, an 8-year old boy who has battled Acute Lymphoblastic Leukemia since he was three. Or 12-year-old Joe Isola, who celebrated the completion of a basketball surface built in his backyard with Lavin, St. John's mascot Johnny Thunderbird and the Red Storm's cheer and dance teams.
"There's no doubt we draw inspiration from the young people that are battling cancer, yet still exhibit courage, grace and a tenacious spirit," Lavin said. "Cancer is a dreaded disease, yet it does inform our sensibilities and forces one to prioritize the essential aspects of our life: our faith, family and friendship. You definitely find out who truly cares unconditionally.
"Cancer can teach us to stay rooted in the most important elements in life."
—
HAVING FAITH GIVES REFS A RUSH AT CAMP
Every time I see a little girl running around a basketball gym, I can't help but think about my good buddy Al LaRocque, who retired from coaching in Southern Nevada in 2008. Back in the day, if you were at Durango High School in its infancy stage, you couldn't help but see LaRocque's daughters Lindy and Ally – born 14 months apart – either shooting hoops, helping their father in some capacity in the gym, or their mother, Bev, in the concession stand. Lindy is now an assistant coach at Oklahoma and Ally works for the NBA.
So what made me think of Southern Nevada's first family of high school basketball?
A little 9-year-old spark plug named Faith Rush. You can't miss her, if you're attending adidas' Super 64 event at the Cashman Center, she's the bright-eyed, red-haired spitfire running around the convention area-turned-basketball mecca – from one end to the other.
Faith is the granddaughter of Ed Rush, the former professional basketball referee who became the youngest ref in NBA history when he took the court at 24 years old, in 1966.
Faith is starting much younger.
Accompanying her father, Ed Rush Jr., the owner of Court Club Elite referee school, Faith has been acting as a videographer, a runner and at times, simply boosting morale for everyone involved in the referee camp.
"She's a good idea generator," Rush Jr. said "Everything she does she takes very, very seriously. She's up at 7 a.m. with new ideas for camp, and once she gets going she doesn't stop until midnight. I'm pretty sure she'll catch up on her sleep next week."
Faith made the trip with her father in 2012, but this year is the first time he's allowed her to roam the Cashman Center at free will. Surprisingly, he said, Wednesday was the first time she actually took the court and shot a basketball – "she made her first basket the other night," he says – despite being around the game all her life.
"I just like being around the games, all the players, the excitement – everything," said Faith Rush, who has attended numerous NBA games, Pac 12 games in Southern California and the Pac 12 Tournament here in Las Vegas. "The best part has just been being around the players and referees and getting to interact with everyone."
So, of course, I decided to put Faith to work and asked her to shoot Sudanese-import Koch Bar, who is in town with Indiana Elite. And lo and behold, just as her father said, she took the job to heart, making her way around the court.
It was all reminiscent of the good ol' days at Durango, with Lindy and Ally LaRocque, watching Faith.
I guess you could say, in watching her enthusiasm and love for the game, it was a Rush!
—
UCLA COACH STEVE ALFORD REMINISCENT OF TARK'S GREATNESS
After opening my first two days of blogging at Bishop Gorman, I decided to start at Cashman Center on Saturday. And while the parking lot was virtually empty, one of the first persons I see walking into the arena is UCLA coach Steve Alford. We caught up briefly in the hospitality room, and he told me he was headed to Clark High School later in the day to see some action. Upon telling him that was my alma mater and that I had been in town since 1972, he replied: "You grew up in the Tark era, during his heyday…"
Why yes coach, as a matter of fact I did. From the days of the Rotunda, at the Las Vegas Convention Center, to the glory years in the late 1980s and into the 1990s at the Thomas and Mack Center.
I was close with several of the Runnin' Rebels you knocked out of the Final Four coach, when you played for Indiana, in that 1987 National Semifinal. In fact, I still keep in touch with Mark Wade and Eldridge Hudson on occasion. The Hoosiers were the No. 1 seed out of the Midwest, and UNLV was the top seed out of the West. Indiana won, 97-93, and went on to capture the national title with a 74-73 victory in the final game against Syracuse.
"That was a great (UNLV) team," Alford said. "Vegas was as good as anybody that year all year long, so we were very fortunate to win that game and move on to the championship game."
Alford said one of his favorite times as a coach of New Mexico from 2007-2013 was coming to the Thomas and Mack Center for annual games with the Runnin' Rebels, because he'd get to see Jerry Tarkanian.
"Every time we came in here I'd get to see him," said Alford, who is in his second term with UCLA. "He's always been somebody that I've always enjoyed seeing in the college game. (It's) just always great seeing Tark, I'm a big fan of his."
I told him he played for one of the best ever – Bobby Knight – and played against one of the best ever – Tarkanian – and asked where he would rank the Hall of Fame legends.
"I didn't play for one of the best, I played for THE BEST, but that's just me," said Alford, laughingly. "I think Coach Knight is the best, but obviously Tark – his career, his longevity and his ability to win over time and do it consistently – he's got to be ranked as one of the best. He was awfully good for our game."