Aces beat Fever to move within half-game of playoff spot
Updated July 22, 2018 - 7:43 pm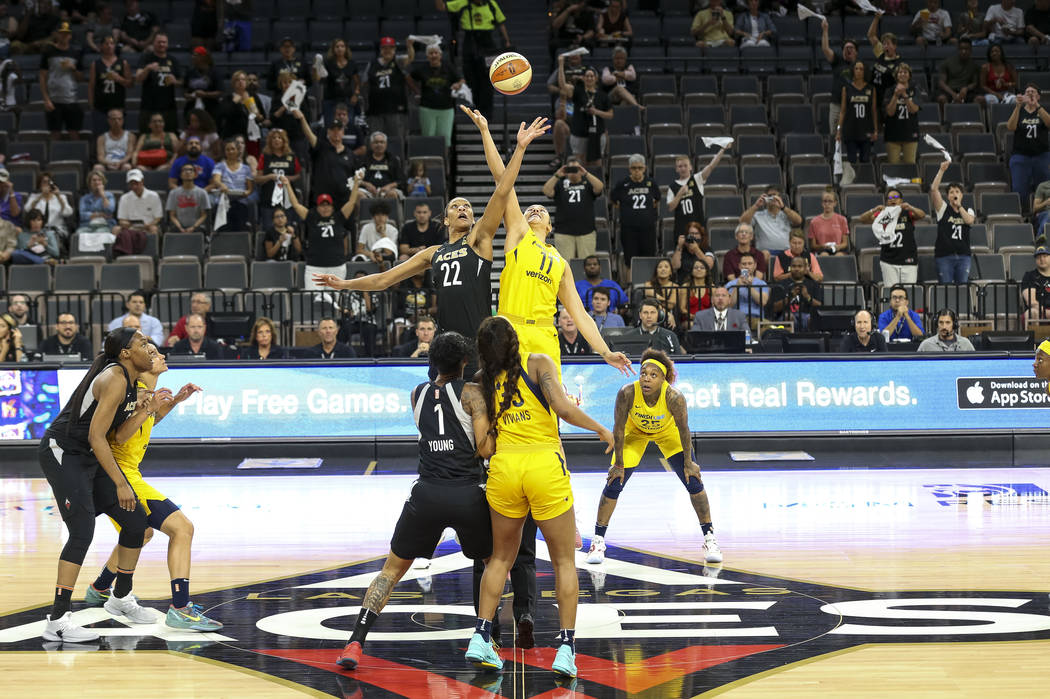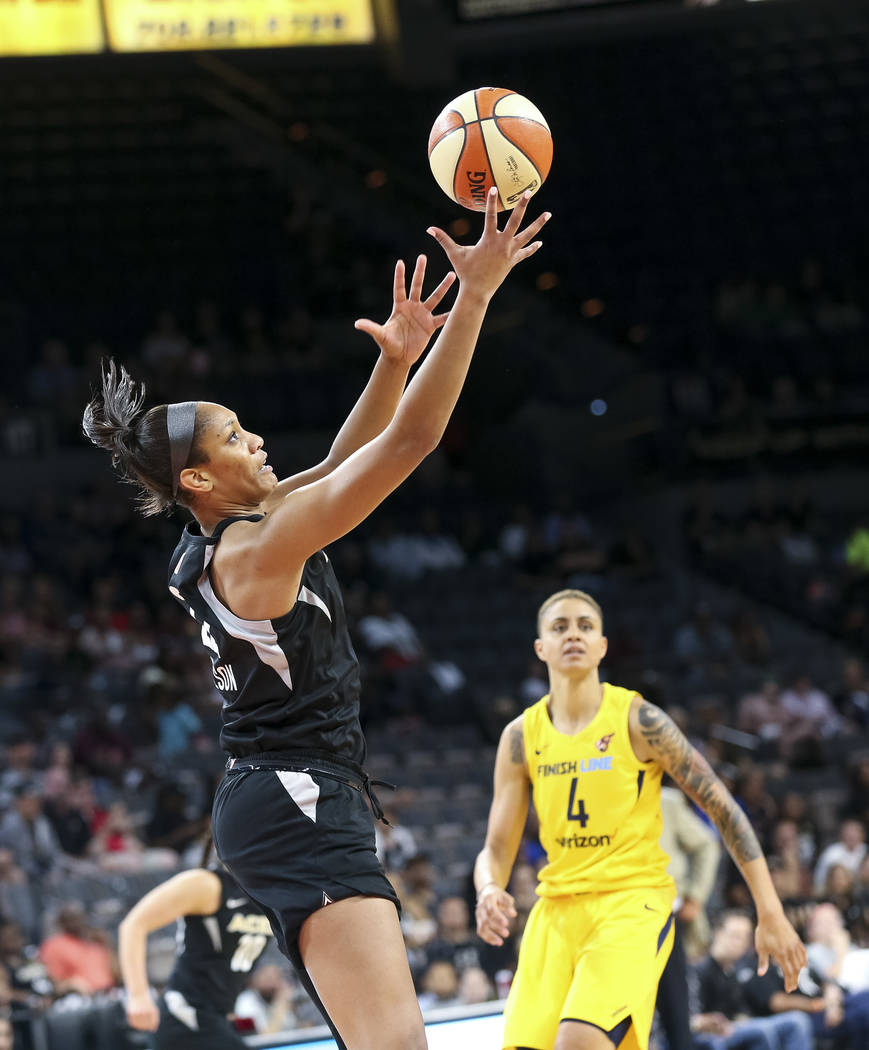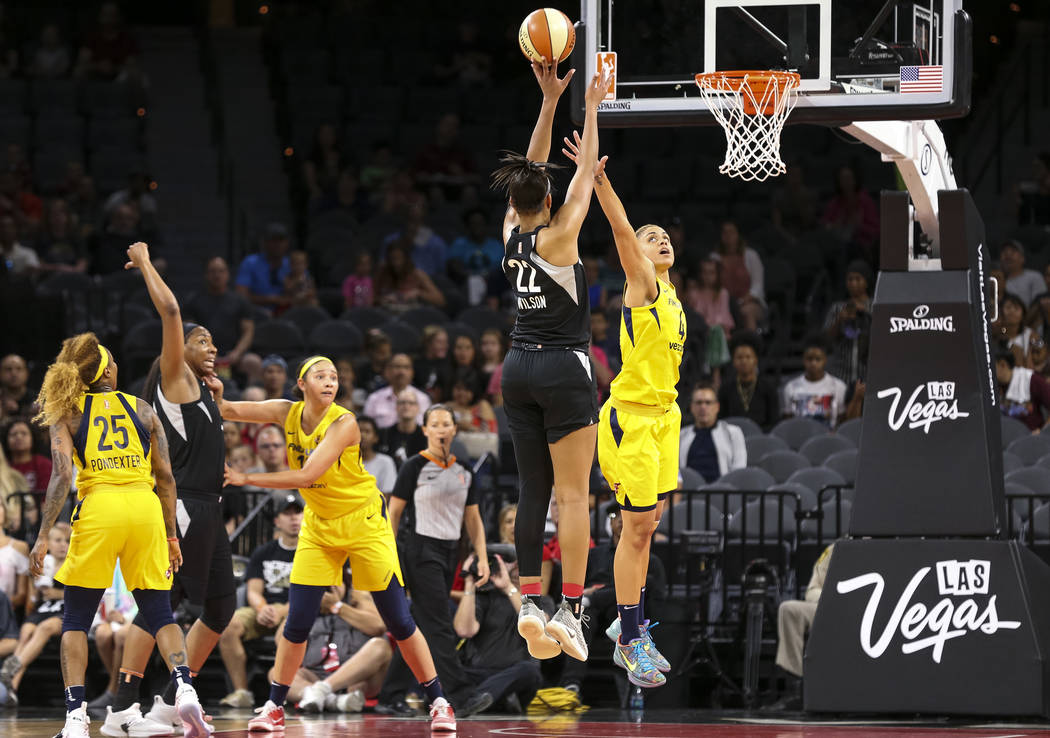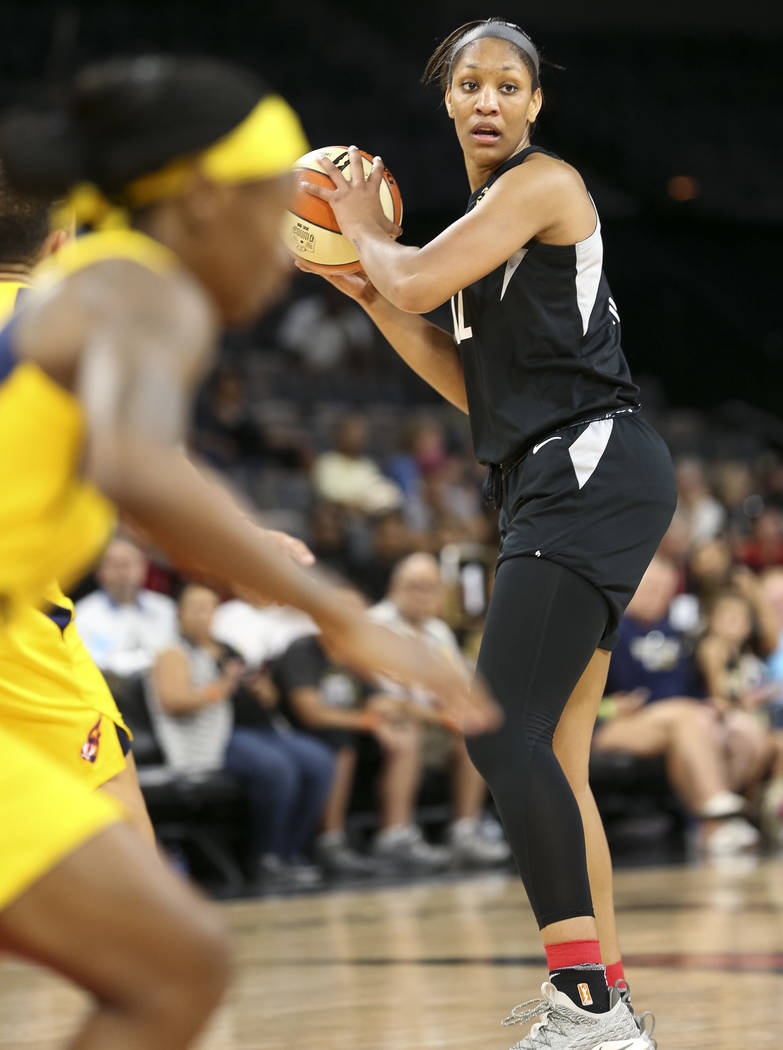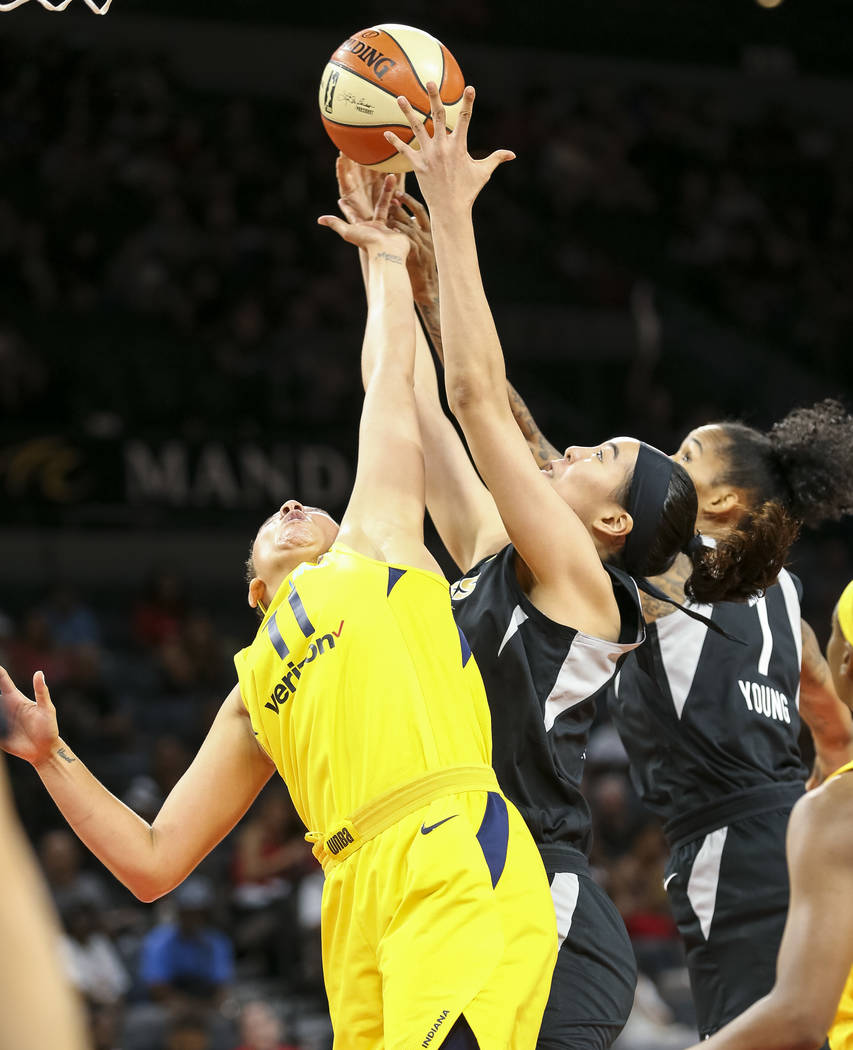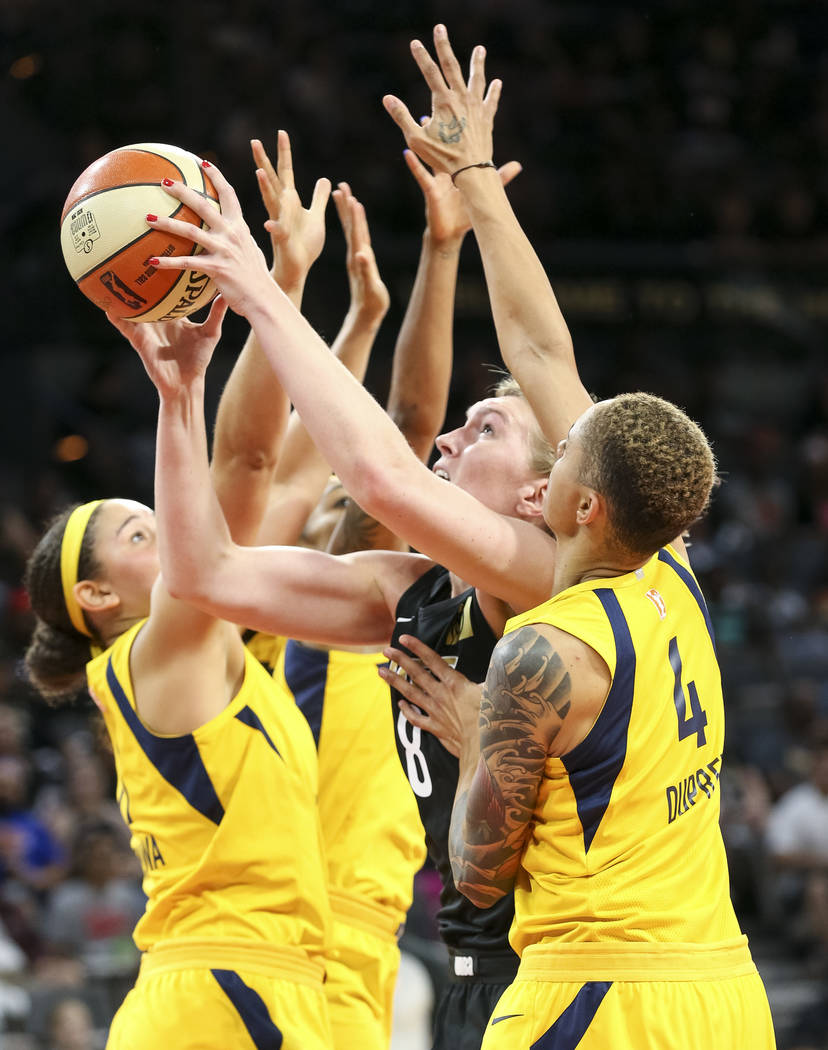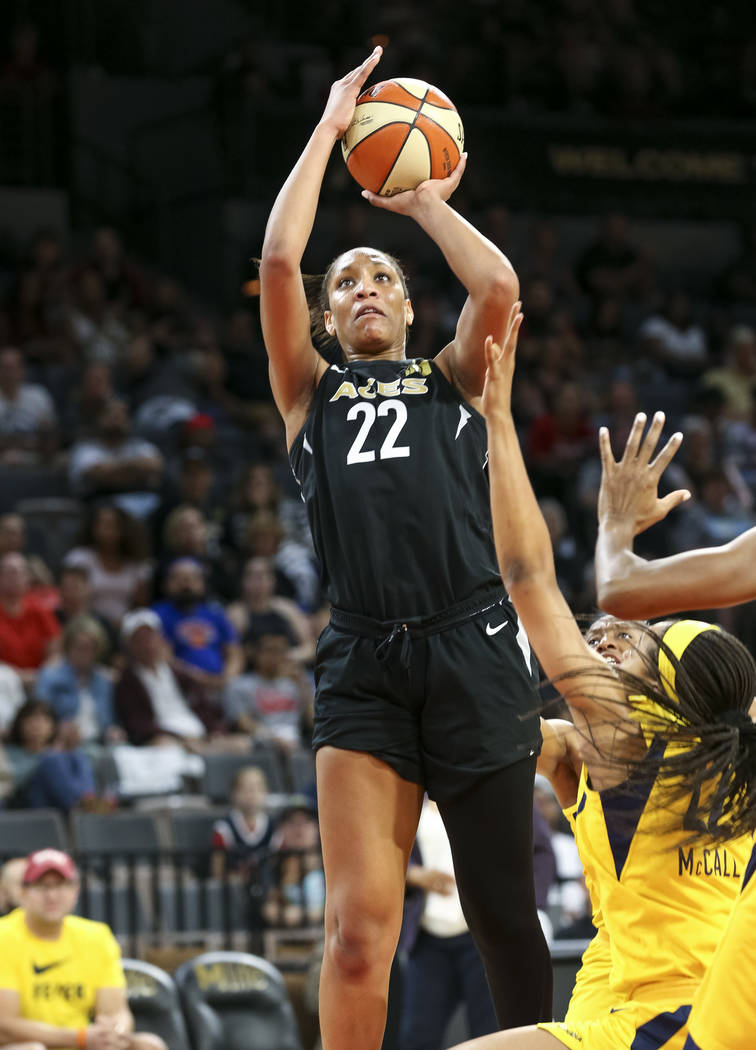 Aces rookie A'ja Wilson needed to know if the Connecticut Sun beat the Dallas Wings on Sunday afternoon.
They did.
But that's not the point.
The point is that it matters what other teams do now.
It didn't in May or early June, when the Aces were mired in their inadequacies, toiling for even the smallest of victories during a 1-7 start. But they suddenly find themselves in the thick of a playoff race — albeit for the eighth and final spot — as they head into the all-star break following an 88-74 victory over the Indiana Fever at Mandalay Bay Events Center.
The Aces (12-13) trail Connecticut by a half-game with nine games remaining in the regular season. And they've vowed not to let up after having won six of their last seven.
That 1-7 mark has been rectified with toughness, trust and time, guard Kayla McBride said.
"We're learning how to win, and how to win with each other," she said. "We're learning how to be a team."
Wilson posted a game-high 24 points and McBride scored 16 against Indiana, the worst team in the WNBA with a 3-22 record. Las Vegas coach Bill Laimbeer was concerned that the Fever could sneak up on his club, which doesn't play again until August 1.
And they almost did in the first 20 minutes.
But the Aces overcame a slow start and calmed their coach with a dominant second half before a rowdy announced crowd of 5,368.
Wilson bullied her way to the basket, converting 8-of-14 field goals and 8-of-12 free throws. McBride was 6-of-12 from the floor, adding six rebounds and four assists, and Kelsey Plum and Carolyn Swords scored 12 points apiece to round out a balanced effort.
Natalie Achonway scored 21 points to lead Indiana, which shot 41.2 percent from the field and trailed by double figures for most of the second half.
"Overall, throughout the course of the game. … I thought our energy improved a lot," Laimbeer said. "We're in a good spot. We're one game behind .500. We're not getting any help (from other teams), so I guess we're going to have to do it ourselves. I think that's our plan right now, just try and win every game we play."
Wilson and McBride depart Thursday for Minneapolis, where they'll play in the all-star game Saturday afternoon.
Then it's back to Las Vegas.
Back to watching their spot in the standings.
"When we come back (from the all-star break), we really have to be locked in, because the season is flying by and we're really trying to get to the playoffs," Wilson said. "We know what's at stake. We know that we all want to make it to playoffs and we all want to make history for this franchise."
More Aces: Follow our Aces coverage at reviewjournal.com/aces and @RJ_Sports on Twitter.
Contact reporter Sam Gordon at sgordon@reviewjournal.com. Follow @BySamGordon on Twitter.