Aces center Carolyn Swords explains WNBA opting out of CBA
Updated November 7, 2018 - 5:12 pm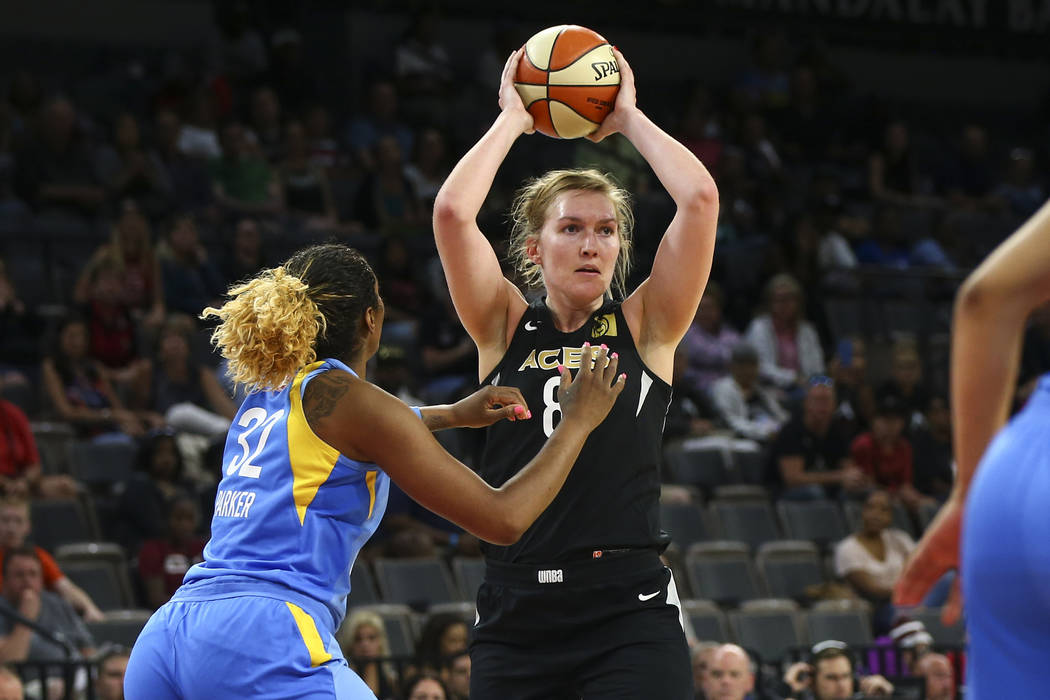 The Aces in August spent the better part of 24 hours entrapped in airplanes and airports, and strapped to the travel provisions of the WNBA's collective bargaining agreement.
Commercial travel. Same day travel. And in this case, miserable travel.
But change might be on the horizon. The WNBA Players Association opted out of the current collective bargaining agreement last week, and can negotiate a new deal with the WNBA after the 2019 season.
The current CBA was set to expire in 2021, and Aces center and team union representative Carolyn Swords said the the players association will seek improvements in three areas — salaries and compensation, the player experience (i.e. travel, lodging and arenas) and health and wellness.
Swords expounded on the players association's decision Wednesday and outlined what it could mean for the league moving forward.
RJ: How did the players association arrive on the decision to opt out? How significant is the decision?
Swords: The CBA is what allows all professional leagues to function between the players and the league offices. It's something we took really seriously. We've been discussing it a long time, and there was a vote (among players).
RJ: So these talks were ongoing for a while within the players association?
Swords: It's a provision in the 2014 CBA that we know that has existed. Just recognizing that we had the Nov. 1 deadline, we wanted to make sure that we weren't scrambling. The challenge with having players go abroad is that you have people functioning on different time zones … As a player rep, you're always trying to check in with your teammates to make sure things are going smoothly.
RJ: The Aces had that travel situation that cost them a game this past season. Did that come up during talks about opting out?
Swords: My experience with the Aces has been phenomenal. I think the Aces really set a great example. The travel, it's an example of something that happens every couple years. One team or another has to face some sort of travel delay issues. (It was about) recognizing that we could solve what happen with some sort of provision that were to put protocol in that place if it would happen. Its not just charter planes. It's traveling multiple time zones in a day … Things like that.
RJ: With a new CBA still a year away, how important is this upcoming season for the players as negotiations loom?
Swords: We now have time on our side. Traditionally when a CBA is expired, you only have that off-season … Now that we know that this has to be in place before 2020, we can obviously still focus on performing well in 2019, but (we also have) such a nice long runway to prep what negotiations might look like. … (We can make) sure that we kind of have a plan in place so that we are coming to the table prepared to make things efficient and smooth.
RJ: What role can a new CBA playing in the growth of the WNBA?
Swords: It's really exciting. Our fans have proven that they are loyal and that they are really dedicated to the WNBA and supporting the players. The players are just elevating their play year by year …. Its become incredibly competitive. You've seen rivalries develop and new teams come to the top … (It's about) just enhancing that growth and (making) an investment in a really elite league.
More Aces: Follow all of our Aces coverage online at reviewjournal.com/aces and @RJ_Sports on Twitter.
Contact reporter Sam Gordon at sgordon@reviewjournal.com. Follow @BySamGordon on Twitter.