Aces close first season with optimism despite loss to Atlanta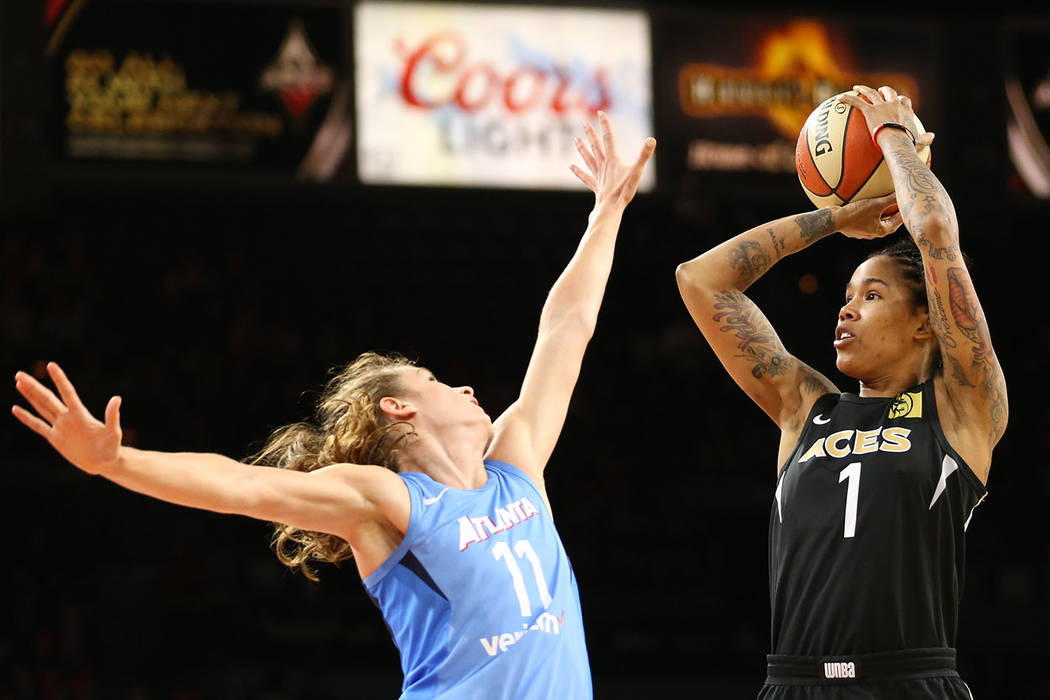 Kayla McBride and A'ja Wilson sauntered to half court, microphones in hand, and delivered a heartwarming address Sunday to the spectators in attendance before their final game of their inaugural season.
Except it was inaudible for the most part.
The hometown cheers were way too loud.
The Aces closed out their first campaign in front of the 5,737 on hand for Fan Appreciation Day at Mandalay Bay Events Center. The 93-78 loss to the Atlanta Dream was inconsequential because the Aces were eliminated from playoff contention on Friday. Still, Las Vegas coach Bill Laimbeer implored his players to compete for their fans.
If for nothing else.
"I told (the players) after the game to be proud of this year. It was a great year for the Las Vegas Aces," he said. "We launched a franchise. We competed and showed who we were both individually and collectively. And our franchise and fans got to come out and enjoy a great product and great support."
Laimbeer was particularly pleased Sunday with how the Aces (14-20) played the first half, and with their 47-41 halftime lead. They were less engaged in the second half, though, and Atlanta (23-11) controlled the third and fourth quarters.
The crowd still rewarded Las Vegas with a standing ovation after the game, and stayed for several minutes to watch the players walk off the floor for the final time in 2018.
They Aces will not make the WNBA playoffs.
But they made their mark in Las Vegas.
That, in itself, is a victory.
"I'm super-duper excited just to be back with this team," Wilson said. "Coach was saying in the locker room (that ) we established ourselves. We established our fan base — a great fan base."
The Aces averaged more than 5,200 spectators per game, and drew more than 7,000 twice during their 17-game home slate. They drew fewer than 4,000 only one time, and routinely brought in more then 5,000 as the franchise — and MGM Resorts International — navigated the course of its first season.
There were ups — namely the 11-6 stretch in June and July and the 6-1 stretch before the All-Star break.
There were downs — like the 1-7 start, and the five-game losing streak to begin August.
But through it all, there was, and still is, a genuine sense of optimism about who the Aces can become.
The worst team in the league last season was in playoff contention until the final week of this season. They beat the best team in the league in the Seattle Storm, and topped perennial contenders like the Phoenix Mercury, Los Angeles Sparks and Minnesota Lynx.
Not bad for a bunch of 20-somethings — and one 30-something.
With a new coach.
In a new city.
Check that. Their new city.
"Vegas really showed out for us all season, which was great," McBride said. "It was a lot of fun. We didn't really have any expectations, but now we do. We kind of wrote our own story. … I was really proud of how our team fought all season. We continued to get better."
More Aces: Follow online at reviewjournal.com/aces and @RJ_Sports on Twitter.
Contact reporter Sam Gordon at sgordon@reviewjournal.com. Follow @BySamGordon on Twitter.