Aces cut three players, including UNLV's Brooke Johnson
Updated May 9, 2018 - 8:44 pm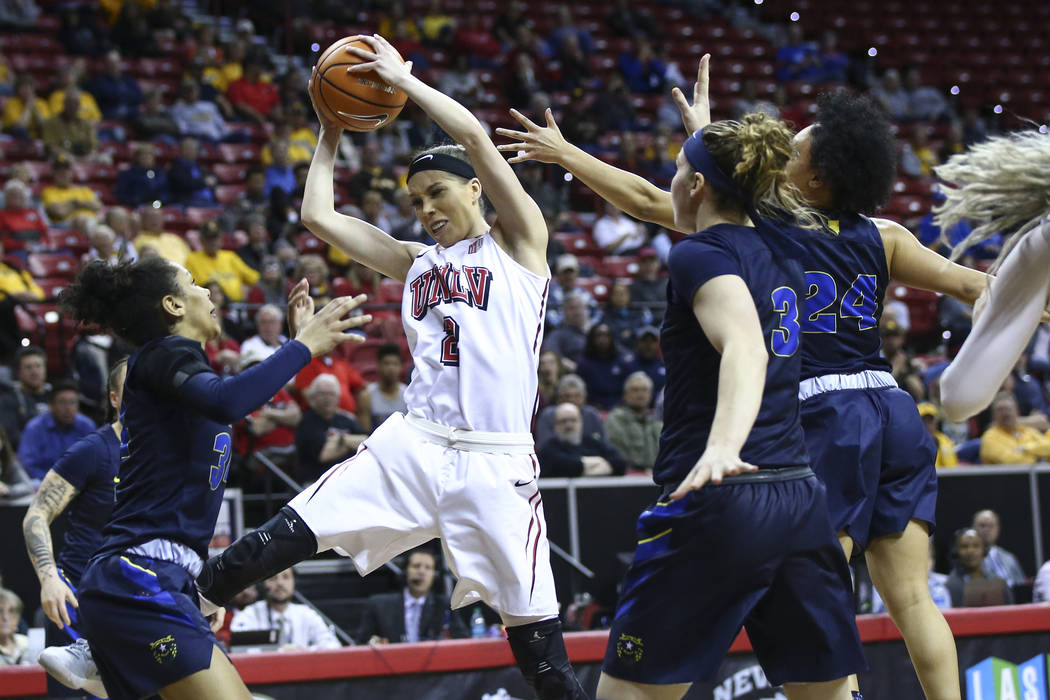 Three Aces players are still competing overseas and have not joined the team.
Three have already departed from training camp.
The Aces waived rookie guards Brooke Johnson of UNLV and Kahlia Lawrence and veteran guard Jacki Gemelos on Wednesday with the season opener 11 days away.
Fifteen players are still in camp. Dearica Hamby, Kelsey Plum and Kayla McBride are set to join the team when their seasons end in Europe. Twelve players will make the roster.
"There are obviously certain players who are going to make this basketball team," Aces coach Bill Laimbeer said. "There's still a dogfight for a couple spots. We're going to find out who, what, where, how."
Johnson is perhaps the most notable cut. She spent four years at UNLV and averaged 16.1 points in 2017-18 en route to All-Mountain West honors, then signed as an undrafted free agent last month but played sparingly in the Aces' preseason opener against the Chinese National Team on Sunday.
Lawrence, a second-round pick out of Mercer, played eight minutes Sunday and missed all three of her field-goal attempts. Gemelos did not play.
Laimbeer said young players tend to struggle in their first WNBA training camp because of the size and experience of veteran players. He pointed to camp as a key developmental opportunity and noted that players can improve domestically and internationally to increase their chances of playing in the league.
"They're probably going to be changing positions. There's only three weeks," he said. "There's lots of European jobs, there's a whole bunch of leagues where if you're in a WNBA training camp, it gives you a leg up on one of those jobs."
More Aces: Follow all of our Aces coverage online at reviewjournal.com/aces and @RJ_Sports on Twitter.
Contact reporter Sam Gordon at sgordon@reviewjournal.com. Follow @BySamGordon on Twitter.
Aces training camp
These players are still with the Aces:
Name Position Height
Tamera Young F 6-2
Kelsey Bone C 6-4
Moriah Jefferson G 5-6
Morgan William G 5-5
Carolyn Swords C 6-6
Nia Coffey F 6-1
Raigyne Louis G 5-10
Sequoia Holmes G/F 6-1
JiSu Park C 6-5
A'ja Wilson C 6-5
Jamie Nared G/F 6-2
Sydney Colson G 5-8
Cierra Burdick F 6-2
Ivey Slaughter F 6-1
Valeriane Ayayi F 6-1