Aces guard Kayla McBride emerges as one of WNBA's best
Updated July 4, 2018 - 6:43 pm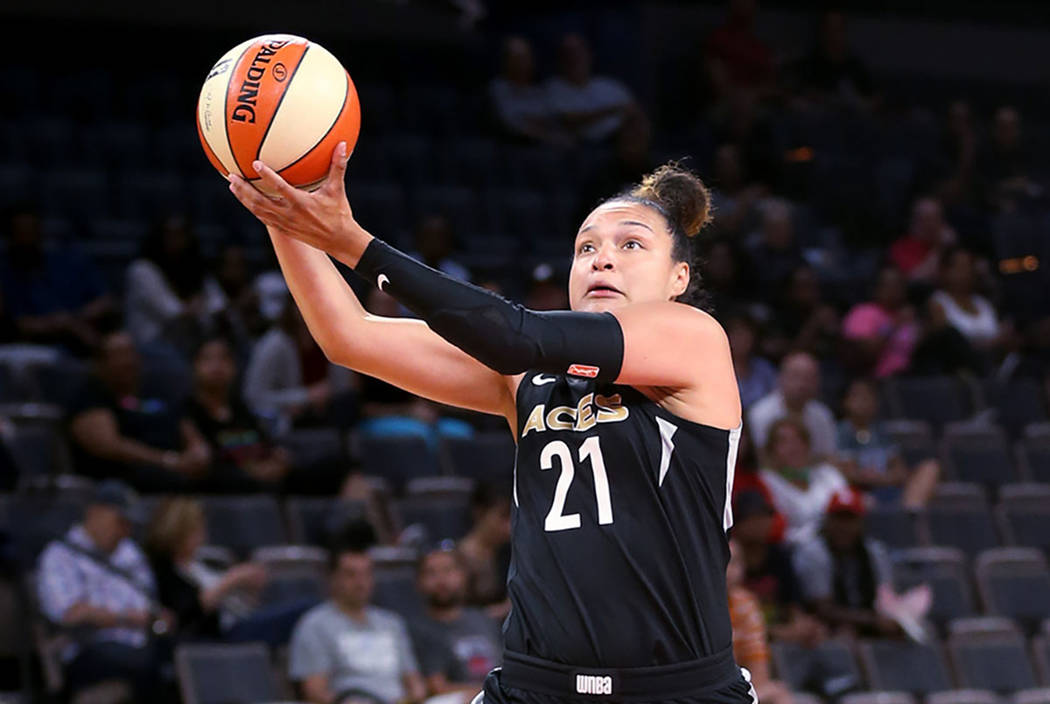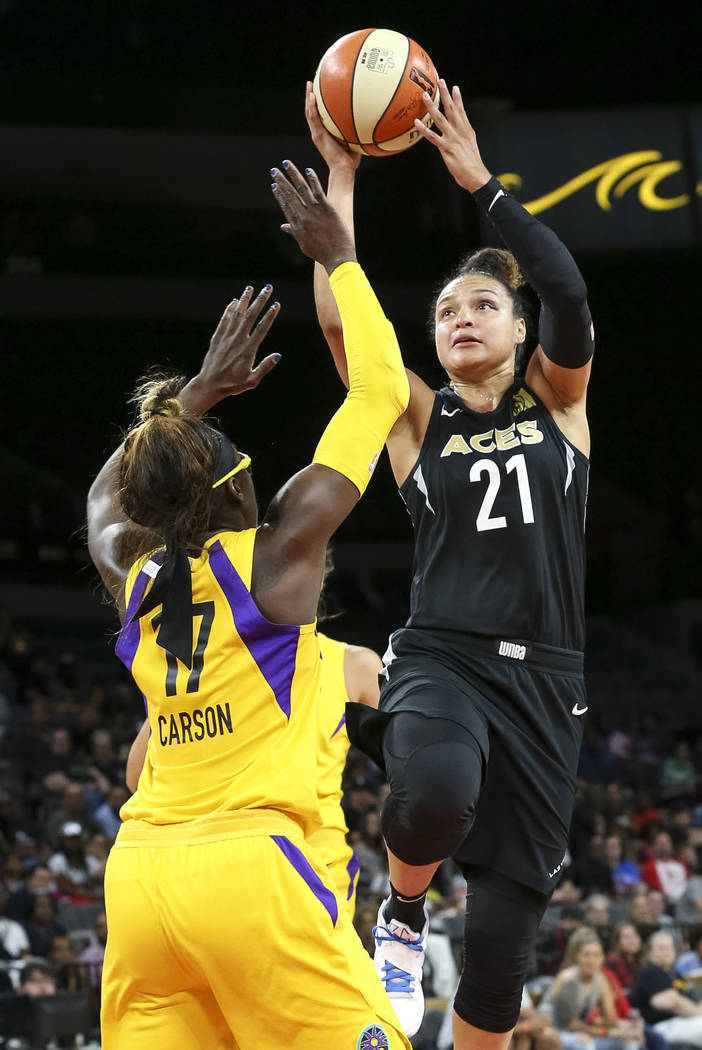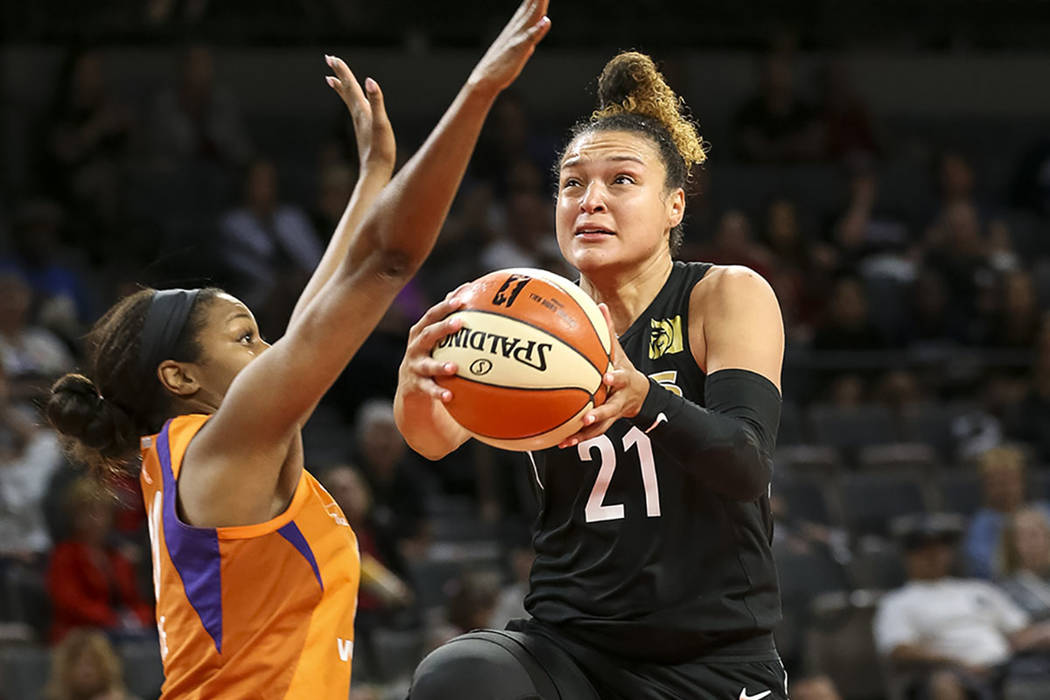 The game is typically called King of the Court on blacktops and in gymnasiums around the country. But while growing up in Erie, Pennsylvania, Kayla McBride called it "Ones."
Two dribbles, at most. One shot. One-on-one.
Score — against the best boys in the city of roughly 100,000 people — and match up against another defender. Or fail to score, head to the sideline and wait for the next opportunity.
"You can't be a punk. You can't back down," McBride said. "I always wanted them to know my name after, that I was worthy enough for them to know my name instead of the girl on the court, because I was usually the only one."
They all know her name now.
Because the only girl on the court became one of Erie's greatest athletes.
McBride, 26, in her fifth WNBA season, still credits her development to those games of Ones in her beloved hometown. They helped her become one of the best basketball players in the world and a cornerstone for the Aces as they establish relevance in their new city.
At 5 feet, 11 inches tall, she stupefies defenders with an arsenal of crossover dribbles, fakes and hesitations. She's an elite shooter now, too, averaging 17.9 points on 46.3 percent shooting, including 42.6 percent from 3-point range — all career-highs and all-star caliber statistics.
"I only asked her one thing," Aces coach Bill Laimbeer said. "Put everything on to the court every day in practice, risking her body and her mind every day for the good of the whole."
No problem for McBride.
It's all she knows.
All she's ever done.
All she wants to do.
Playing with the boys
McBride was 5 years old when she began playing basketball in YMCA leagues, and 12 or 13 when she started playing against — and beating — the local boys.
Former Heisman Trophy winner and New York Knicks guard Charlie Ward ran an annual basketball camp for boys in Erie. McBride's father, LaMont, worked at them as an official and brought his daughter along.
"It was the highlight of my summer," said McBride, who wears Ward's No. 21 in his honor. "As soon as the camp was over, I would play one-on-one against the guys. All day. All night. Until I couldn't play anymore."
McBride initially struggled against the bigger, stronger competition. But she adapted and developed the skills to supersede the physical differences.
Her demeanor intensified as she earned respect throughout her hometown.
She didn't back down from anybody.
"The only way to get better, the girls weren't out there trying to do nothing," LaMont McBride said. "You want your kid to be good and to be tough, exposing them to people they may not be able to play against. If it's the boys, it's the boys."
McBride still played against the girls and garnered collegiate attention from Notre Dame, Duke and Penn State as an eighth-grader.
She committed to the Fighting Irish as a junior and capped her prep career by leading her high school, Villa Maria Academy, to consecutive state championships, and earning Pennsylvania Gatorade Player of the Year honors.
Yeah, playing with the boys paid off.
"If I could score on these dudes … I can score on any girl in the world. These dudes, they're fast, they can jump, they can dunk. Getting past them, finishing, getting bumped. Those are 'and-ones' now," said McBride, who still works out with and plays against men during the offseason. "That's where I got my confidence from. That's where I got my swag from."
Brings her fight to Irish
Notre Dame women's basketball coach Muffet McGraw noticed it right away.
The confidence and swagger that McBride still operates with today.
"If somebody scored on her, she couldn't wait to get the ball back," McGraw said. "She hated when somebody scored on her."
She certainly picked the right university at which to channel her unbridled competitive spirit.
McBride and the Fighting Irish reached four Final Fours during her career, and three national championship games, from 2011-14.
Her passion helped her become, in McGraw's words, the "hardest worker" in the program, a first-team All-American as a senior and one of five players inducted into the school's Ring of Honor on Nov. 11.
In April, Notre Dame won its second national championship and first since 2001. McBride helped set that standard in South Bend, Indiana, and fortify its foundation.
"I learned how to be a professional," McBride said of her college career. "I learned how to carry myself, how to work. … My work ethic comes from there."
Balanced Ace
McBride was selected by the San Antonio Stars with the No. 3 overall pick in the 2014 WNBA Draft. She earned all-rookie honors that season, and was an All-Star in 2015.
A foot injury cost her almost half of the 2016 season, and the Stars were the worst team in the league in 2017, before relocating to Las Vegas, where she and the rest of the organization embraced a fresh start.
"I've been working for this moment," McBride said. "Now that I'm in Vegas with a clean slate and a great coach, a great situation. I'm just trying to take advantage of it."
McBride prepped for the 2018 season by leading the EuroLeague in scoring while playing for Turkish club Yakin Dogu Universitesi.
She missed Aces training camp to complete her season abroad, but has since emerged as the team's vocal and emotional leader.
"I call her my vet," Aces rookie A'ja Wilson said. "She really keeps me sane through games. … When I'm having a bad game, or missing a shot, I can always count on K-Mac."
Off the court, McBride is gregarious, lighthearted and well-rounded. An advocate for the advancement of women's basketball and a gifted baker and chef who cooks for her family and hopes to open a restaurant in Las Vegas.
Basketball is everything to McBride, but so is balance amid a chaotic professional schedule.
"I think I learned that when I was injured (in 2016)," she said. "When you're in the gym, you put everything that you have into it. When you leave, you're with family, you have other things that you do to keep that balance."
But all she's ever wanted to do is play basketball at the highest level. And now she's focused on turning the Aces into champions.
Simply by being herself.
"I know what I can do on the basketball court," she said. "But how can I bring this team and this city a championship? That's how I'm thinking."
Contact reporter Sam Gordon at sgordon@reviewjournal.com. Follow @BySamGordon on Twitter.
Who: Aces vs. Sky
When: 7 p.m. Thursday
Where: Mandalay Bay Events Center
Tickets: Starting at $17 on axs.com
How to watch: AT&T SportsNet
About the Aces: Third-year point guard Moriah Jefferson is back from a knee injury and made her season debut for the Aces (6-12) on Sunday against the Los Angeles Sparks. She had an assist in 11 minutes of action and will look to find her footing as she rejoins the rotation.
About the Sky: Allie Quigley leads Chicago (6-11), averaging 17.1 points on 49.2 percent shooting. Diamond DeShields is one of the league's best rookies and averages 13.9 points and 5.1 rebounds per game. The Sky claimed a 95-90 victory over the Aces on June 3.