The Aces attempted two 3-pointers in their 68-55 preseason loss Sunday at Dallas.
Veteran combo guard Shoni Schimmel averages 3.6 3-point attempts.
The Aces signed Schimmel over the weekend, hoping she can alleviate some of their 3-point woes. She last played for the New York Liberty under Aces coach Bill Laimbeer in 2016 and is a two-time all-star who shoots 37.1 percent from beyond the parabola in her three-year career.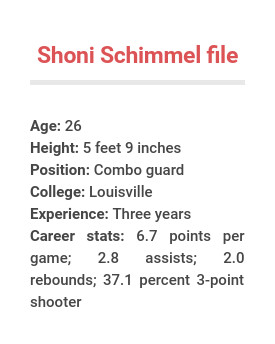 "She can shoot deep," Laimbeer said Tuesday. "We're challenged to shoot … Especially without (Kelsey) Plum and (Kayla) McBride. Even when they're here, we still don't have very many shooters. If she makes the team, that's another shooter."
The Aces will practice twice more before Laimbeer finalizes the roster Thursday ahead of Sunday's regular-season opener at Connecticut.
Fourth-year wing Dearica Hamby concluded her season in Europe and is expected to join the team Wednesday, meaning 16 players are competing for 12 spots. Plum and McBride are shoo-ins to make the team, but are still playing overseas and will miss the opener.
Schimmel has two days to prove herself again at the WNBA level.
"It feels great just to get back into the WNBA to be around fellow faces and fellow coaches," she said. "I played for Bill before, and it's been great just to come back and get familiar with him again and relearn everything."
Schimmel starred at Louisville from 2010 to 2014, then was selected with the No. 8 overall pick by the Atlanta Dream, with whom she played in two all-star games.
She was traded to the Liberty in 2016, struggled with conditioning and played sparingly before sustaining a concussion. She sat out the 2017 season to nurse her injury and spend time with her grandmother, who died in November.
"I've been spending time with my family and getting right mentally," she said. "It was hard to handle because I had never been hurt … It's a serious matter."
Schimmel started training camp with the Liberty but was waived last week, opening the door for a reunion with Laimbeer and a fresh start with the Aces.
"She knows me, I know her. I know what she's capable of doing," Laimbeer said. "She's in the best shape I've seen her in, in years. I think she's hungry to get back in the league."
More Aces: Follow all of our Aces coverage online at reviewjournal.com/aces and @RJ_Sports on Twitter.
Contact reporter Sam Gordon at sgordon@reviewjournal.com. Follow @BySamGordon on Twitter.