Aces vs. Sparks preview: Sunday's game
Updated July 14, 2018 - 4:42 pm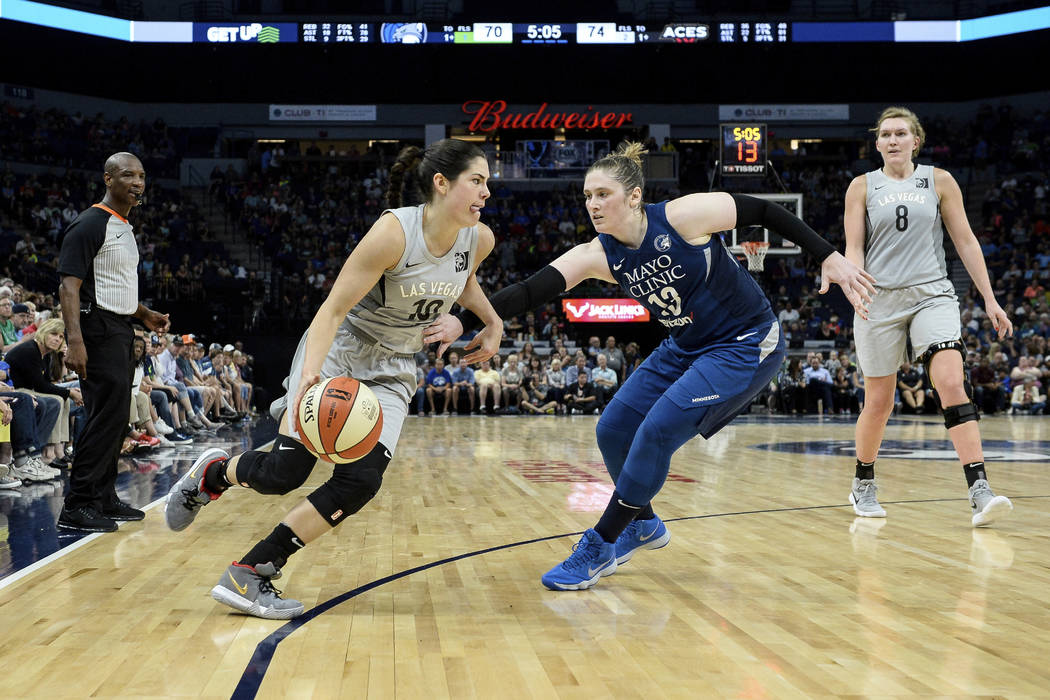 Who: Aces vs. Los Angeles Sparks
When: 3 p.m. Sunday
Where: Mandalay Bay Events Center
Tickets: Starting at $17 on axs.com
How To Watch: AT&T SportsNet (Cox 1313, 313; DirecTV 684; Century Link 760, 1760).
About the Aces: The 1-7 start is a thing of the past, and four straight victories have the Aces (10-12) in the thick of playoff contention. Kayla McBride had 24 points, nine assists and seven rebounds in an 85-77 victory over the defending champion Minnesota Lynx on Friday, and A'ja Wilson added 11 points, 15 rebounds and four blocks. Backup center Carolyn Swords is entrenched in the rotation after several DNPs during the beginning. She ignites the team with her defense and rebounding, and had 11 points and 11 rebounds on Friday. The Aces spent the last five days on the road, and are back home for the first time since last Saturday. They beat the Sparks at Mandalay Bay Events Center on June 29, and lost to them at the Staples Center on July 1.
About the Sparks: Los Angeles (13-9) was the best team in the WNBA for the first six weeks of the season, but has lost six of its last eight games amid a mediocre defense and inconsistent offense. Candace Parker is still as good as any player in the league, and is averaging 16.7 points, 6.8 rebounds and 4.3 assists. Nneka Ogwumike is getting 16.1 points and 7.1 rebounds per game, and Chelsea Gray brings all-star play to the point guard position with 14.5 points and 5.2 assists. The Sparks were among the best defensive teams in the league, but have allowed more than 80 points five times during their recent skid.
More Aces: Follow our Aces coverage at reviewjournal.com/aces and @RJ_Sports on Twitter.