Bill Laimbeer begins quest to build WNBA's Aces into champion
Updated May 19, 2018 - 8:33 pm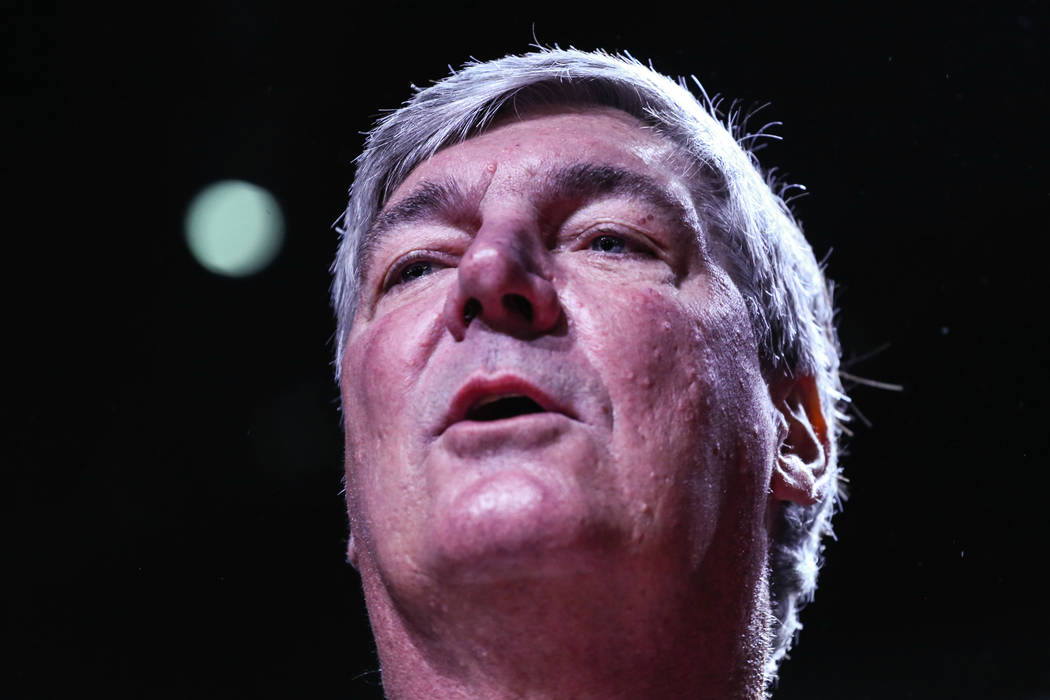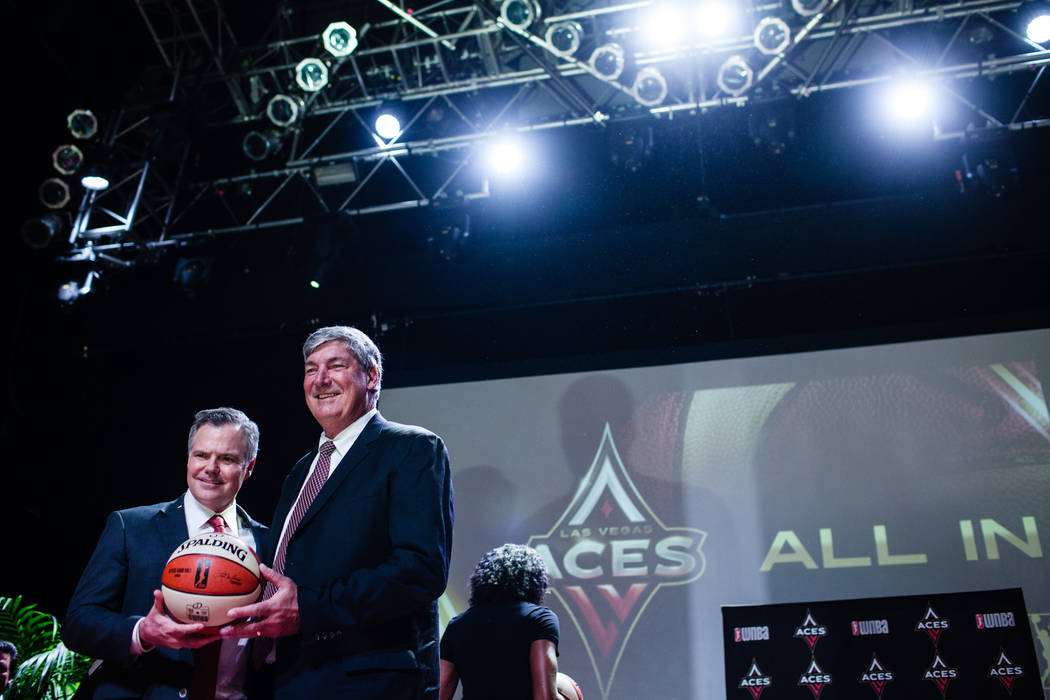 Bill Laimbeer loves to play golf.
But his new job keeps him off the courses in the Las Vegas Valley.
He's worked long, grueling days since arriving in October, trying to build the WNBA's worst franchise into a championship contender and another rallying point for the city.
There's rarely time for the links.
"I used to play a lot," he said. "I hardly play now at all because I work."
Laimbeer, who turned 61 on Saturday, brings an unparalleled pedigree to the city's newest professional sports franchise: the WNBA's Aces, who were purchased by MGM Resorts International and relocated from San Antonio in September. They open the regular season at 10 a.m. Sunday at the Connecticut Sun.
Laimbeer's resume brims with championships — two as a power forward with the NBA's Detroit Pistons and three as a coach with the defunct Detroit Shock of the WNBA — and accolades — he was a four-time NBA All-Star and two-time WNBA Coach of the Year.
No wonder the Aces hired him away from the New York Liberty to be their coach and president of basketball operations.
They want to go from worst to first, and, well, he's the guy that can help them do that.
And no wonder he joined the organization.
He can cap his memorable career by completing one more challenge.
"(Las Vegas is) a place where he can really get his hands in a lot of things. He has a lot of control," said Katie Smith, who played for Laimbeer with the Detroit Shock and coached under him with the Liberty.
"He's earned that right."
The basketball player
Laimbeer played every sport while growing up in Claredon Hills, Illinois. Then he grew — eventually to 6 feet 11 inches tall — and turned basketball into his future.
He excelled in high school, played four years at Notre Dame and spent a year in Italy before debuting for the Cleveland Cavaliers in 1980. They traded him to the Pistons in 1982.
"It never really was a goal," Laimbeer said of playing professionally. "When you're a scholarship athlete at a major university, you know you have a chance. I played basketball for money. Not for the love of the game … Basketball was about getting paid."
And winning.
Laimbeer blossomed into one of the NBA's best big men and anchored the infamous "Bad Boys" Detroit teams. His egregious, bruising fouls made him famous, but his skill helped him excel.
He was named to the All-Star team four times in the 1980s, averaged double figures in rebounds for seven straight seasons and helped the rugged Pistons win NBA championships in 1989 and 1990.
"We hated losing," he said. "We were driven to win a championship, but we didn't know if we were ever going to get there, or how long it was going to take … Once you get really good and you know it, it's easier. So it became easier to win. And then we did."
The Pistons stopped winning after Michael Jordan and the Chicago Bulls developed their dynasty. Laimbeer retired after the 1993-94 season with career averages of 12.9 points and 9.7 rebounds in 14 seasons.
The basketball coach
People told Laimbeer he would eventually go into coaching.
Sure enough, he did.
Laimbeer started coaching his daughter's AAU basketball teams while working as a consultant for the Pistons. The Shock were foundering midway through the 2002 season and turned to Laimbeer to coach the team.
Under Laimbeer, the Shock won WNBA championships in 2003, 2006 and 2008, and reached the WNBA Finals in 2007. He resigned during the 2009 season to join the Minnesota Timberwolves as an assistant coach, but they fired their coaching staff and he returned to the WNBA in 2013 with the New York Liberty as coach and general manager.
They struggled during his first two seasons, but turned things around and finished with the best record in the East each of the past three years.
The MGM hired him to lead the Aces in October.
"He's a players' coach … It's easy for us to talk to him," Aces rookie forward A'ja Wilson said. "That's the No. 1 reason why I feel so connected to Coach Bill. He knows what I'm thinking."
Other players also spoke highly of Laimbeer. He's a straight shooter, detailed oriented and coaches his players how he wanted to be coached.
He knows this won't be an easy job. The Aces finished with the worst record in the WNBA last year as the San Antonio Stars.
But Laimbeer is focused on developing something special. He's spent the past seven months working toward this season, selecting a coaching staff and roster while promoting the team's brand.
At the expense of his golf game.
"He's not only bright basketballwise, but he's bright in management," said Smith, who replaced Laimbeer as New York's coach. "He allows people to grow and to have success."
More Aces: Follow our Aces coverage at reviewjournal.com/aces and @RJ_Sports on Twitter.
Contact reporter Sam Gordon at sgordon@reviewjournal.com. Follow @BySamGordon on Twitter.
Game day
Who: Aces at Connecticut Sun
When: 10 a.m. Sunday
Where: Mohegan Sun Arena, Uncasville, Conn.
How to watch: Live on the WNBA's Twitter (@WNBA)
Aces roster
Name Position Height
Lindsay Allen G 5-8
Kelsey Bone C 6-4
Nia Coffey F 6-1
Dearica Hamby F 6-3
Moriah Jefferson G 5-6
Raigyne Louis G 5-10
Jaime Nared G/F 6-2
Ji-Su Park C 6-5
Shoni Schimmel G 5-9
Carolyn Swords C 6-6
A'ja Wilson C 6-5
Tamera Young F 6-2