Former Tennessee teammates reunite at Aces camp
Updated May 3, 2018 - 4:40 pm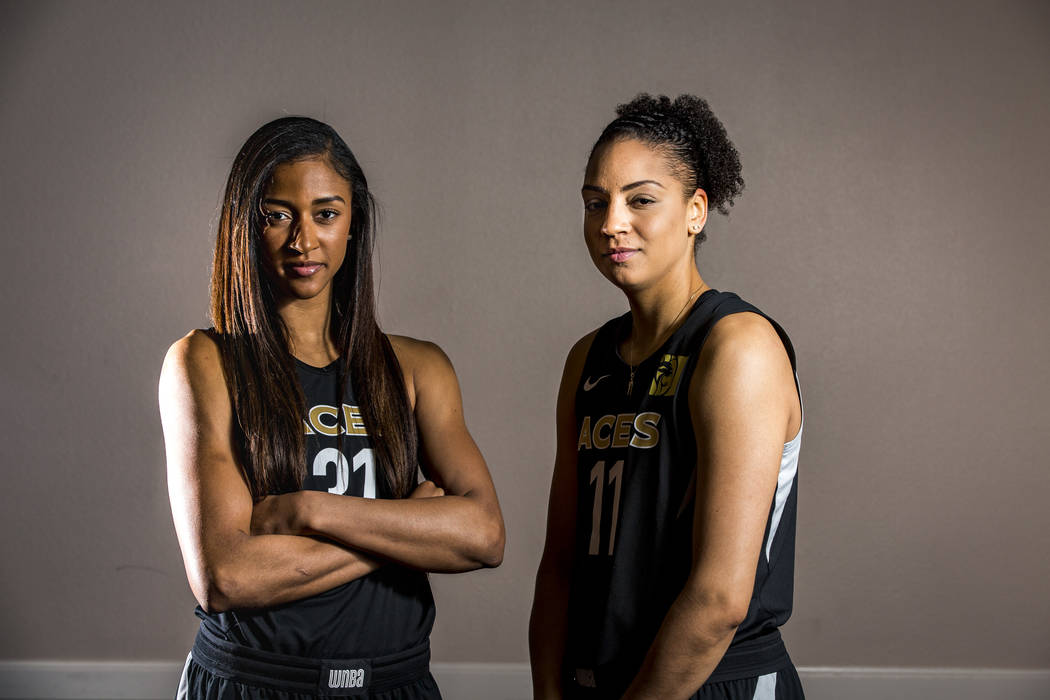 Fourth-year forward Cierra Burdick sat across from rookie forward Jaime Nared at the Aces' inaugural media day Thursday morning and smiled proudly at the welcome sight of her current — and former — teammate.
"That was my little freshman," Burdick said, triumphantly, in a studio at the MGM Grand Garden Arena.
Her little freshman is all grown up.
Burdick and Nared formed a friendship as teammates at the University of Tennessee during the 2014-15 season — in which Burdick was a senior and Nared was a freshman.
The two remained close as Nared finished college while Burdick navigated the pros, and they're excited for the chance to be teammates in the WNBA.
Nared has spent the week practicing at UNLV with the Aces, adjusting to the physicality of the pro game. Burdick, meanwhile, flew Wednesday from Russia to Las Vegas, where she had never been until this week.
And where her friend awaited her arrival.
"We were really close in college," Nared said. "She was great, especially (when I was) a freshman. I was a little bit more difficult, obviously nonchalant … She definitely did a great job just helping us when we had questions, and just being an older sister to us."
Burdick played her freshman year under legendary coach Pat Summitt and concluded her college career as an All-SEC performer at Tennessee.
She was drafted No. 14 overall by the Los Angeles Sparks in 2015 and has since played for the Atlanta Dream, New York Liberty and San Antonio Stars, who became the Aces last fall.
Nared spent the last three years with the Lady Volunteers, with whom she, too, became an all-conference player. With some of Burdick's tutelage, of course.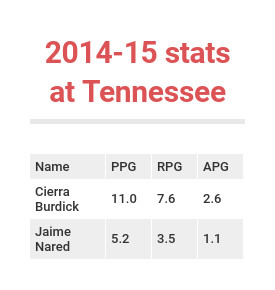 "Wherever we left off, that's where we picked up, even if we hadn't spoken to each other in a few weeks," Burdick said. "It's funny, she texted me in the middle of the season, like, 'I have a freshman who is nonchalant. I know exactly how you feel now. And I was like, 'Yeah, that's how I felt with you.'"
Burdick is grateful to be stateside again and is ready to start practicing with the Aces, who make their preseason debut Sunday at Mandalay Bay Events Center versus the Chinese National Team. Nared definitely isn't nonchalant anymore; she's focused on playing the wing and learning to be a pro.
Her old — and new — teammate is there to help.
"I think having someone that understands professional basketball, that's been there, that's experienced a lot more than you have, I think I'm just going to be a sponge to what (Burdick) has to say," Nared said. "Listening and learning from her is definitely something I'm going to do."
More Aces: Follow all of our Aces coverage online at reviewjournal.com/aces and @RJ_Sports on Twitter.
Contact reporter Sam Gordon at sgordon@reviewjournal.com. Follow @BySamGordon on Twitter.