Guard Kelsey Plum finds her range with Aces
Updated August 14, 2018 - 6:22 pm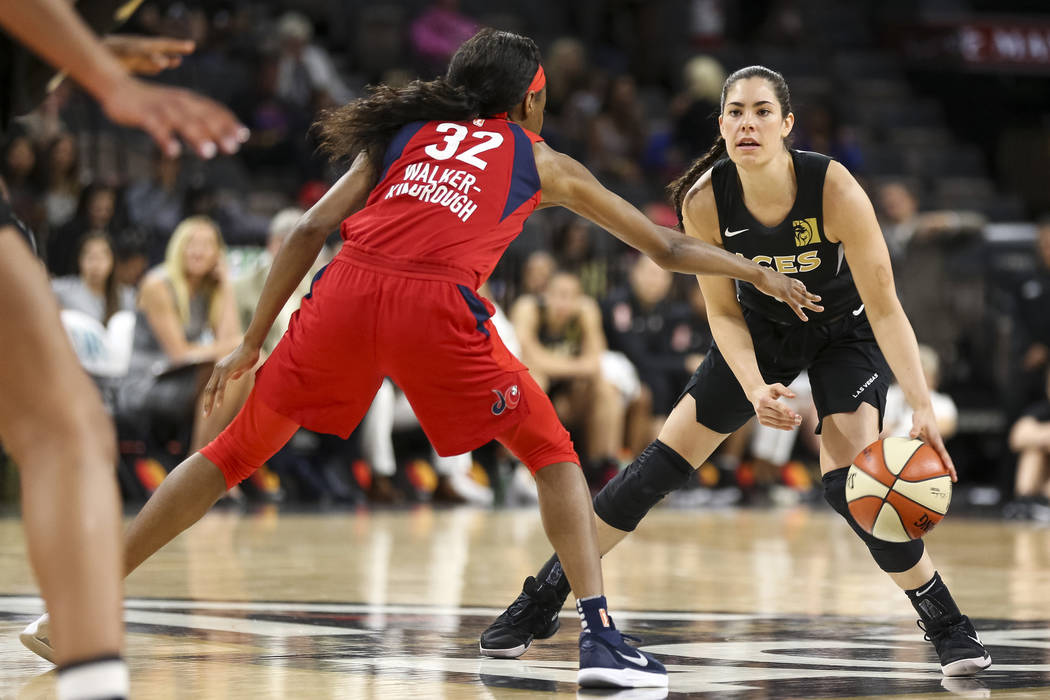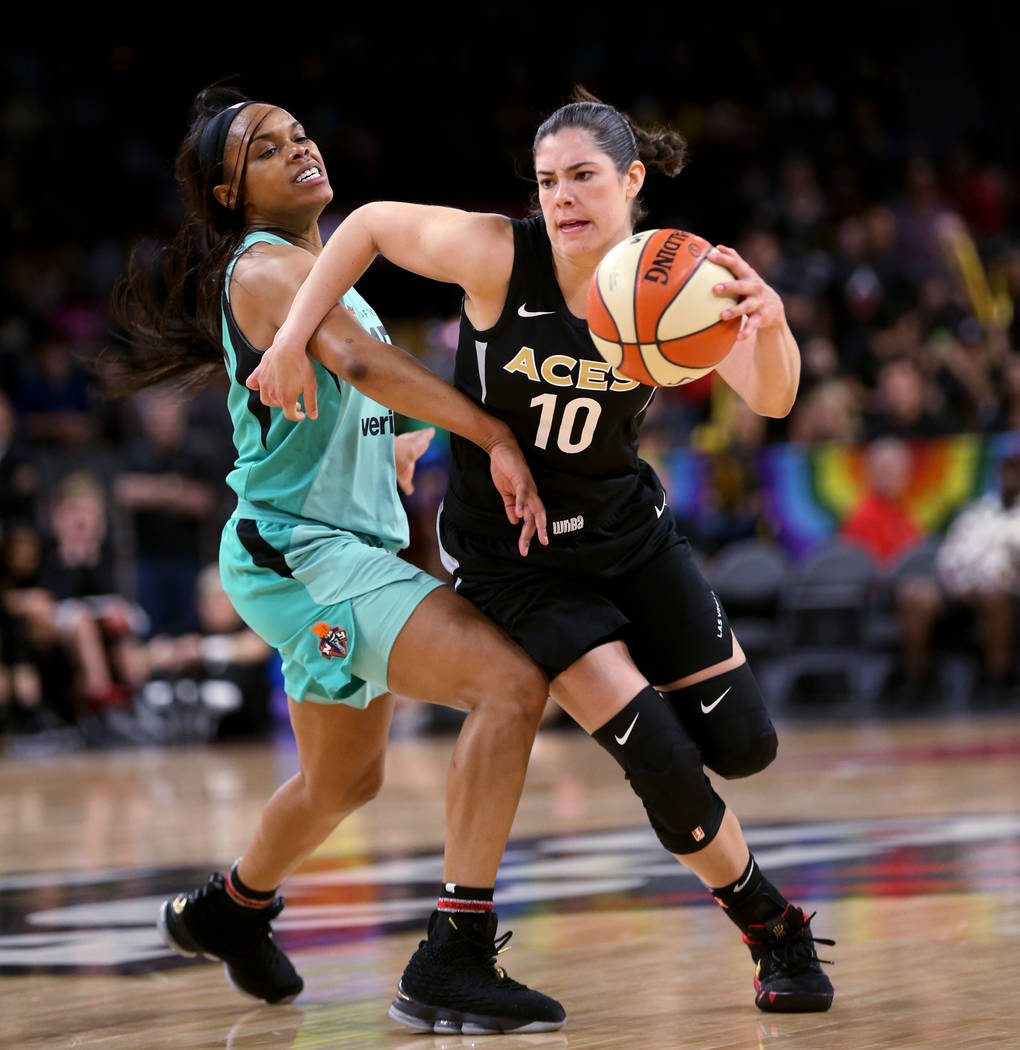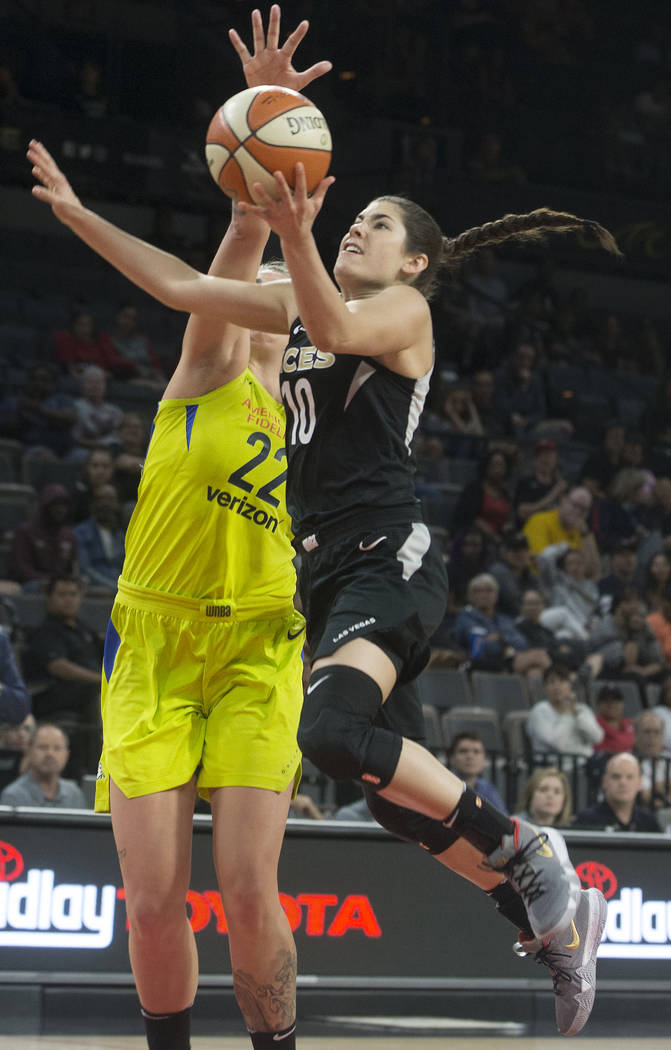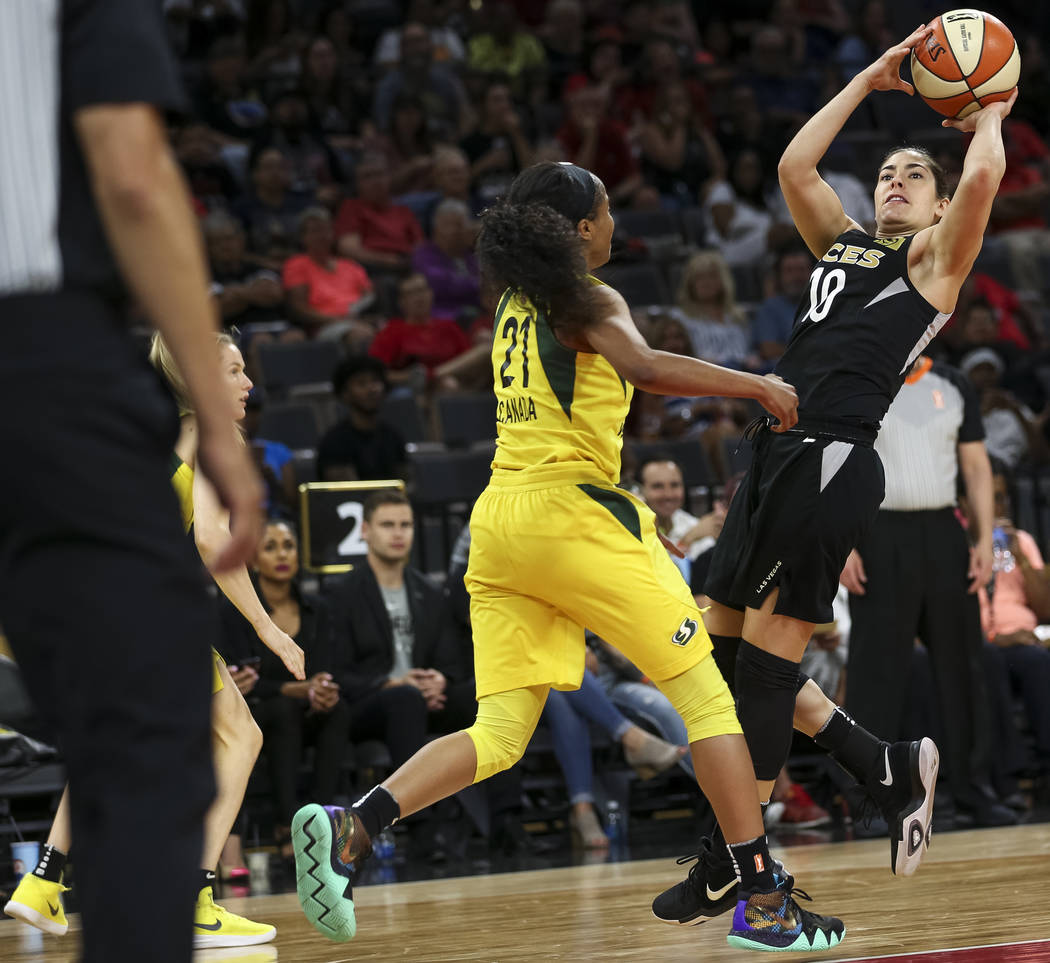 Aces guard Kelsey Plum is finally free to shoot that trademark transition 3-pointer.
That's the shot — check that, one of the shots — that helped her set the Division-I career scoring record during her tenure at the University of Washington.
She scans the court. She sets her feet. She shoots.
Splash.
Plum, selected No. 1 overall in 2017, has been among the league leaders in 3-point percentage throughout her second pro season, and is starting to showcase the scoring that captivated the country during the course of her record-setting college career.
In 28 games this season, the 5-foot-8-inch guard has averaged 9.3 points on 47.2 percent shooting, including a league-best 46.2 percent from beyond the arc, and has scored 20 points in three of her last four games.
She recorded a career-high 13 assists earlier this month, sports a three-to-one assist-to-turnover ratio and has earned the trust of her coach as the Aces make a final push toward the playoffs.
"She's done everything I've asked her to do so far," Aces coach Bill Laimbeer said. "I've asked her to look for her shot a little more, and she is."
The amateur
Plum's mom and two sisters played volleyball.
But she found basketball something different and fun, a hobby that she shared with her father, who took her to play at gyms in her native San Diego County.
By age 10, Plum dreamed of playing in the WNBA.
By her junior year of college, she believed it.
Plum was a McDonald's All-American, but wasn't considered a priority recruit by the nation's elite college basketball programs. So she signed with the Huskies, who never had reached a Final Four and hadn't been to the NCAA Tournament since 2007.
Washington was in for a treat.
After winning a gold medal in Lithuania for Team USA in FIBA's U-19 world championships, Plum flew directly to Seattle and went straight to the gym, thereby setting a new standard at Washington.
"I remember looking around at everybody and thinking 'Okay, this kid is different,'" said Plum's college coach, Mike Neighbors, who is now at the University of Arkansas. "We had to adapt to a kid like that. … You couldn't be wrong around her. She was so focused, it made us all better."
Plum was named a captain before her freshman year in 2013-14, and spent the subsequent four years scoring 3,397 points — more than any woman in Division I history.
Washington games were nationally televised, the team reached the Final Four in 2016 and fans would wait two-and-a-half hours after games to get Plum's autograph.
She'd sign for everyone.
"I kind of figured out … scoring a lot is great, but if you're not winning it doesn't really matter," Plum said. "I tried to figure out a way to make my teammates better. My leadership was going to be the reason that we were going to go. Not just me scoring all these points."
The professional
The scoring didn't hurt, of course, and by the end of the 2016-17 season, Plum was considered the top draft-eligible prospect. She was selected No. 1 overall by the San Antonio Stars last April and understood she faced challenges in adjusting to a new role at the next level.
"Every game we went into at (Washington) was kind of as an underdog," she said. "Then when you step on to this stage, everyone is expecting you to do what you did in college in the pros. That's just not realistic. For me that was one of the hardest adjustments."
Plum averaged 8.5 points on 34.6 percent shooting while battling an ankle injury during her rookie season. Opposing players challenged her top billing and she struggled amid lofty expectations.
A year playing in Turkey helped her acclimate to the professional game, though, and she joined her Aces teammates in late May after the conclusion of her international season.
She came off the bench early in the WNBA season, but entrenched herself in the starting lineup with shooting and ball security.
Laimbeer wanted her to knock down shots and take care of the ball, and she's doing that .
While scoring.
"She'll always figure things out, given the time and opportunity to do it," Neighbors said. "I would never put a bet down against her, even in Vegas."
More Aces: Follow all of our Aces coverage online at reviewjournal.com/aces and @RJ_Sports on Twitter.
Contact reporter Sam Gordon at sgordon@reviewjournal.com. Follow @BySamGordon on Twitter.
Game day
Who: New York Liberty vs. Aces
When: 7 p.m. Wednesday
Where: Mandalay Bay Events Center
Tickets: Starting at $17 on axs.com
Line: Aces -11; total 172½
TV: AT&T SportsNet, NBATV
About the Aces: The Aces (13-18) are a half-game behind the Dallas Wings for the final playoff spot and will qualify for the postseason if they win their last three games. Dallas (14-18) lost at Connecticut, 96-76, on Tuesday. Las Vegas plays at Dallas on Friday. A'ja Wilson is putting the finishing touches on a surefire rookie of the year campaign. She's averaging 20.3 points and 8.2 rebounds. Kayla McBride is averaging 18.7 points.
About the Liberty: Tina Charles is averaging 20.1 points and 7.2 rebounds for New York, which is 0-2 against the Aces.