Guards Kayla McBride, Kelsey Plum join Aces
Updated May 24, 2018 - 4:47 pm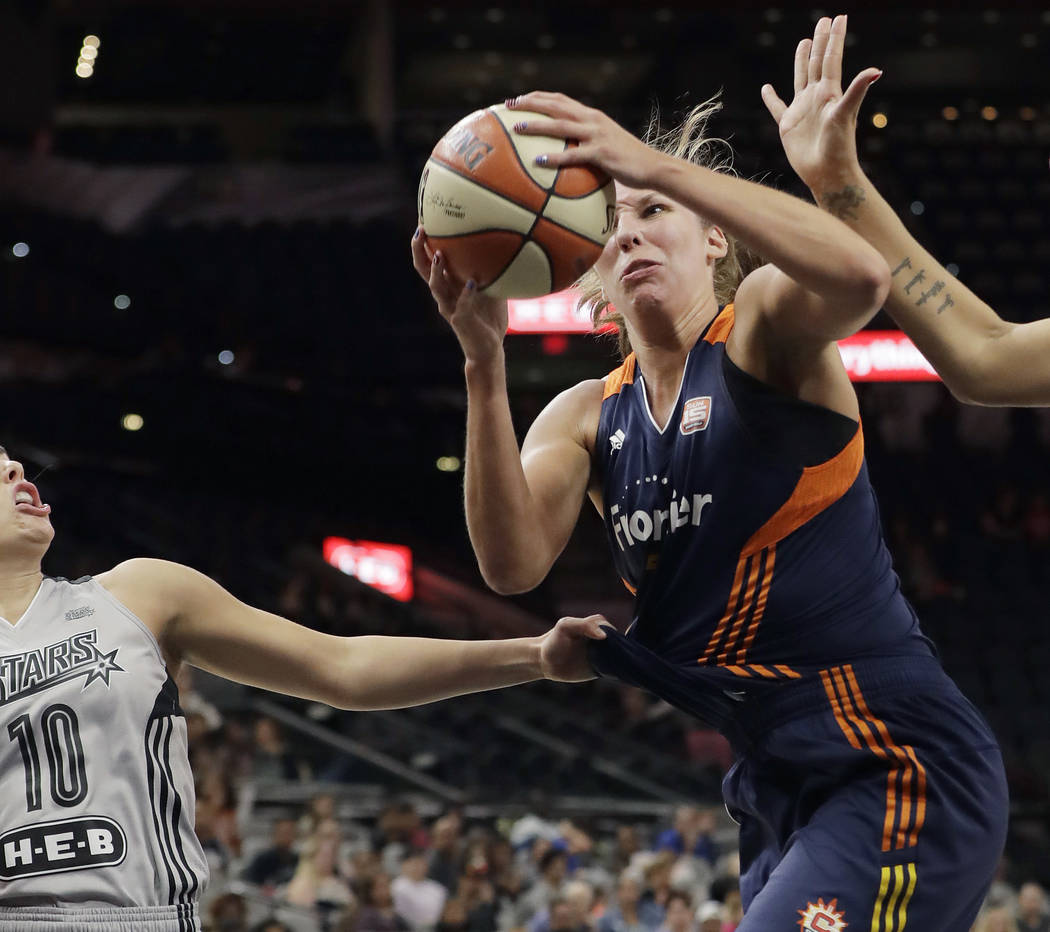 Aces coach Bill Laimbeer visited with guard Kayla McBride after practice Thursday as fellow guard Kelsey Plum buried 3-pointer after 3-pointer at Mandalay Bay Events Center.
Alas, the backcourt is back.
McBride and Plum concluded their seasons in Turkey at the beginning of the week and joined the Aces on Thursday.
McBride underwent physical exams and sat out practice awaiting medical clearance. Plum practiced with the Aces and under Laimbeer for the first time.
"We got a shooter, another person to handle the ball," he said of Plum. "It's too early to tell. I don't quite know what I've got, but I suspect what I have."
Plum described a chaotic 72-hour journey from the Turkish championship series to the Aces and said she's happy to join her teammates and get to work.
Plum, the No. 1 overall pick in 2017 who averaged 8.5 points and shot 36.5 percent from 3-point as a rookie, seemed confident as she begins her second WNBA season.
"I think mentally I'm a different person. Overseas will do that to you," she said. "Honestly, whatever comes my way, I'll handle it. I expect things from myself, but I'd rather just play it on the court than say it."
McBride, in her fifth WNBA season, is expected to step into a leadership role in Las Vegas. She led the team in scoring last season with 15.4 points per game in San Antonio, and said she's excited about the Aces' potential.
"To be here, and to have a new start, a new coach, a new brand, I think for us it's really cool," she said. "It's really refreshing, I would say … At the end of the day it's basketball, and I get to do that for a living."
The Aces (0-2) were blown out at the Connecticut Sun in their opener Sunday, then lost a close game at the Washington Mystics on Tuesday. Their home opener is at 5:30 p.m. Sunday against the Seattle Storm at Mandalay Bay Events Center.
No. 1 overall pick A'ja Wilson was swarmed by droves of defenders as the team's guards struggled to shoot from the perimeter, and Laimbeer said Plum and McBride can space the floor and unclog the paint.
"It's about time. We're able to see what we have," Laimbeer said. "It's going to take some more time to integrate these people into what we do, so we're going to be even more behind. At the same time, at least we see a light at the end of the tunnel. How long it takes us to get out of the tunnel is open for debate."
More Aces: Follow our Aces coverage at reviewjournal.com/aces and @RJ_Sports on Twitter.
Contact reporter Sam Gordon at sgordon@reviewjournal.com. Follow @BySamGordon on Twitter.
Aces roster
Name, Position, Height
Lindsay Allen, G, 5-8
Kelsey Bone, C, 6-4
Nia Coffey, F, 6-1
Dearica Hamby, F, 6-3
Moriah Jefferson, G, 5-6
Kayla McBride, G, 5-10
Jaime Nared, G/F, 6-2
JiSu Park, C, 6-6
Kelsey Plum, G, 5-8
Carolyn Swords, C, 6-6
A'ja Wilson, C, 6-4
Tamera Young, F, 6-2