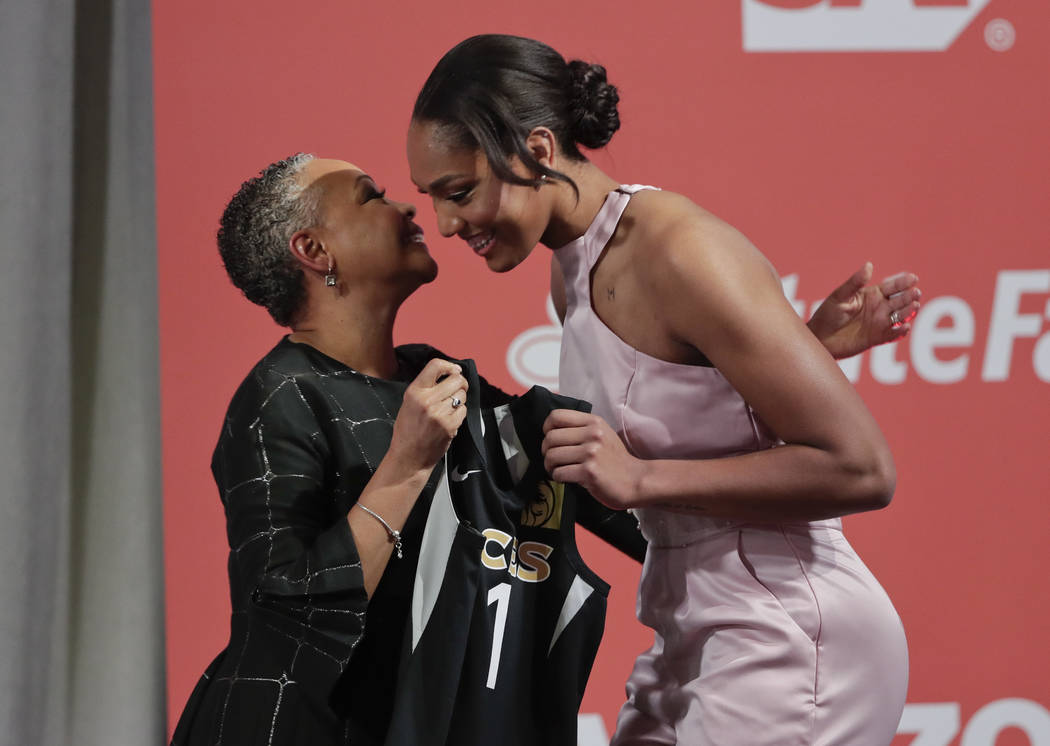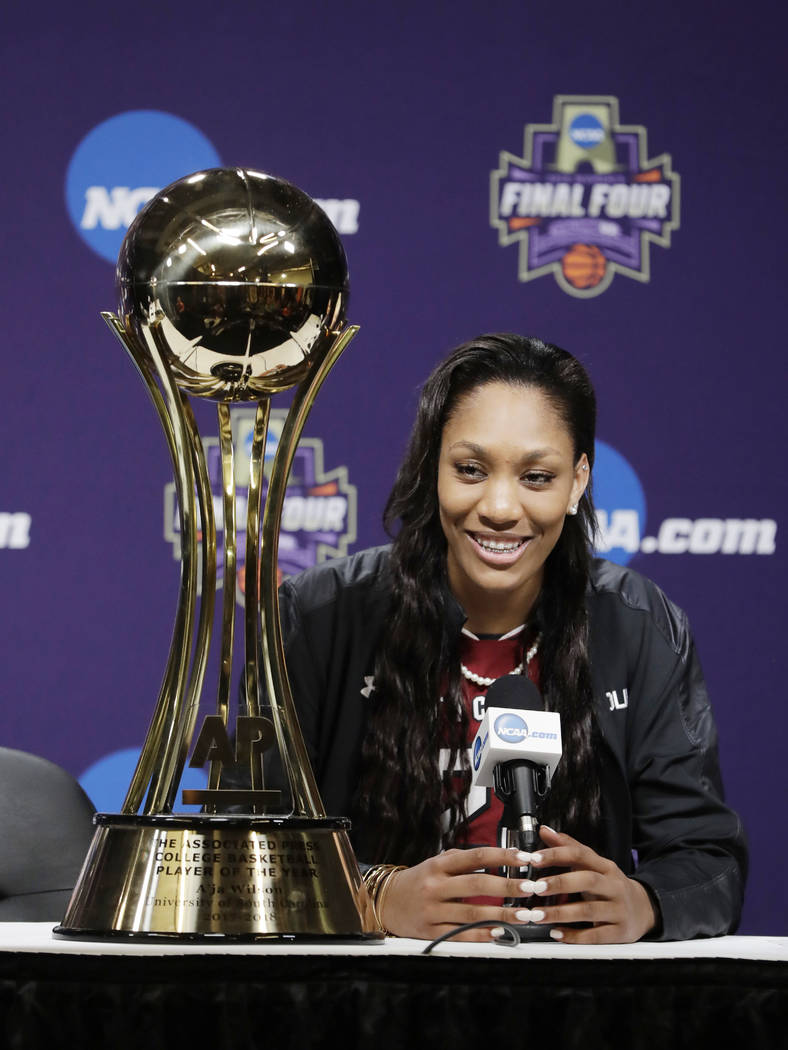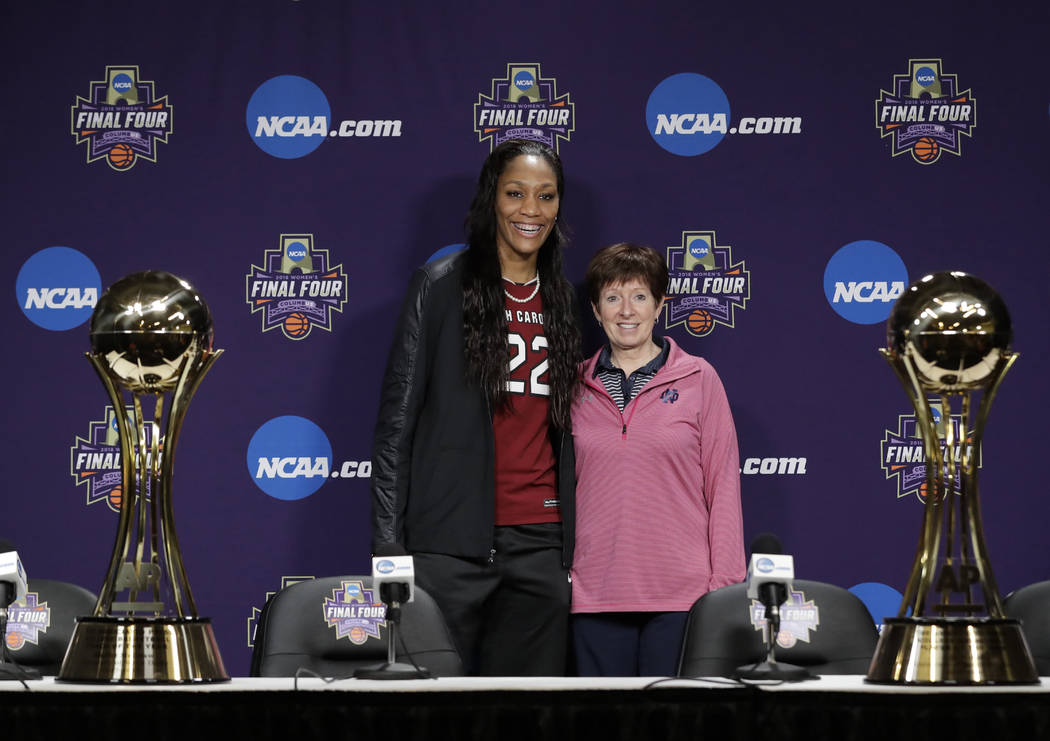 A'ja Wilson used to hate basketball.
Seriously, she hated it for a long time.
"She just had to learn," said her father, Roscoe, who played professionally in Europe for 10 years. "You've got to learn the game to appreciate it."
She learned, all right.
Wilson, selected No. 1 overall by the Aces at the WNBA Draft on April 12, ventured to Las Vegas this week to sign her first professional contract. She walked the Strip — and saw herself plastered on a grand marquee outside the Aria — watched some playoff hockey and navigated the city she'll soon call home.
Her pro career officially begins May 20 when the Aces open the regular season at the Connecticut Sun.
"It's surreal driving around and seeing her on these marquees," Roscoe said. "To see her like that … It's a good feeling."
Wilson, a 6-foot-5-inch forward, bid farewell late last week to her beloved Columbia, South Carolina, where she grew up, learned to play basketball and won a national championship with the local university in 2017.
She initially wanted to play quarterback in the NFL, until she was 9 or so and realized that football entails a lot of punishment she didn't want to endure.
Her father suggested she play basketball instead.
Wilson resisted.
"Didn't want any part of it," she said. "I sucked."
Wilson rode the bench on her youth teams, furnished water for her more talented teammates and occasionally played the final 30 seconds in games.
"For a whole summer, we didn't have to wash her uniform," Roscoe said. "I think that sort of gave her a base to work from."
She reluctantly stuck with the sport and practiced shooting with her dad in the gymnasium at her school. Her youth coach finally called on her to play during a meaningful part of a game, and she responded by making 3-pointer after 3-pointer.
Suddenly, basketball wasn't so bad.
She built on her sweet shooting stroke and developed other guard skills before hitting the growth spurt that made her unstoppable. The future No. 1 pick spent hours in those gymnasiums, sharpening her craft and honing her competitive nature.
"It really didn't take me a long time to build a love for the game and seeing how much fun I had winning," she said. "That just fueled my fire."
By ninth grade, Wilson was a Division I prospect. By her senior year, she was the No. 1 player in the country with storage bins of scholarship offers validating her prodigious talent. Wilson stayed in South Carolina and played for the Gamecocks under coach Dawn Staley.
Her mother, Eva, approved the decision.
"In my opinion, there wasn't a reason to leave," she said. "Just being able to start something in your hometown … that was good for us."
Four years, two Final Fours, one national championship and one consensus player of the year award later, Wilson is a pro on the opposite side of the country.
It still hasn't hit her yet.
Basketball is her job.
"If you would have asked me if I would go No. 1, I would have laughed," Wilson said. "I still don't feel like I'm a pro. I still don't feel like I'm about to be doing this for a living."
More Aces: Follow all of our Aces coverage online at reviewjournal.com/aces and @RJ_Sports on Twitter.
Contact reporter Sam Gordon at sgordon@reviewjournal.com. Follow @BySamGordon on Twitter.