Las Vegas Aces roll past Atlanta in Liz Cambage's first start
Updated June 6, 2019 - 8:35 pm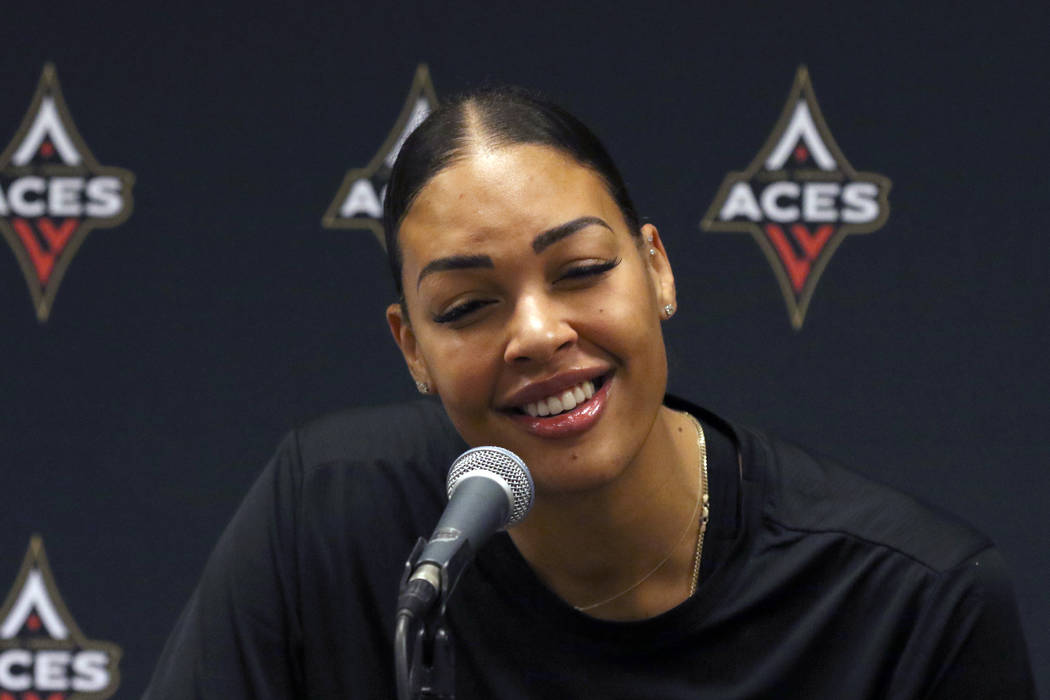 Aces coach Bill Laimbeer said Sunday he would consider altering his starting lineup after another lackluster outing from the five.
He followed through Thursday and made a change.
Laimbeer started Liz Cambage for the first time this season, and the rejuvenated Aces opened with a 19-2 run en route to a 92-69 victory over the Atlanta Dream at State Farm Arena in Atlanta.
Cambage, who still is on a minutes restriction because of Achilles tendinitis, had 15 points and seven rebounds in 19 minutes while overpowering Atlanta's interior defense.
Dearica Hamby came off the bench to log 15 points and eight rebounds, and Kayla McBride scored 13 as six Las Vegas players finished in double figures.
"I feel like the starting group had been lacking a bit of energy, and that's something I really bring with my game is noise and energy," Cambage said. "I thought I really brought it to the starting five and set the tone for the game."
For the first time this season, the Aces (2-2) looked like the betting favorites to win the WNBA title. They got that distinction from local sportsbooks after acquiring Cambage last month, but had squandered double-figure leads in their past two games that resulted in losses and drew Laimbeer's ire.
They got on his good side immediately against the Dream, scoring the first 10 points and riding a sturdy defense to a 49-25 halftime lead. Defensive stops triggered a brisk, transition offense, while Cambage and A'ja Wilson drew double teams in the halfcourt to free McBride, Hamby and Plum for open shots.
"Our starters knew they were under pressure for the way they were playing the last couple games," Laimbeer said. "I was happy with the way they meshed together."
The Aces resumed their dominance after halftime and held the Dream to 33.3 percent shooting, including 21.7 percent from 3-point range. Cambage played to team-best plus-30, and eight other Las Vegas players finished with positive plus-minuses.
Tamera Young came off the bench to score 12 for Las Vegas, and Wilson added 11 points. Kelsey Plum bounced back from a scoreless outing to tally 10 points on 4-of-5 shooting, and rookie Jackie Young had six points and eight assists.
Nobody played more than 22 minutes for the Aces, who travel to New York to play the Liberty on Sunday.
Brittney Sykes led Atlanta (1-3) with 15 points.
"We came out of the gates and wanted to change the pace of the game, knew that we needed this win," Wilson said. "We really buckled down and harped on our defense because we knew that's what's going to win games from here on out."
Contact reporter Sam Gordon at sgordon@reviewjournal.com. Follow @BySamGordon on Twitter.