Las Vegas Aces take A'ja Wilson with No. 1 overall pick in WNBA Draft
Updated April 12, 2018 - 7:54 pm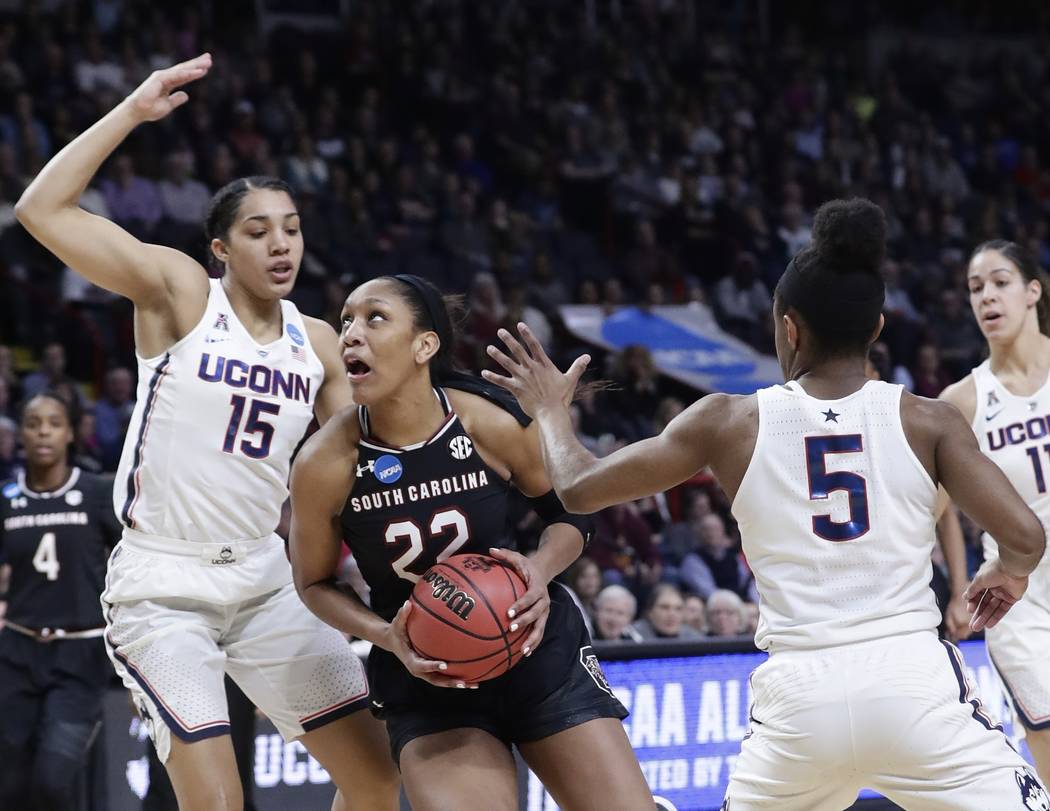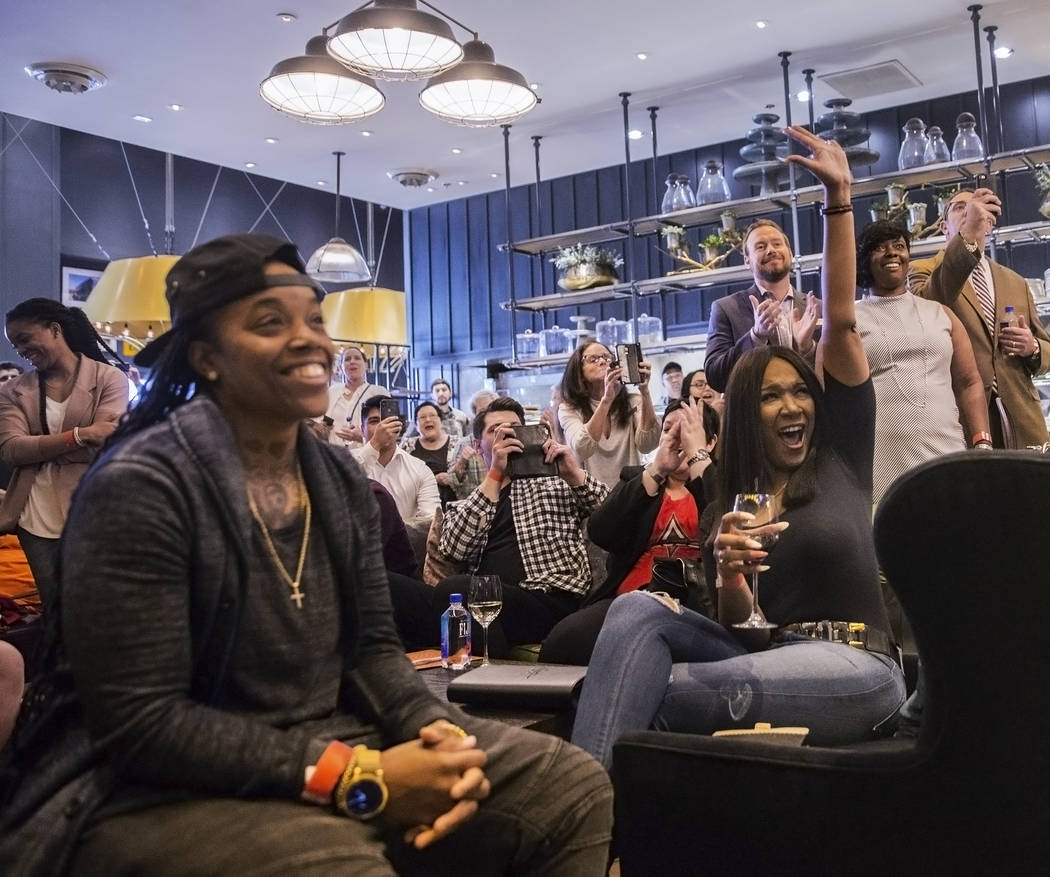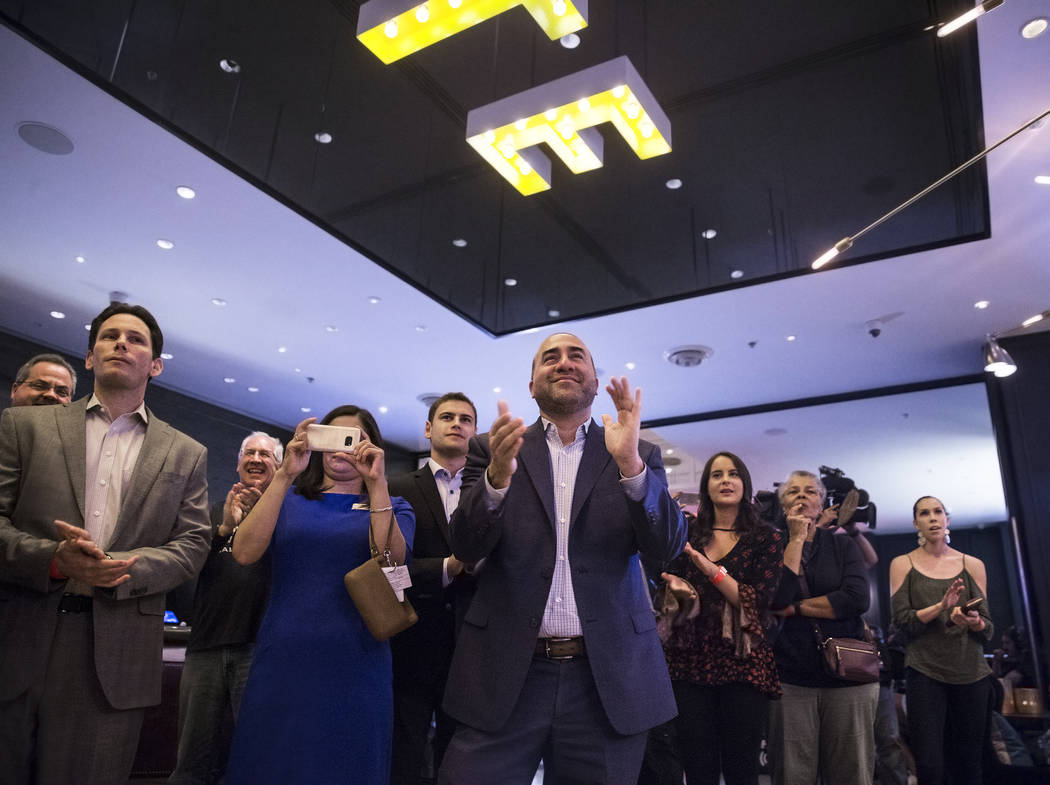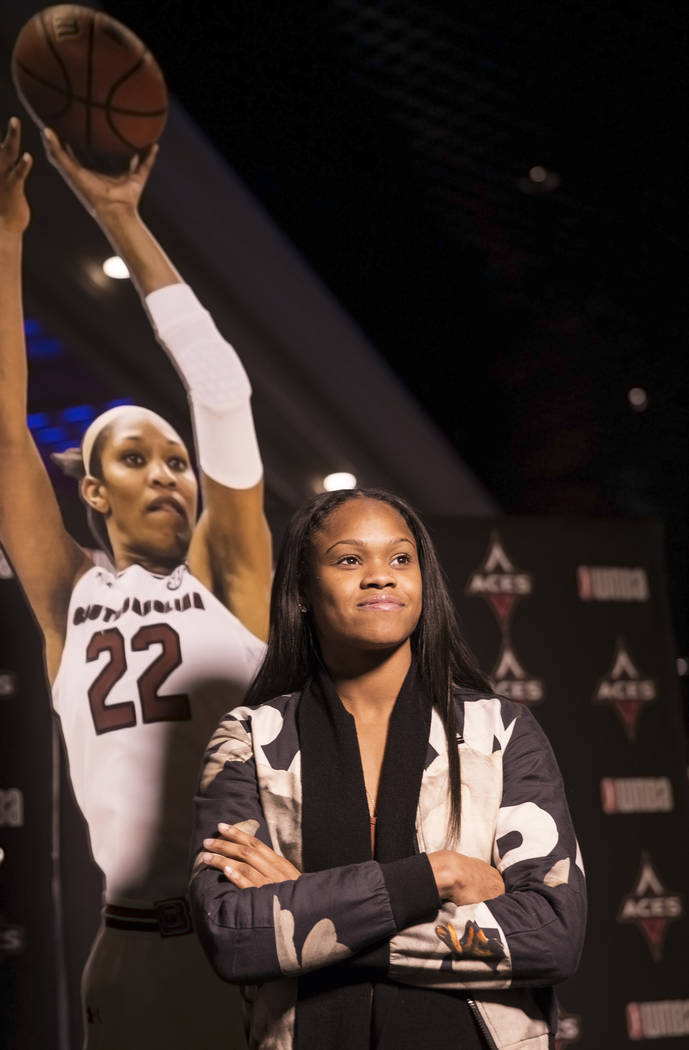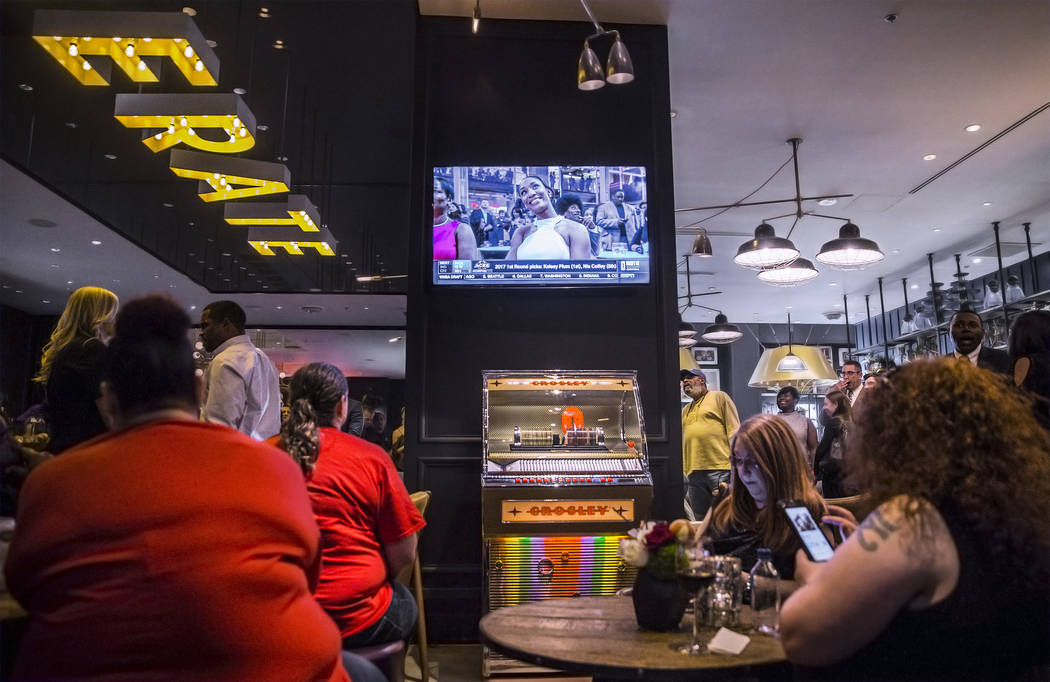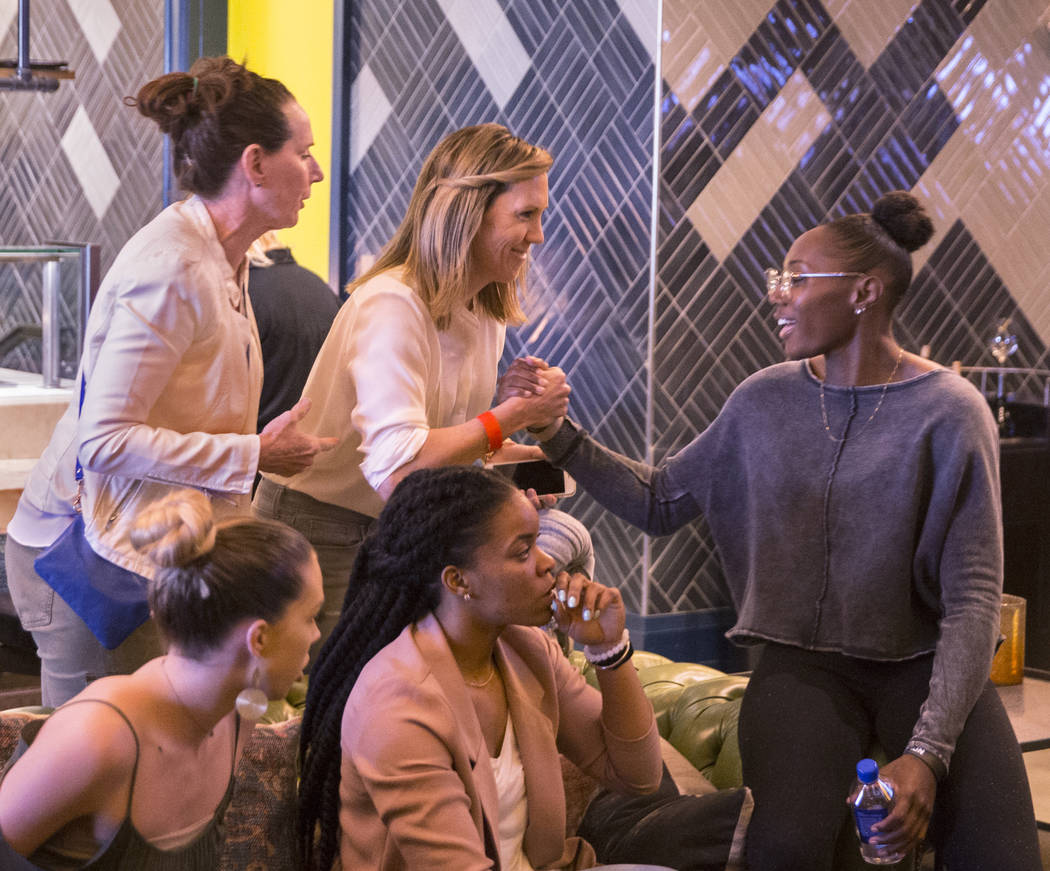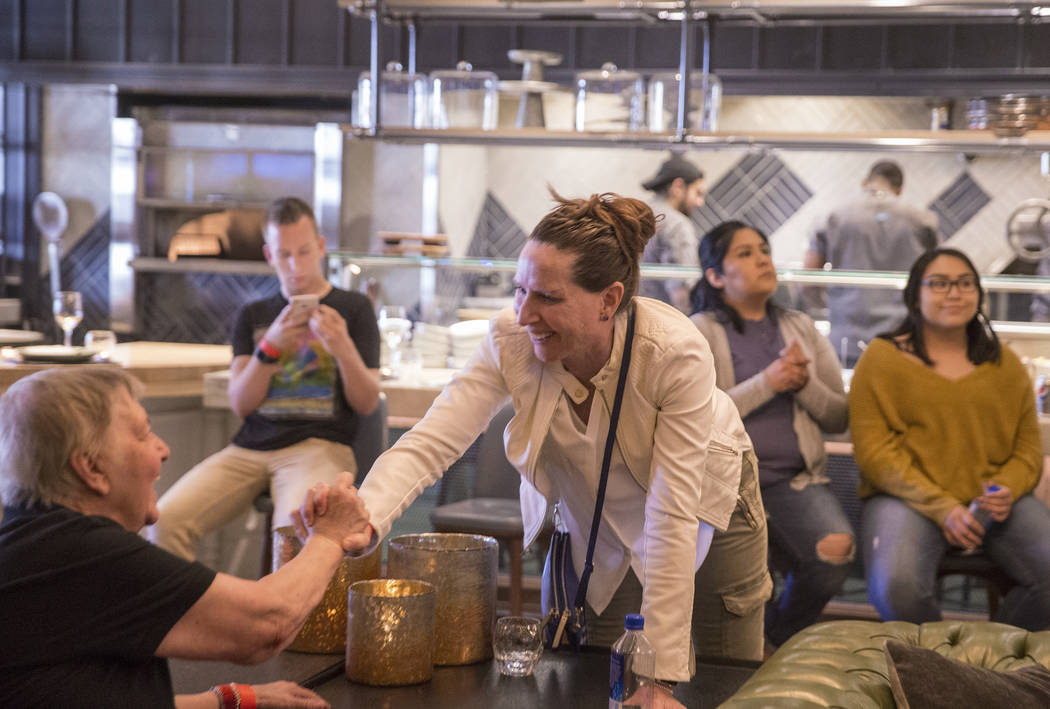 Aces president of basketball operations and coach Bill Laimbeer called South Carolina star A'ja Wilson this week and practically confirmed her as the top pick in the WNBA Draft.
The draft itself was just a formality.
The Aces selected Wilson No. 1 overall Thursday in New York, making the 6-foot-5-inch forward the franchise's first pick since it relocated to Las Vegas from San Antonio in October.
Laimbeer spoke glowingly of Wilson before the draft and reaffirmed her standing as the Aces' top player afterward. She was the consensus national player of the year, after all, and averaged 22.6 points, 11.8 rebounds and 3.2 blocks in her senior season with the Gamecocks.
"You name it, she can do it," Laimbeer said. "And she's 6 feet 5 … This is a franchise player. She's going to make everybody else around her better."
Season ticket holders congregated at Libertine Social inside Mandalay Bay for a draft day party and cheered in unison as WNBA president Lisa Borders announced the pick.
Wilson, too, was ecstatic about the finalization of her immediate future and is ready to come to Las Vegas.
"It's just a blessing," Wilson said. "Of course you see the mock drafts, and you see everybody talking. But to finally hear your name called and knowing that's where you're going to go, it's truly a blessing."
Team staffers brandished a cardboard cutout featuring her silhouette moments after her selection, and fans posed for photos amid the hysteria.
Wilson joins a talented young roster that includes the 2017 top overall pick, shooting guard Kelsey Plum, and the 2016 No. 2 overall pick, point guard Moriah Jefferson.
"I'm going to definitely try to be that post (that) creates open lanes for them," Wilson said. "Hopefully they help me. That's definitely a great group of guards, and I can't wait to play with them."
The Aces selected Tennessee forward Jaime Nared with the No. 13 overall pick and Louisiana State guard Raigyne Lewis with the No. 25 selection.
They also landed No. 17 selection Ji-Su Park and No. 24 pick Kahlia Lawrence in a deal with the Minnesota Lynx, who received the rights to the No. 32 pick, Jill Barta of Gonzaga, and a second-round pick in 2019.
"At the end of the day, we got a lot of what we were looking for," Laimbeer said. "We still got a couple open roster spots that we've got to fill right now."
The Aces are scheduled to start training camp at the end of the month and open the season May 20 at the Connecticut Sun.
They struggled to an 8-26 record as the San Antonio Stars last season and were the worst team in the 12-team WNBA. But Wilson is excited for the opportunity to flip the franchise's fortunes.
"I'm just grateful to be with the Aces and hopefully start something new," she said. "I haven't sat down and thought about my goals. I'm just trying to be impactful and hopefully do whatever Coach (Laimbeer) tells me to do, and just keep my head on straight and learn from the best."
Nevadan taken at No. 4
The Chicago Sky drafted former Sparks High School star Gabby Williams with the No. 4 overall pick. Williams was a two-time state player of the year and had a stellar four-year career at Connecticut.
More Aces: Follow all of our Aces coverage online at reviewjournal.com/aces and @RJ_Sports on Twitter.
Contact reporter Sam Gordon at sgordon@reviewjournal.com. Follow @BySamGordon on Twitter.
Coming to Las Vegas
No. 1 overall, A'ja Wilson: The forward can score around the basket and attack from the perimeter. At 6 feet 5 inches tall, she can handle, drive, pass and defend. She averaged 22.6 points, 11.8 rebounds and 3.2 blocks in her senior season at South Carolina.
No. 13, Jaime Nared: The versatile forward averaged 16.7 points and 7.4 rebounds for Tennessee in 2017-18. She's a capable passer and versatile defender and earned All-Southeastern Conference honors this season.
No. 17, Ji-Su Park: The 6-6 Korean center, 19, is a project for the Aces who could come to the WNBA in the future.
No. 24, Kahlia Lawrence: A scoring guard out of Mercer, Lawrence averaged 19.3 points as a senior in 2017-18 and shot 44.7 percent from the field.
No. 25, Raigyne Louis: The former SEC defensive player of the year can play a little offense, too. She averaged 16.1 points at Louisiana State in 2017-18 and led the Lady Tigers in assists with 112.
Brooke Johnson: The UNLV product will be coming to Aces training camp, team president and coach Bill Laimbeer confirmed after the draft. She averaged a team-high 16.1 points for the Lady Rebels in 2017-18.
Sam Gordon Review-Journal