Lengthy recovery pays off for Aces guard Moriah Jefferson
Updated July 31, 2018 - 8:00 pm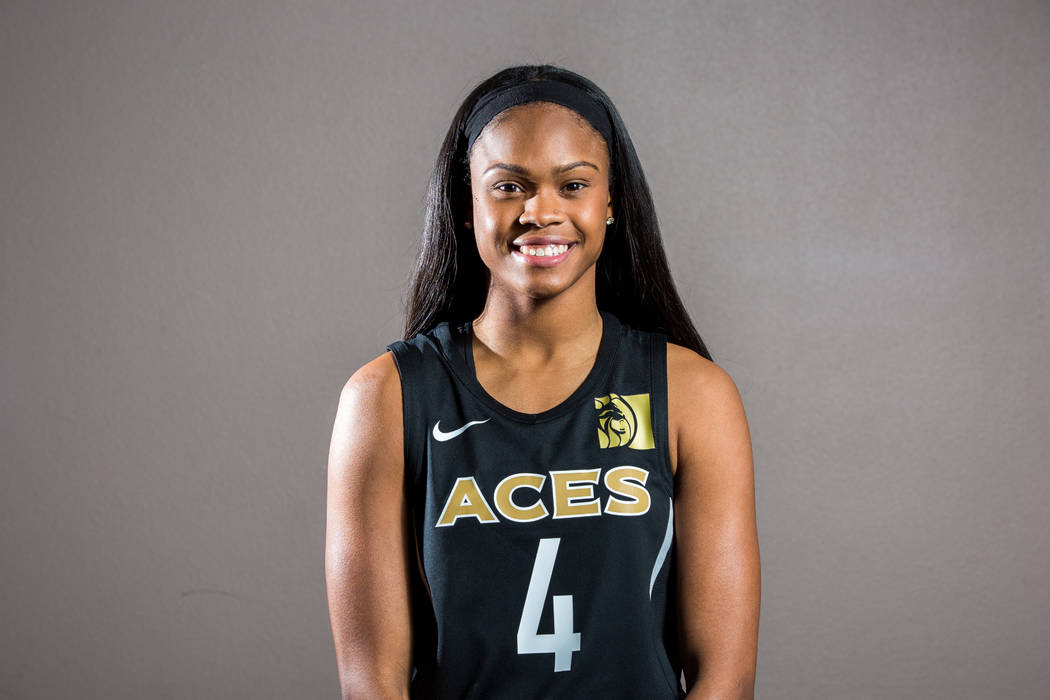 Moriah Jefferson learned of the San Antonio Stars' relocation to Las Vegas by herself.
In a hospital bed. Nine months before the resumption of her basketball career.
"I had literally just got surgery," she said. "It was like, 'OK, now what.'"
Here's what: Eight months of arduous rehabilitation, a move to Las Vegas and a triumphant return to basketball — and the Aces.
Jefferson is back from the right knee injury that cost her 13 games of the 2017 season and the first 17 of the 2018 season. The shifty 5-foot-6-inch point guard and former No. 2 overall pick is still easing her way into form, averaging 4.8 points and 2.8 assists in 14.8 minutes.
"If she can contribute mightily the rest of the way, great," Aces coach Bill Laimbeer said. "If not, then we're looking at next year."
But she's feeling stronger and more explosive by the day.
She's feeling like herself again.
"I grew as a person. I got a lot stronger mentally," she said. "I just don't ever want to have to go through that again."
The injury
Jefferson starred at Connecticut under legendary coach Geno Auriemma and, after being named a first-team All-American in 2016, was selected No. 2 overall by the Stars.
"She just played harder than anyone else," said teammate Kayla McBride, who played against Jefferson in college and is one of her closest confidants. "Then she got there and we kind of clicked. We come from the same cloth as far as how we see the game."
And that's cerebrally.
Jefferson, diminutive by professional standards, displayed an advanced understanding of the point guard position and averaged 13.9 points, 4.2 assists and 1.6 steals as a rookie, relying on her speed, quickness and feel instead of strength and size.
Her second professional season was marred by pain in her right knee, though. Pain derived from degenerative cartilage after years of high-level basketball. She didn't practice at all during the the 2017 season and played in 21 of 34 games as she pondered her health and future.
"It was a gradual over time type of thing," Jefferson said. "I kept playing, and it was just like, 'Something's not right.' So more MRIs, more shots. What am I going to do? Am I going to get surgery or not. It was a long process."
Surgery was the best option.
Jefferson had successful knee surgery in San Antonio on Sept. 27 under the direction of the San Antonio Spurs' medical staff. Then she began the road to recovery along with a move to Las Vegas, where she arrived early to help ingratiate the team with the community.
The recovery
Jefferson said the first three or four months of rehabilitation were "a lot of nothing."
"Straight leg and crutches," she said. "It was really boring and really hard."
Aces team trainer Laura Ramus confirmed Jefferson's timetable as typical of the surgery's severity and focused on mental aspects of the recovery as she started to regain mobility.
Ramus also helped to uncover some underlying effects of a concussion that Jefferson sustained earlier in her career and worked to correct those as she strengthened her knee.
"A lot of times during rehab, athletes learn so much about their anatomy and their body and what it wants to do, and what it actually should do," Ramus said. "What made it so great about Moriah has been the fact that not only is she a very gifted athlete but she's really a quick learner."
Jefferson stayed away from basketball — except for shooting — for nine months until returning to practice June 21.
She made her season debut July 1 and anchors the team's second unit as she regains her confidence.
"She doesn't really talk about it, but she works harder than anybody I know," McBride said. "I'm just proud of how she was able to bounce back. When she's 100 percent, she's dangerous."
More Aces: Follow all of our Aces coverage online at reviewjournal.com/aces and @RJ_Sports on Twitter.
Contact reporter Sam Gordon at sgordon@reviewjournal.com. Follow @BySamGordon on Twitter.
Game day
Who: Phoenix Mercury at Aces
When: 7 p.m. Wednesday
Where: Mandalay Bay Events Center
Line: Pick; total 174
Tickets: Starting at $17 at axs.com
TV: AT&T SportsNet