Mid-major superstar embraces the lights in Las Vegas
Updated May 4, 2018 - 7:11 pm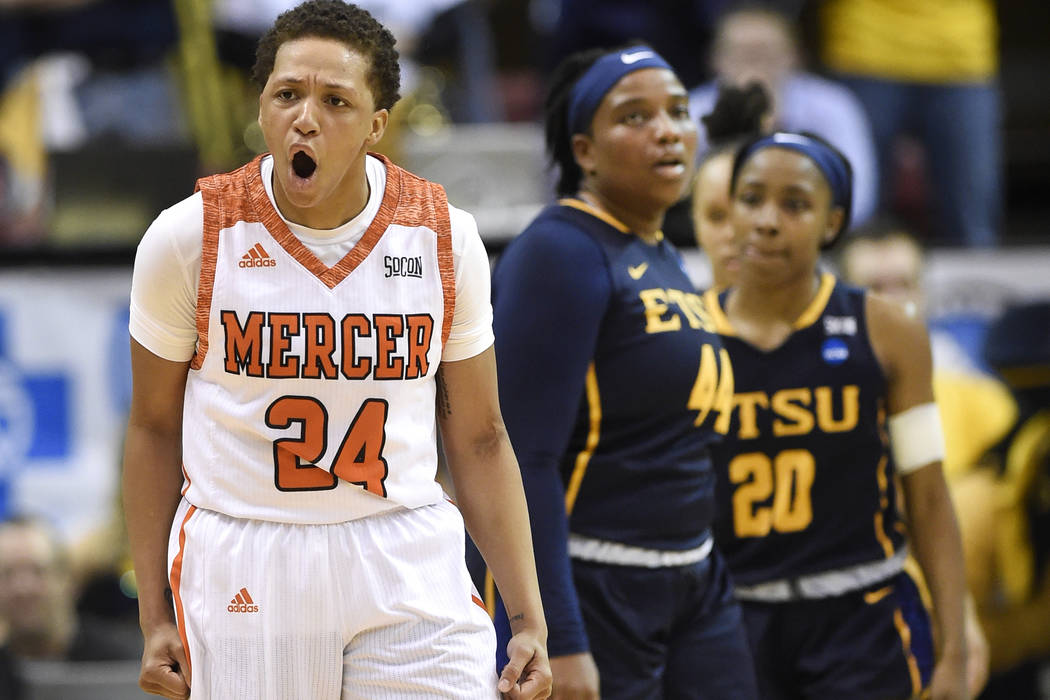 Kahlia Lawrence didn't play AAU basketball. She didn't have any high-major basketball scholarship offers. And she didn't play in packed collegiate gyms with raucous crowds.
But she played college basketball. She played in the NCAA Tournament. And she's playing in the WNBA now, too.
She can't believe it, either.
Lawrence, a 5-foot-8-inch scoring guard at tiny Mercer University in Macon, Georgia, is competing for a roster spot with the Aces, who acquired her rights from the Minnesota Lynx on draft day last month.
Selected in the second round, Lawrence doesn't possess A'ja Wilson's pedigree, but she has a penchant for scoring and winning. She did at Mercer, anyway.
"This is pretty new all-around," she said with a smile at the team's media day Thursday. "It's about learning, mostly. We learn something new every day."
Lawrence bounced from city to city during her childhood before settling in Columbus, Georgia, where she set scoring records as a three-year starter at Kendrick High School.
College basketball powerhouses ignored her, though, and she settled on Mercer, which plays in the Southern Conference and had never reached the NCAA Tournament as a Division-I program.
"Honestly, I'm not upset about it or anything," she said. "I think it was a great opportunity for me."
Lawrence started 34 games as a freshman and was the conference's top-scoring first-year player in 2014-15. She was named the Southern League Player of the Year as a sophomore, junior and senior, helping the Bears win regular-season conference championships all three years.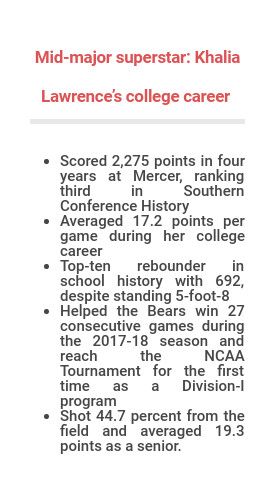 And in 2017-18, Mercer won its first conference tournament and clinched an NCAA Tournament berth for the first time. All with Lawrence at the forefront.
"It was somewhat unexpected that she got drafted," Bears coach Susier Garner said. "We were never given any indication that she was going to be drafted. That might make it all the more special."
Aces coach Bill Laimbeer has been impressed with Lawrence's shooting touch and admires her fearlessness with the ball.
"There's no mental block from shooting and scoring," she said. "Whether she can compete at this level, that's what we're going to find out at training camp."
Said Lawrence: "You don't have to go to a Power Five school to achieve good things."
More Aces: Follow all of our Aces coverage online at reviewjournal.com/aces and @RJ_Sports on Twitter.
Contact reporter Sam Gordon at sgordon@reviewjournal.com. Follow @BySamGordon on Twitter.