Rookie A'ja Wilson anchors Las Vegas Aces with play, personality
Updated July 27, 2018 - 6:44 pm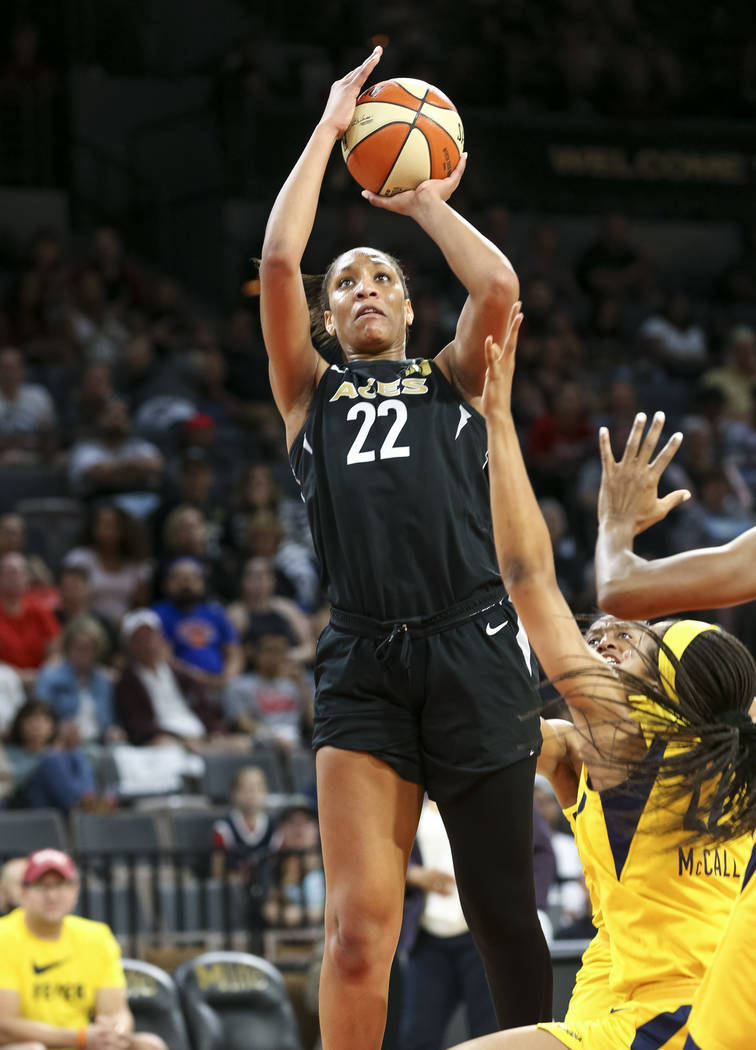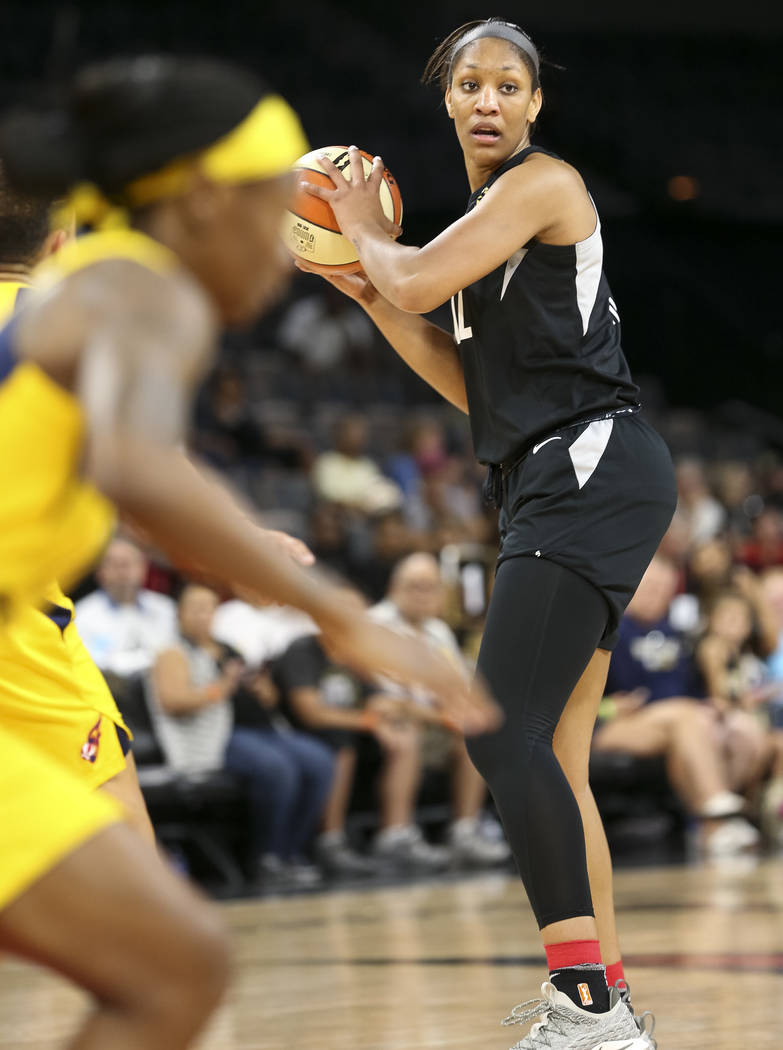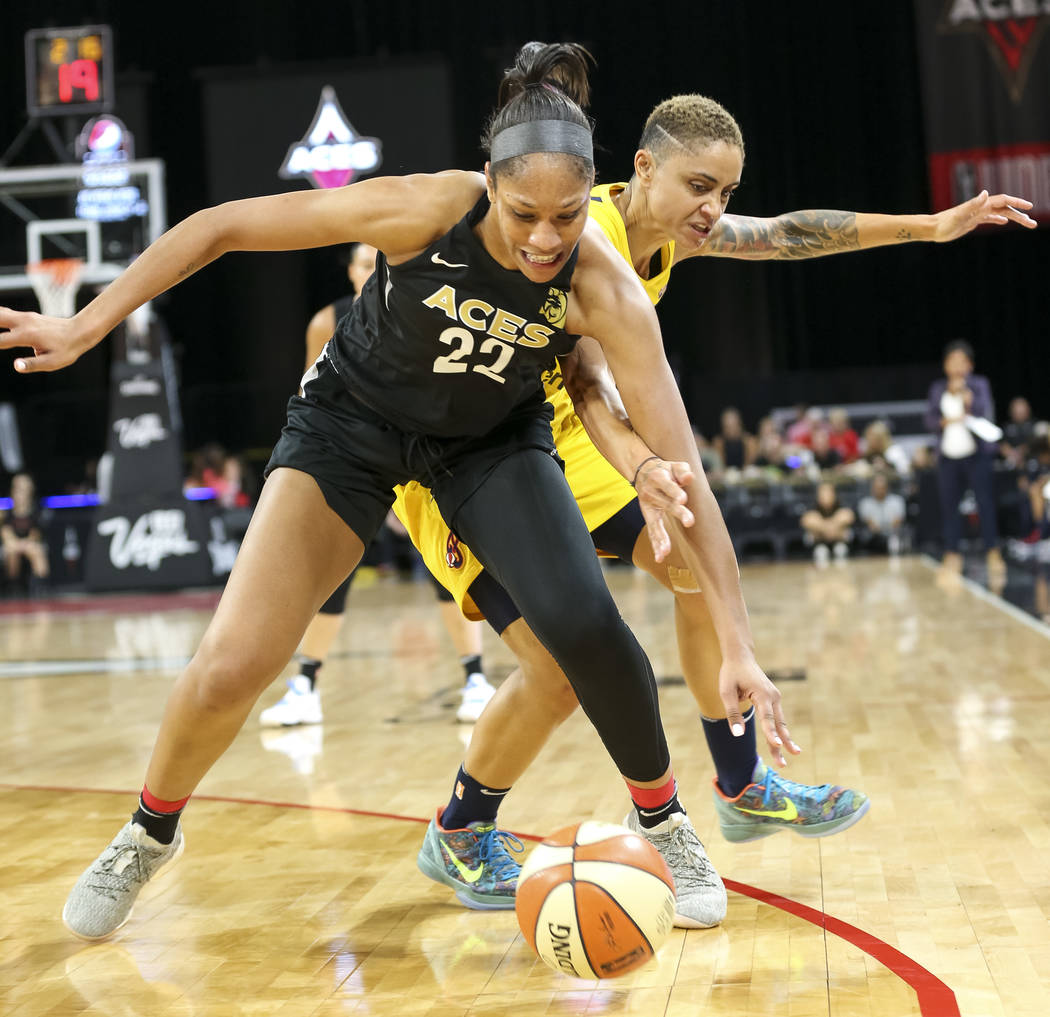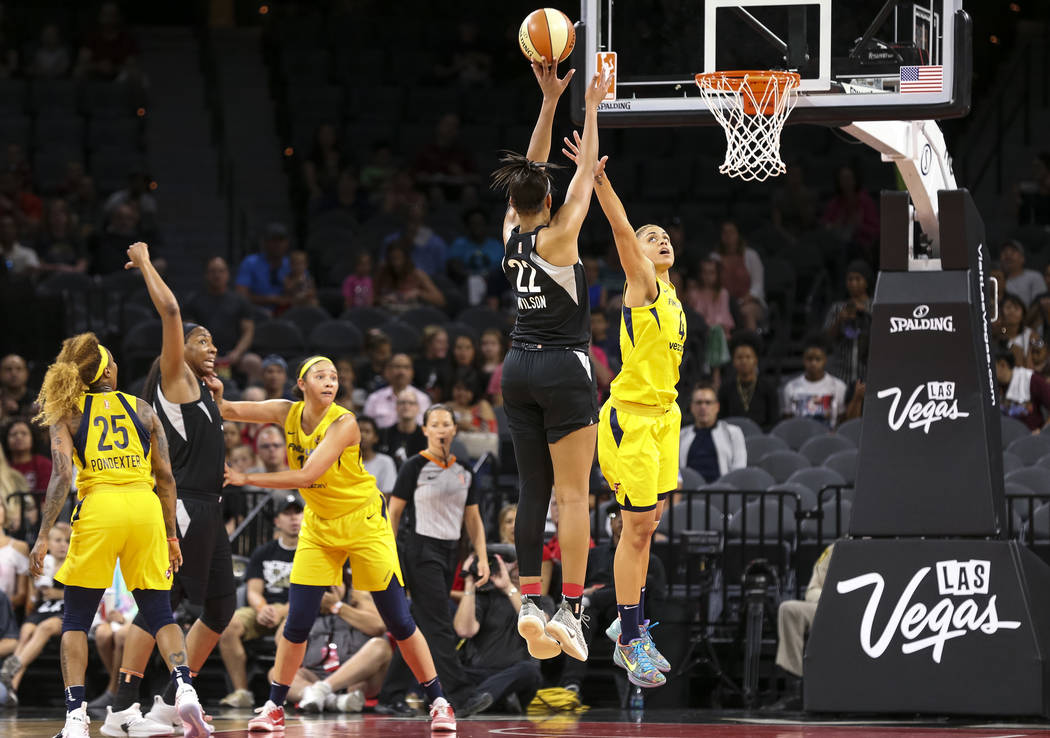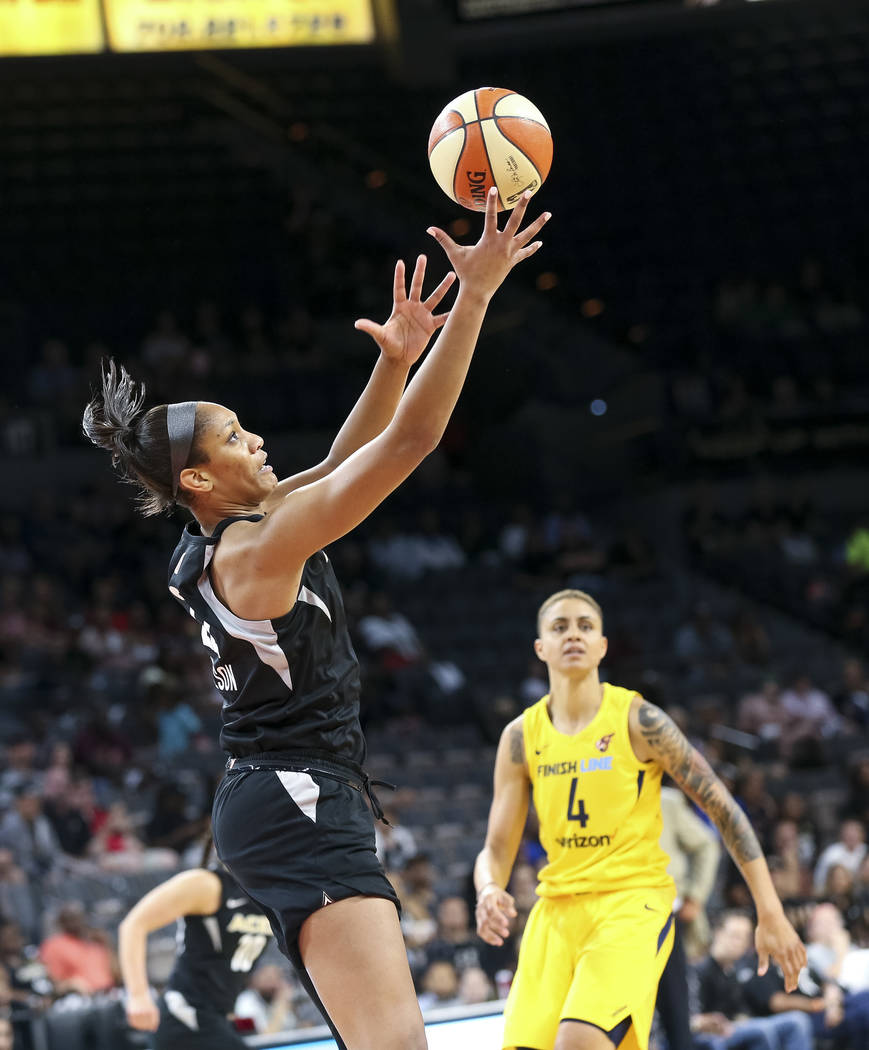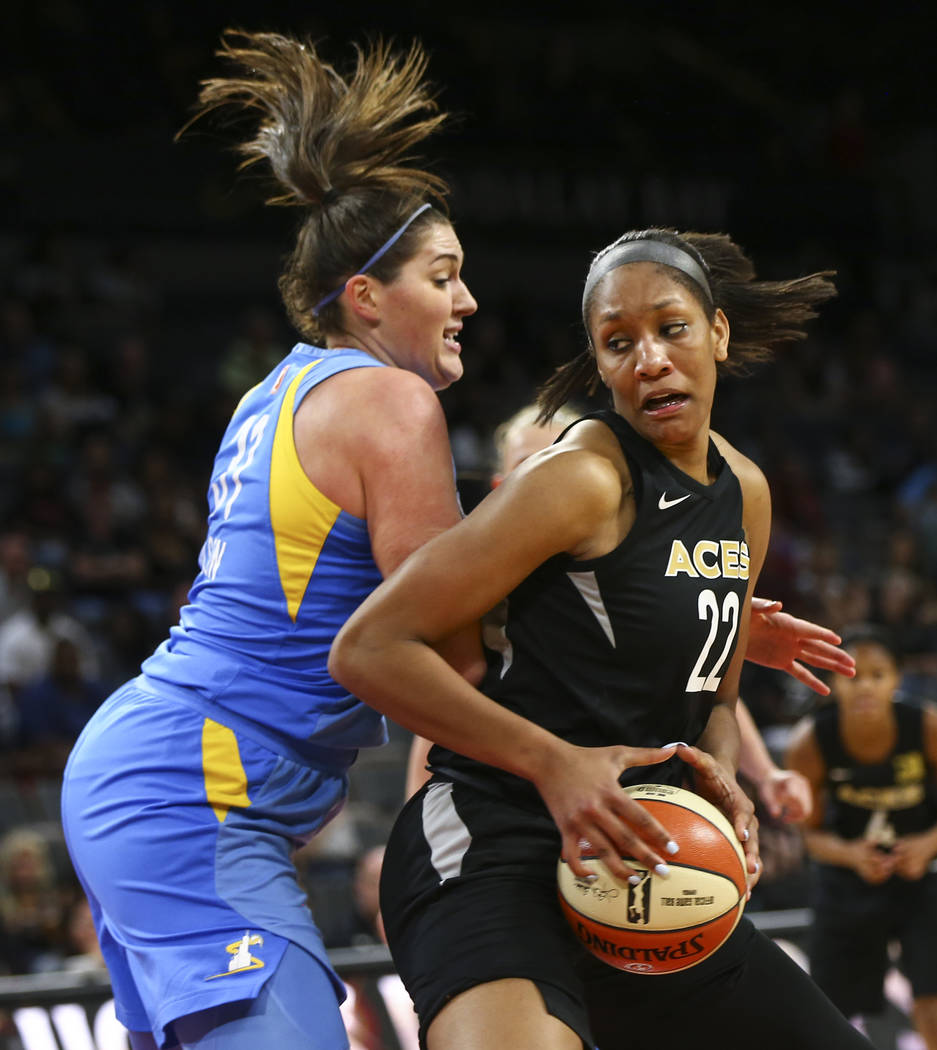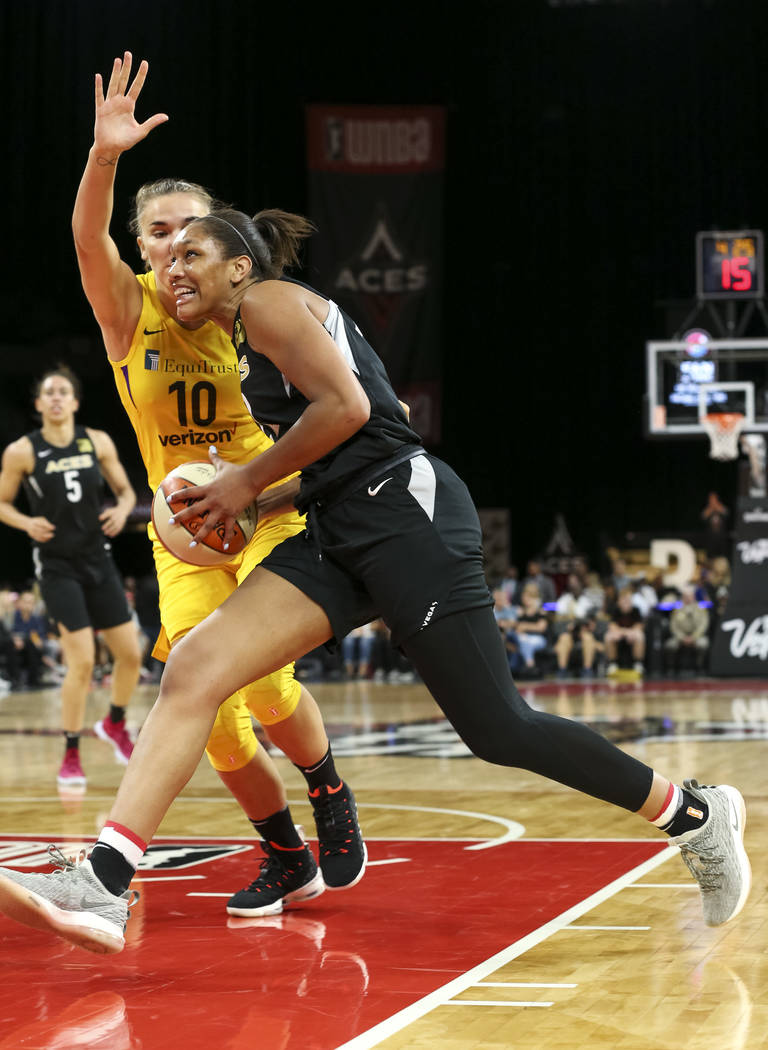 There's going to be a statue of A'ja Wilson in her beloved hometown of Columbia, South Carolina.
And when she's finished playing professional basketball, there just might be one in Las Vegas, too.
No pressure or anything. Just speculation.
But she's already that good. That charismatic. That authentic.
She's the epitome of a franchise player.
As a 21-year-old rookie for the Aces, Wilson is emerging as the face of the WNBA. She's one of the world's best female basketball players and, by many accounts, one of its most genuine people. A gentle, loving, selfless soul packaged in a 6-foot-5-inch frame, who averages 20 points, 8.6 rebounds and shyly smiles as she dazzles her peers, many of whom will join her Saturday at the WNBA All-Star Game in Minneapolis.
"She plays and acts like she's been in the league for 10 years," Phoenix Mercury star guard Diana Taurasi said. "She acts like a veteran, plays like a veteran, and she's going to have just an amazing career in this league and all over the world."
Wilson is fulfilling Taurasi's vision with her play and personality. She'll dance before games, dominate during them and charm after them.
South Carolina is her home. Las Vegas is her oyster.
"Take any one of her characteristics and add it to your life," said Wilson's college coach, Dawn Staley. "You're going to be a better person because of it. You're going to be a better player because of it. And that's the legacy that she leaves with us."
No place like home
The story has been retold, repackaged and repurposed.
But here it is again.
Wilson grew up hating basketball and resisted playing until she couldn't resist anymore.
Her father, Roscoe, played professional basketball in Europe for a decade and figured his daughter should play, too. With a little bit of encouragement and a whole lot of practice, she cultivated a passion for the game.
Wilson blossomed into prep basketball's best player, then decided to stay home and play for South Carolina, where Staley was building a powerhouse program.
Her prized recruit helped guide the Gamecocks to the Final Four as a freshman in 2014-15, and Wilson won over the student body the next three years with personable charisma rooted in kindness and confidence.
"Not everybody is comfortable in their skin with the good, the bad and the ugly. A'ja is just herself," Staley said. "She's the type of person and player that needs everything lined up. She has to make sure everyone is OK, and because of that, great things happen to her."
The best player in the country rocked out with the band after marquee victories. She bonded with her sorority sisters in South Carolina's Alpha Kappa Alpha chapter. She was named Southeastern Conference Player of the Year a record three times.
She led the program to its only national title in 2017. She won every national player of the year honor in 2018.
In May, Wilson graduated with a degree in mass communications, effectively signaling the end of her residency in her home state.
But at her commencement ceremony, university president Harris Pastides announced the school's plan to erect a statue of her, ensuring she'll stay on campus — in some capacity — forever.
"For one person to bring a whole state together is pretty amazing to me," said close friend and college teammate Allisha Gray, who plays for the Dallas Wings. "South Carolina loves A'ja. A'ja is South Carolina. So it was pretty cool for her to stay home and bring so much success."
Viva Las Vegas
Aces coach Bill Laimbeer knew it the second his team won the WNBA draft lottery in November.
Wilson was coming to Las Vegas — where the WNBA was brand new because the league's worst team, the San Antonio Stars, were relocating to Sin City.
Laimbeer drafted her No. 1 overall in April with the intention of rebuilding the team around her. Lofty expectations indeed, but there was no time to adjust to professional basketball.
The coach is accustomed to winning and has five championships to show for it.
"The weight of the team is on her in many ways. Not exclusively that way," Laimbeer said. "But at the same time, she knows that she's counted on every night to perform at a certain level for us to have a chance to win a basketball game."
The Aces didn't win many games during her first month. They started 1-7.
But Wilson improved, and so did the Aces, in part because she discovered rather quickly that most opposing post players can't stop her.
She's too quick off the dribble and too skilled on the block. Her midrange jumper is money. She can do pretty much whatever she wants.
Don't tell her that, though. She'll humbly disagree.
"I feel like I've kind of hit a wall," she said a day before scoring 24 points. "I do kind of feel like a rookie, especially at this time. … I'd be going to class, doing different stuff if I was in college. I feel like I'm definitely a rookie from that standpoint, but I'm pushing through."
Without class compromising her professional pursuits, Wilson can relax during her downtime and watch TV shows such as "Power" or "The Fresh Prince of Bel-Air."
An occasional trip to the Fashion Show Mall suffices, too, as does the nearest Chipotle. And after three months, Las Vegas is starting to feel like home.
"You see all the entertainment, but it's so much more," she said. "It's so much wider. It's so much more spacious than what you see on the Strip. Las Vegas has a lot to offer that a lot of people don't realize."
Like the Aces.
The club is still establishing a presence behind Wilson and fellow All-Star Kayla McBride. The two have sparked a surge — 11 victories in the past 17 games — that gives the Aces a 12-13 record at the break.
"We're learning as we go," McBride said. "She's handling it really well. It's not easy to be a rookie and to have that much pressure to perform and be great. Not every No. 1 pick does that. It's been really fun to watch."
For her teammates, fans and male counterparts.
Houston Rockets star guard Chris Paul attended an Aces game at Mandalay Bay Events Center. So have Portland Trail Blazers star Damian Lillard and San Antonio Spurs standout DeMar DeRozan.
Wilson befriended Utah Jazz star Donovan Mitchell at the ESPYs last week in Los Angeles, and the synergy between the NBA and WNBA invigorates her as much as any old-fashioned 3-point play.
"She's way beyond her years," said Los Angeles Lakers guard Josh Hart, a close friend. "She's kind of taken the WNBA game by storm."
Surprising absolutely no one.
Her legacy in Columbia is unimpeachable. Las Vegas is starting to see why.
"Even though Vegas has a lot going on, you see she's carving out a space for her success and for the Aces to be incredibly successful," Staley said. "When you start a franchise, you need somebody like her."
Contact Sam Gordon at sgordon@reviewjournal.com. Follow @BySamGordon on Twitter.