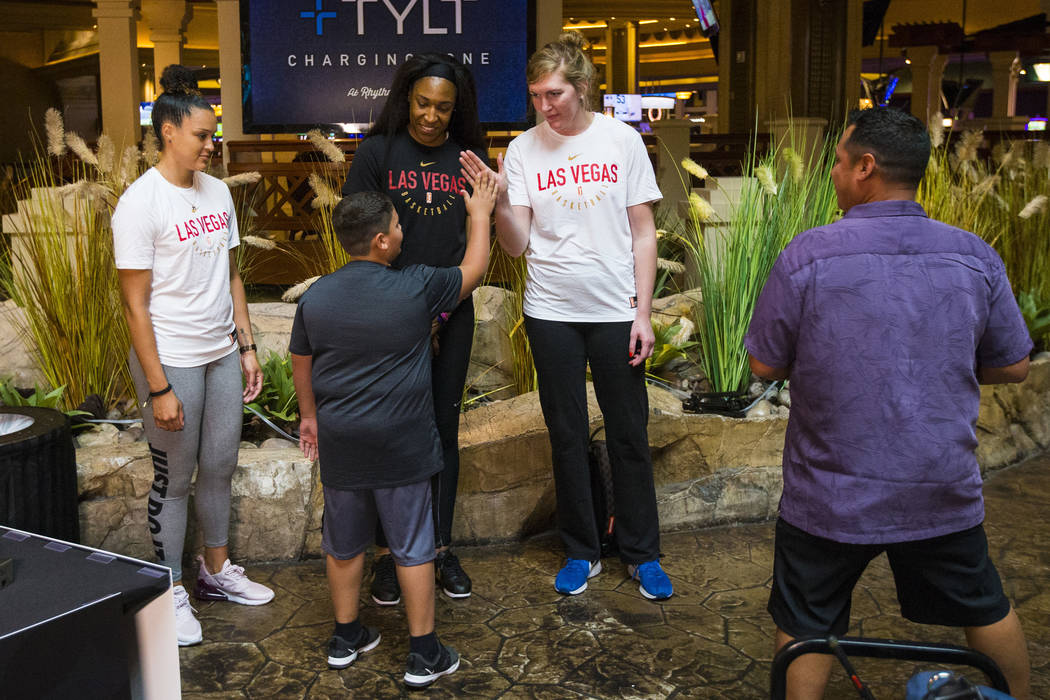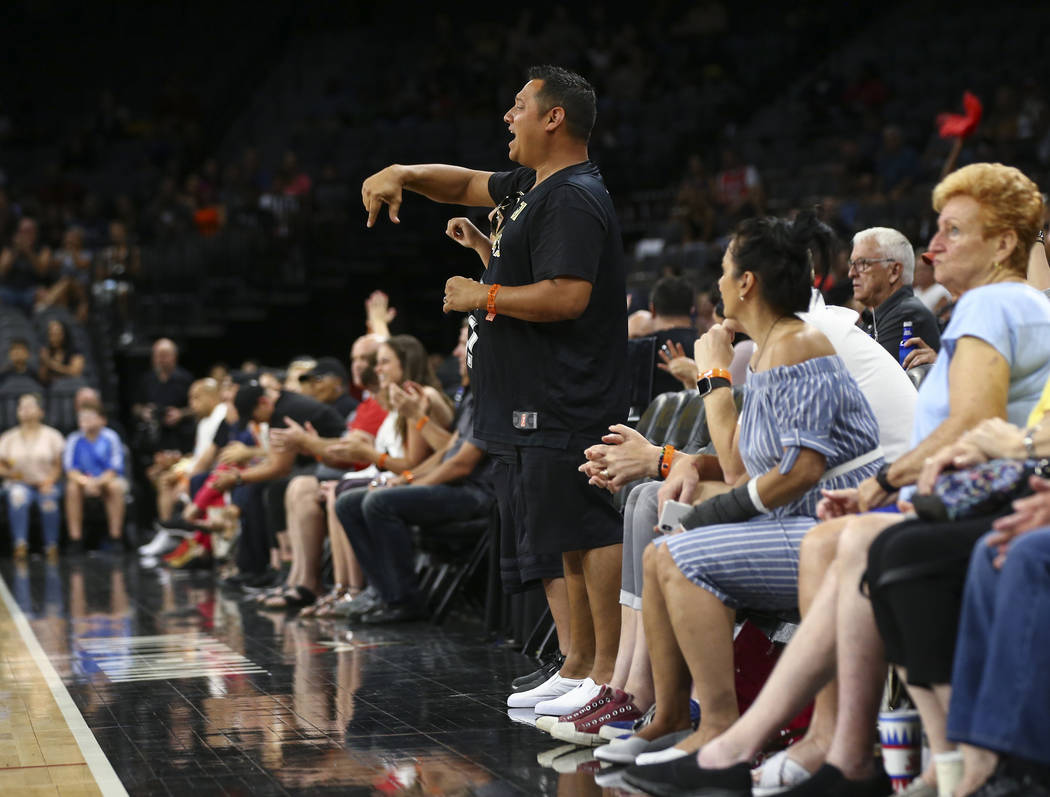 San Antonio native Joseph Sada has a surprise for his 11-year-old son, Braeden.
It's a jersey. It may or may not include "Aces Dancing Kid" on the back.
The elder Sada wouldn't say.
But the "Spurs Dancing Kid" roots for the Aces now, and it just might be time for another moniker.
The Sadas have spent the summer commuting from San Antonio to Las Vegas to watch their beloved San Antonio Stars, who relocated in the fall and became the Aces this spring. They've attended 10 of 13 home games and are a fixture in courtside seats opposite the visiting team's bench, where they rambunctiously cheer for the home team.
Every once in a while, the younger Sada breaks out the dances moves that made him famous in his hometown.
A little bit of boogie makes the crowd erupt here, too.
"The crowd we get here in Vegas compared to San Antonio is crazy. It's like night and day," Joseph Sada said. "For us as fans from San Antonio, to see the love that our old team is getting from somewhere else. Our own town wasn't giving them that much love. They look happy, and that's what makes us feel good."
Joseph Sada owns tattoo and piercing shops in San Antonio, but he was a break dancer in his youth who loved to perform and invigorate a crowd. He started practicing with his son and passed along the impregnable self-confidence he had as a performer.
Braeden, in turn, is a natural.
The family has had San Antonio Spurs season tickets for the past four years, and he turned a fourth-quarter timeout into a personal performance at a game against the New Orleans Pelicans during the 2015-16 season.
The crowd went wild.
"All of a sudden, I just got up and started dancing on those metal stairs and the camera got on me, and I just started dancing on the camera," Braeden said. "Everybody got hyped. The most exciting thing was, that after I started dancing on the Jumbotron, the Spurs came back and won the game."
Braeden emerged as a star of sorts and engaged in promotional dance competitions with team staffers during games. His dad created an Instagram account on his behalf, and his local celebrity blossomed.
"The guy on the (microphone) announced (Braeden) as the Spurs Dancing Kid. They kind of gave him that name," Joseph Sada said. "We just kind of went with that, and the Spurs started following him. It went on from there."
Sada has since met several NBA players and even warmed up with the Golden State Warriors before a game in San Antonio. He also used his platform to raise money for local charities affiliated with the franchise and helped with relief efforts for Hurricane Harvey.
The franchise embraced his enthusiasm and offered the family courtside tickets to see the Stars, who lacked the fan support of the Spurs.
"He had hyped the crowd up so much that they were trying to get something like that for the Stars," Joseph Sada said. "We ended up going, and we had a really good time. We didn't realize how much fun it was."
The family subsequently acquired season tickets for the Stars, and Braeden, while adamant about his love for the NBA, said he prefers WNBA games. He was heartbroken when the team moved to Las Vegas.
But his dad had the cure for his ailing emotions — an impromptu trip to Las Vegas for the second home game in Aces history.
"I was completely shocked again," Braeden said. "I never thought he was going to fly to Vegas to go see a game and then fly back the next day. I didn't think my dad was going to do that."
The trips turned into a regular thing, and the family's fandom continued to flourish. The "Spurs Dancing Kid" jersey turned into an Aces team T-shirt as San Antonio fans turned into Las Vegas fans.
"It's cool because they've accepted him kind of like San Antonio accepted him," Joseph Sada said. "I think that's been a big draw of why we continue to come back. Even though he's from San Antonio, he's out there repping the Aces stuff. When we first got out there, he was only wearing San Antonio Spurs and Stars stuff. … It's been cool."
The Sadas won't be at the Aces' game Thursday against the Minnesota Lynx at Mandalay Bay Events Center, but they'll be at the following two home games and Braeden already has his bags packed.
He's ready for some hoops.
Oh, and ready to dance, too.
"It's boosting his self-confidence. … We see spunk. We see the love in his eyes," said his mother, Lori. "He's on cloud nine. … He's ready to go. He's ready to light up that stadium."
More Aces: Follow all of our Aces coverage online at reviewjournal.com/aces and @RJ_Sports on Twitter.
Contact reporter Sam Gordon at sgordon@reviewjournal.com. Follow @BySamGordon on Twitter.
Game day
Who: Minnesota Lynx vs. Aces
When: 7 p.m. Thursday
Where: Mandalay Bay Events Center
Tickets: Starting at $17 at axs.com
TV: AT&T SportsNet/NBA TV
Line: Off
About the Aces: Las Vegas (12-17), 2½ games behind the Dallas Wings for the final playoff spot, play four of their final five games at home. The Aces defeated the Lynx in their last meeting last month.
About the Lynx: Defending WNBA champion Minnesota (16-13) has lost three of its past four games. Former league MVPs Maya Moore and Sylvia Fowles average 17.8 and 17.0 points to anchor the offense.