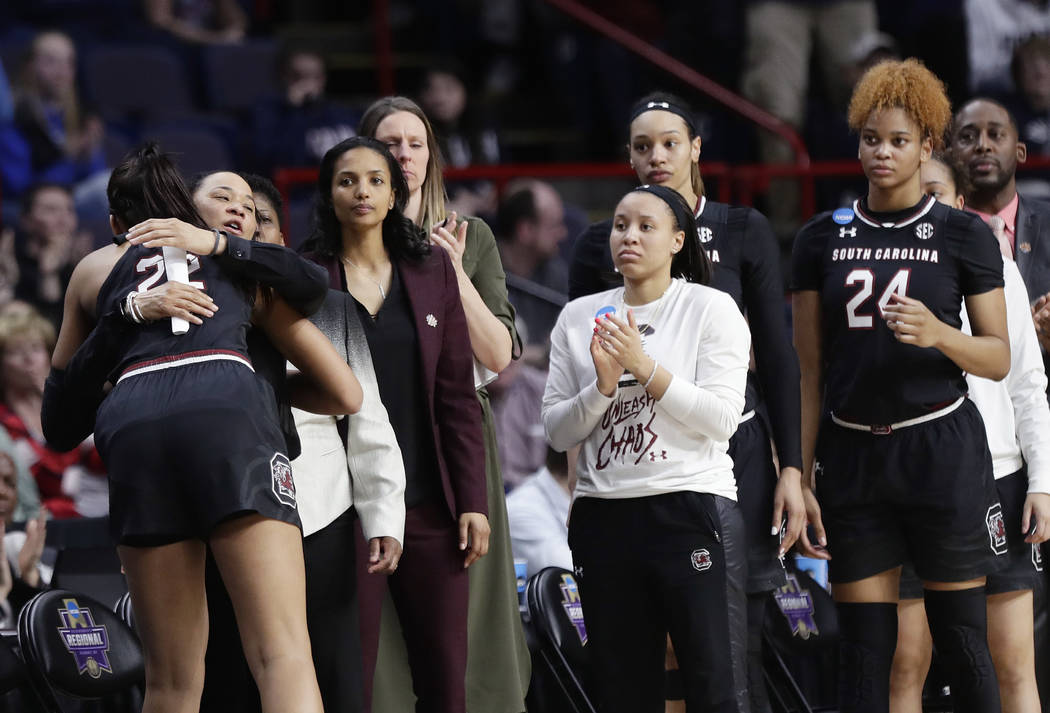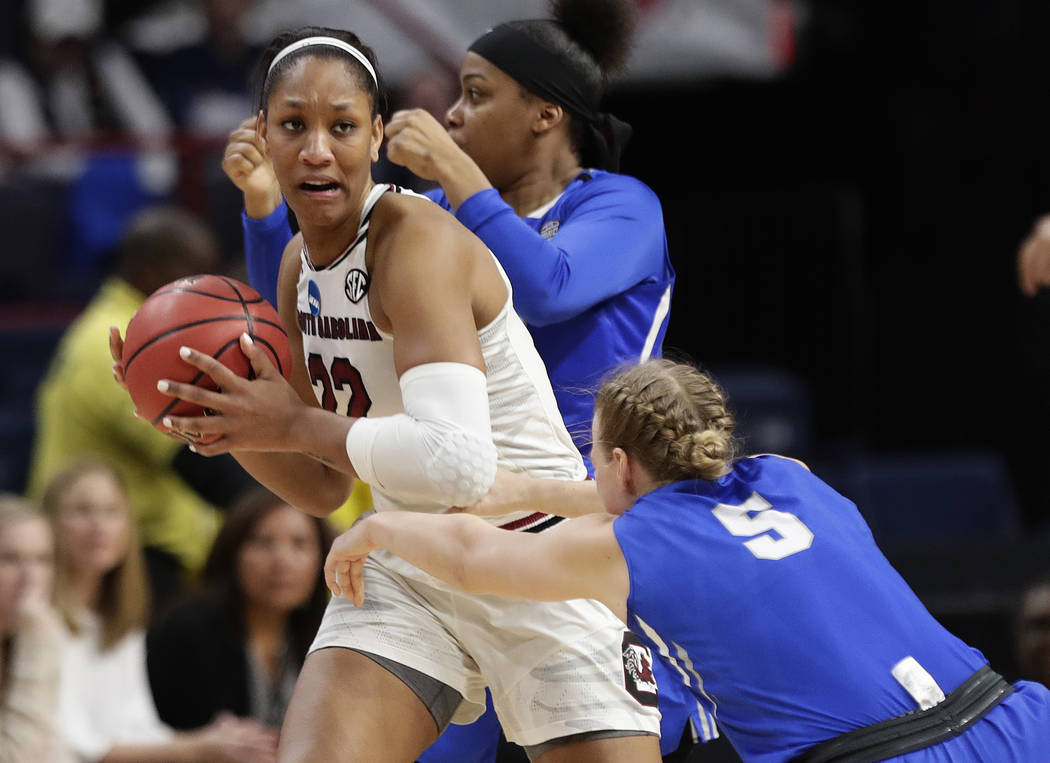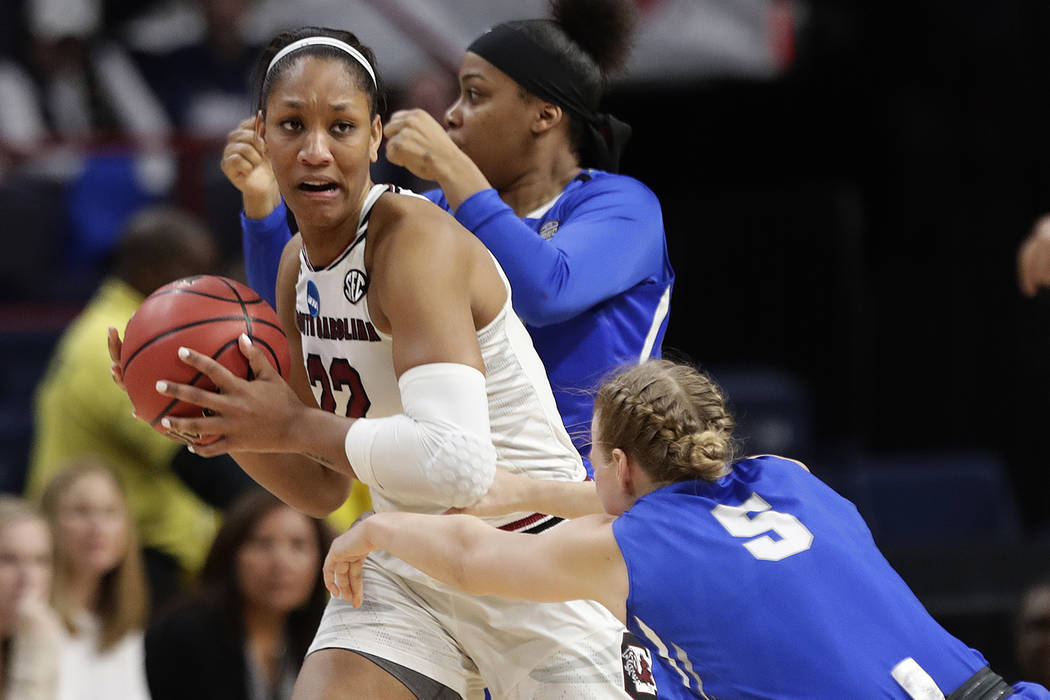 A'ja Wilson was a wide-eyed adolescent the last time she ventured to Las Vegas, dreaming of playing professional basketball in the WNBA and beyond.
The next time she'll be in Las Vegas will be as the No. 1 overall pick in the WNBA Draft, the face of a new franchise vying for relevance in a flowering sports market and the fulfiller of that childhood prophecy.
Probably.
Wilson, 21, was the consensus national player of the year after an outstanding senior season at South Carolina and is expected to become Aces president of basketball operations and coach Bill Laimbeer's first selection in his tenure with the team.
The 6-foot-5-inch forward gets buckets, grabs rebounds and blocks shots at the highest level, and ESPN women's basketball analyst Rebecca Lobo expects a rather seamless transition from college to the pros.
"This is somebody that could eventually be an Olympian, who can be a WNBA All-Star and who's only going to continue to get better," Lobo said. "She has the pieces necessary right now to immediately help a team."
And after an 8-26 season in 2017, the Aces could certainly use her help.
Wilson grew up just outside Columbia, South Carolina, admiring WNBA legends such as Lisa Leslie and Candace Parker. As the nation's top high school recruit, she stayed home to play for the Gamecocks and coach Dawn Staley, who lauded her talent and versatility.
"She was the top player in her class in her senior year of high school, and she's the top player in her class her senior year of college," Staley said by telephone. "If you look at her stats from Year One to now, you've seen her grow and seen her become more efficient in every area of her game."
Wilson, indeed, improved her scoring average every year on campus and stretched her range from the paint to the perimeter.
She scores from anywhere and everywhere, earning first-team All-America honors in her last three years, and guided the program to its first national title in 2017.
"I had to be a leader," Wilson said. "Also, expanding my game, whether that's taking it out to the 3-point line or coming off the dribble, doing different things. Every game or every season someone saw something different out of me."
Speaking on a conference call Friday, Laimbeer raved about Wilson and her positive qualities, but stopped short of proclaiming her the No. 1 pick.
"I tell everybody I played cards the other day and I kept getting the ace of diamonds, which it may be an omen," he said. "We haven't told anybody that 'Yes, you are the pick.' Do we have it in our mind who we're going to pick? Probably so."
Staley didn't stop short of anything, though.
She proudly espoused where she expects Wilson to go Thursday.
Back to Las Vegas.
As an adult, a professional and the No. 1 pick.
"I've seen her grow and mature into an All-American, to the top player in the country," Staley said. "I think Vegas would be crazy to not take her at No. 1.
"Absolutely bazonkers."
More Aces: Follow all of our Aces coverage online at reviewjournal.com/aces and @RJ_Sports on Twitter.
Contact reporter Sam Gordon at sgordon@reviewjournal.com. Follow @BySamGordon on Twitter.
WNBA draft
When: 4 p.m. Thursday
Where: Nike New York Headquarters
How to watch: ESPN2 for first round; ESPNU for second and third rounds
Aces picks: No. 1, No. 13, No. 25, No. 32
Top prospects
A'ja Wilson, F, South Carolina: The dynamic forward averaged 22.6 points, 11.8 rebounds and 3.2 blocks in her senior season with the Gamecocks and is widely regarded as the top prospect in the WNBA draft. She can score by the basket, attack from the perimeter and anchor a defense with her length and athleticism.
Kelsey Mitchell, G, Ohio State: An explosive scorer, Mitchell averaged 24.3 points and shot 40.2 percent from 3-point range for the Buckeyes in 2017-18. She averaged 24.5 points in her four year career and finished as the second-leading scorer in Division I history, trailing Aces second-year guard Kelsey Plum.
Diamond DeShields, G, Cukurova (Turkey): The smooth scorer played at North Carolina and Tennessee but bolted to play professionally overseas. DeShields averaged 17.4 points in 2016-17, her final season with the Lady Vols.
Azura Stevens, F, Connecticut: At 6 feet 6 inches tall, Stevens can protect the rim on defense and patrol the paint on offense. She bypassed her senior season to declare for this year's draft after averaging 14.7 points and 7.4 rebounds in 20.9 minutes per game for the Huskies.
Gabby Williams, G/F, Connecticut: The Sparks native starred at Reed High School and emerged as the best defensive player in the country with the Huskies. Williams reportedly has a 36-inch vertical leap and almost qualified for the 2012 Olympics as a high jumper. She averaged 11.2 points and 7.4 rebounds in 2017-18.
Sam Gordon Review-Journal