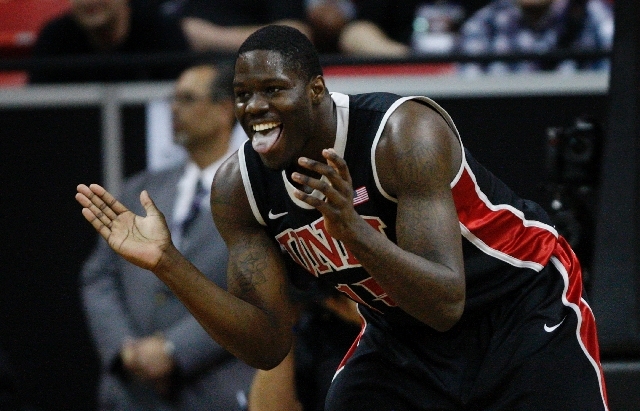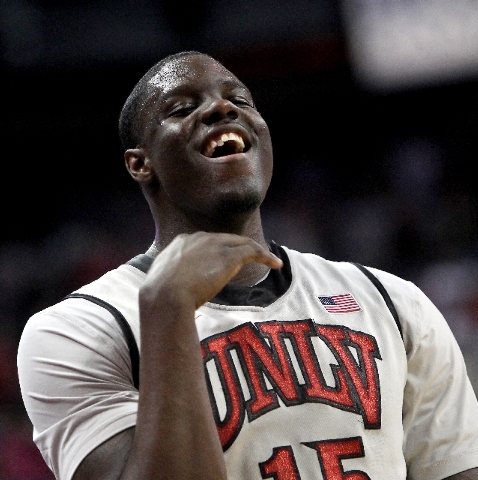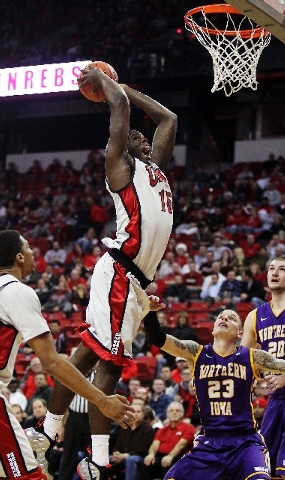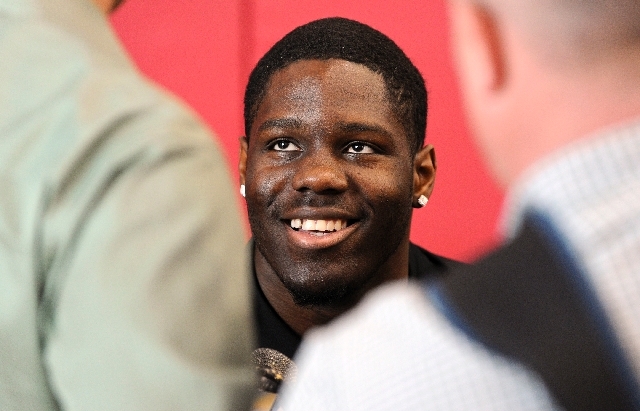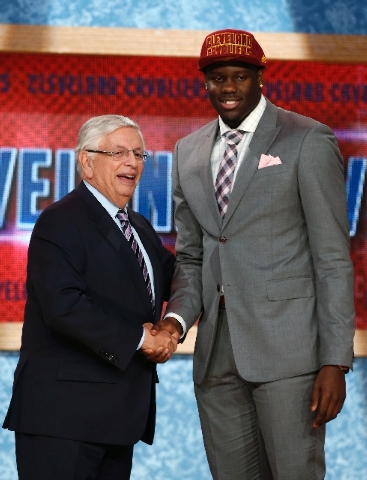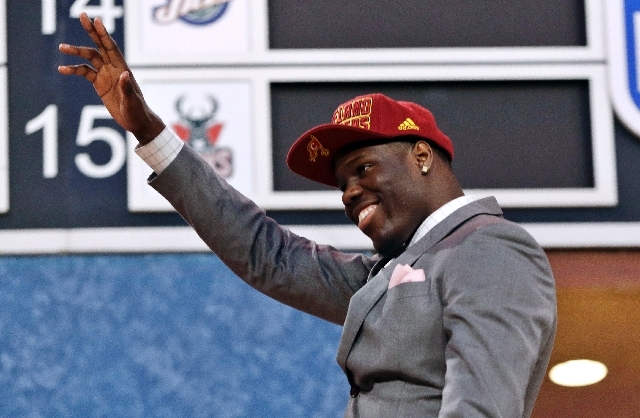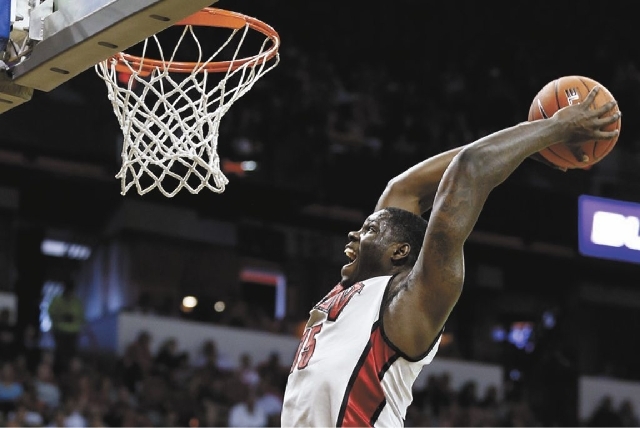 NEW YORK — Allergies were bothering Anthony Bennett from the time he woke up Thursday. He was sneezing and feeling miserable, and then suddenly, he had never felt better in his life.
Everything changed with the surprising sound of his name being called first in the NBA Draft.
In a development that stunned Bennett and blew away the crowd at the Barclays Center in Brooklyn, the freshman power forward from UNLV was selected No. 1 overall by the Cleveland Cavaliers.
"I'm just as surprised as everybody else," Bennett said. "I had no idea. When they said my name, that's when I knew.
"I didn't really have any idea who's going No. 1 or who was going No. 2. I heard everything was up for grabs. It's just crazy. Made history. It's like a longtime dream that I had since I first started playing basketball."
Bennett's handshake with commissioner David Stern recalled a historic moment for UNLV from 22 years ago.
Bennett, 20, became the Rebels' second No. 1 pick. The player he most often is compared to, Larry Johnson, was drafted first in 1991.
"I'm very happy for Anthony and his family," said UNLV coach Dave Rice, who recruited Bennett out of Findlay Prep and played with Johnson. "It is also great for our program. It's very positive for recruiting and the future. Anthony loved his experience at UNLV. To be picked No. 1 is very special and something only a select group of individuals get to experience."
Cavaliers general manager Chris Grant said the team whittled its list of potential candidates to a "couple guys" by late Wednesday and finalized its decision to take Bennett after a Thursday morning meeting.
"He was one of those guys when you walked out of the gym when you saw him play, you kind of went 'Wow,' " Grant said. "He just does things you don't see other people do, so he was always a guy highly in our mix throughout the entire season."
Bennett, from Brampton, Ontario, is the first Canadian to go No. 1 in the NBA Draft. He also is the first Rebels player drafted since 2003.
Bennett, the first McDonald's All-American to play for UNLV straight out of high school since 1983, averaged 16.1 points and 8.1 rebounds while starting 32 of 35 games for the Rebels, who finished 25-10. He made 37.5 percent of his 3-point attempts, and the way he ran the floor and dunked brought back images of Johnson.
Bennett said he recently watched video of Johnson in the 1990 NCAA championship game.
"I went back and watched UNLV play Duke and beat them by 30 in the final. I kind of see where the comparisons are coming from. It was pretty similar," Bennett said. "At the same time, I'm really trying to create my own path."
A left shoulder injury that briefly sidelined Bennett in late February required rotator cuff surgery May 9. The Cavaliers were not deterred by his inability to work out before the draft or reports that his weight, around 245 pounds for most of his freshman season, had ballooned to 260.
Bennett looked fit and laughed off rumors he was overweight, and he was not playing coy about what was coming next.
"I'm enjoying this experience," Bennett said, pausing to sneeze and wipe his nose, about two hours before the draft. "It's crazy. I hear I could go anywhere from No. 1 to eight."
Most reports indicated Cleveland would select Nerlens Noel, a freshman center from Kentucky. But Mike Brown, the Cavaliers' new coach, watched Bennett play last season at UNLV and was enamored with his offensive skills.
Cleveland made attempts to trade the top pick, but targeted Bennett after coming to the conclusion he was the most talented player available. He will join another Findlay Prep alumnus, forward Tristan Thompson, on the Cavs' frontline.
Indiana guard Victor Oladipo went No. 2 to Orlando, followed by Georgetown forward Otto Porter Jr. to Washington at No. 3. A second Hoosiers standout, center Cody Zeller, was selected fourth by Charlotte, and Maryland center Alex Len went fifth to Phoenix. Noel slipped to New Orleans at No. 6.
Shabazz Muhammad, a freshman from UCLA and a former Bishop Gorman High School star, was drafted 14th by Utah and traded to Minnesota.
The Cavaliers took Bennett 10 years after they grabbed LeBron James with the No. 1 pick.
Bennett's shoulder rehab will prohibit him from debuting in the NBA Summer League in Las Vegas in two weeks. He expects to be at full strength by August.
"I would say I'm pro-ready, but at the same time, there's a lot of things I need to work on," Bennett said. "I made it, but I just need to keep working.
"I want to be successful and win championships. I'm just real happy that I have this opportunity. You're on the bigger stage."
Contact reporter Matt Youmans at myoumans@reviewjournal.com or 702-387-2907. Follow him on Twitter: @mattyoumans247.
UNLV DRAFT HISTORY
UNLV has had 10 players drafted, including two No. 1 picks, since 1991:
■ 2013 — Anthony Bennett, first round, first overall, Cleveland
■ 2003 — Marcus Banks, first round, 13th overall, Memphis
■ 1999 — Shawn Marion, first round, ninth overall, Phoenix
■ 1998 — Keon Clark, first round, 13th overall, Orlando
■ 1993 — J.R. Rider, first round, fifth overall, Minnesota
■ 1992 — Elmore Spencer, first round, 25th overall, L.A. Clippers
■ 1991 — Larry Johnson, first round, first overall, Charlotte
■ 1991 — Stacey Augmon, first round, ninth overall, Atlanta
■ 1991 — Greg Anthony, first round, 12th overall, New York
■ 1991 — George Ackles, second round, 29th overall, Miami