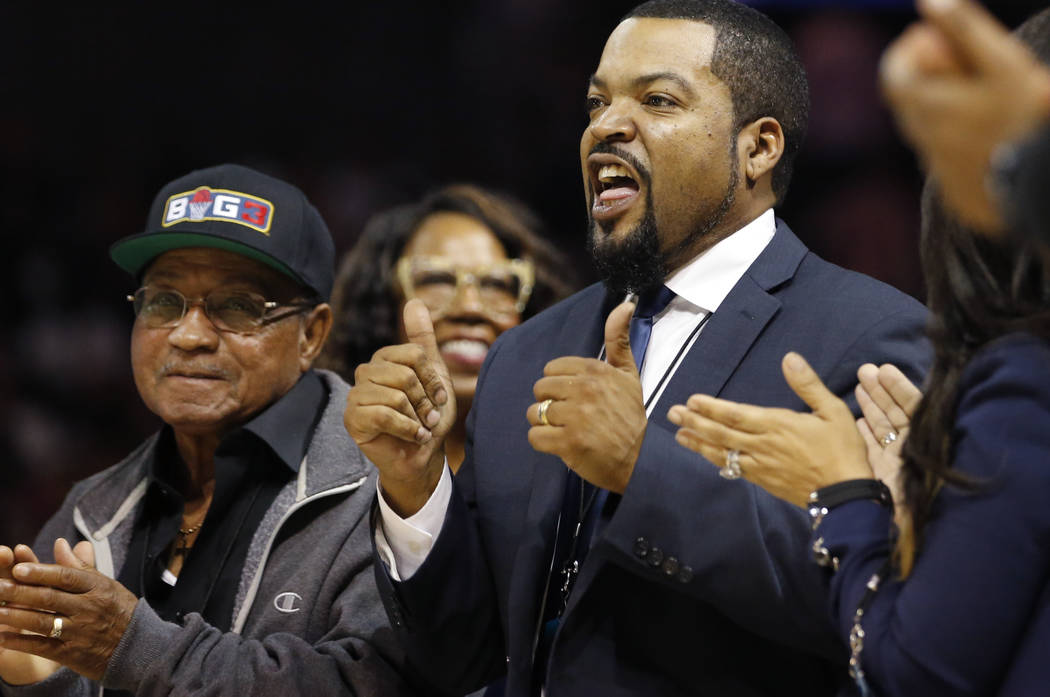 There's a lot of buzz and excitement to look forward to this weekend for Las Vegas sports fans.
Yes, there's talk about some fight going on, but this Saturday also will feature the inaugural championship game and season finale for the BIG3, the professional three-on-three basketball league which features eight teams made up of former NBA players.
The league, which was founded by legendary hip-hop artist Ice Cube and Firm CEO Jeff Kwatinetz, started its first ever season on June 25 at Barclays Center in Brooklyn, NY and the road through its 10-week season has led to the MGM Grand Garden Arena.
In a Wednesday press conference, Ice Cube noted how returning to the desert was a homecoming of sorts for the league.
"We are extremely excited to be back in Vegas," he said. "We had our combine in Vegas so it's going to be great to have our championship game after 10 weeks of good, hard-nosed basketball."
Saturday's event will feature two games for the price of one: The first game will be a contest to determine the third-place team in the league as Power (4-4) will face the Ghost Ballers (4-4) at noon.
Ricky Davis, who played in the NBA for 12 seasons, will play for the Ghost Ballers and knows what his team needs to do to win.
"Got to make them take tough shots," he said. "They got some good guys that can shoot the ball. We just have to go out there and play our game. Pound it inside and shoot it inside out. Should be a fun game."
He also had thoughts about the championship game, which features Trilogy (9-0) vs. 3 Headed Monsters (7-2) and starts at 1:30 p.m. Davis believes there is a guy on the Monsters squad who has X-factor potential.
"If Kwame (Brown) has a great game, 3 Headed Monsters got a great chance," he said. "(With) Trilogy, you have all those guys that can score the ball. It's just a matter of Kwame stepping up and giving them some help."
Rashasd McCants does not share the same view. The former Tar Heel and four-season NBA veteran points to the July 2nd game, which Trilogy won, 50-37. He expects history to repeat itself Saturday.
"We've already won against 3 Headed Monsters before," he said. "So we look to just do the same thing. We'll continue to do what we do week in and week out and that's win the game.
McCants said that everyone on Trilogy has been shooting for the championship during its undefeated run. He believes that if everyone comes focused, they should be crowned the first ever champions of the BIG3
"We just need to do what we do best and show up and play," he said. "Everything else will handle itself."
Contact Jonathan Saxon at jsaxon@reviewjournal.com. Follow @J_Saxon91 on Twitter.