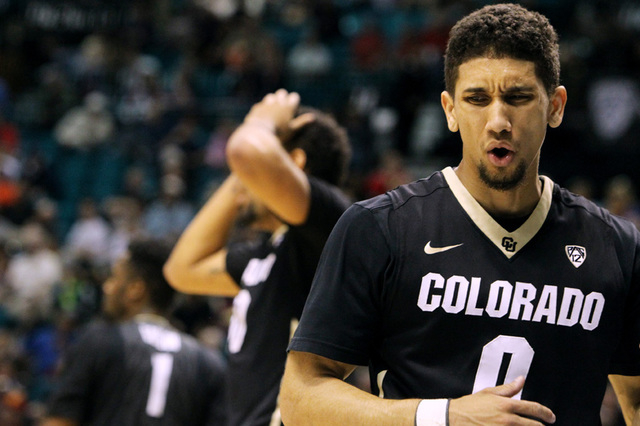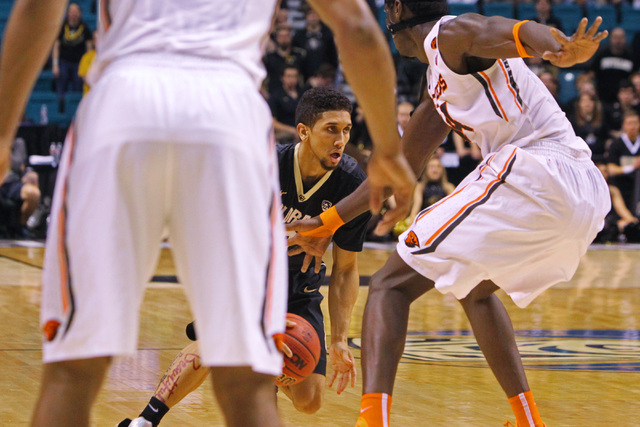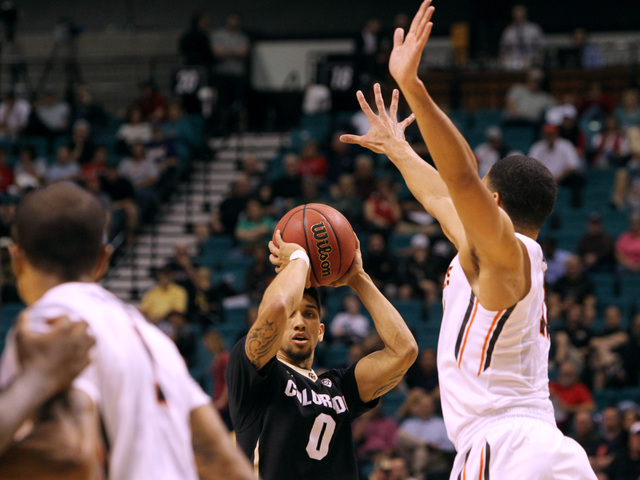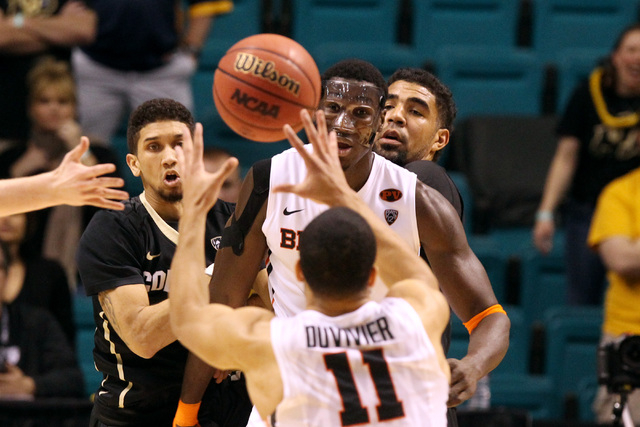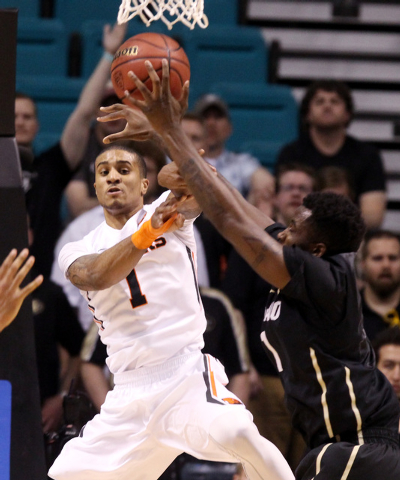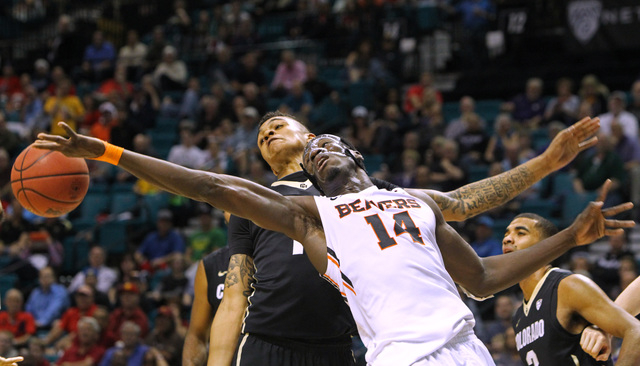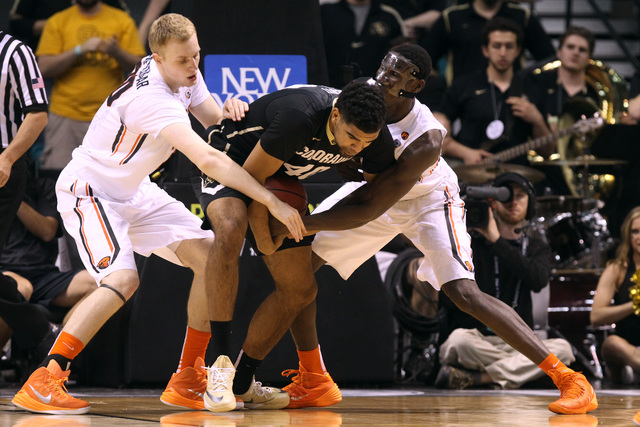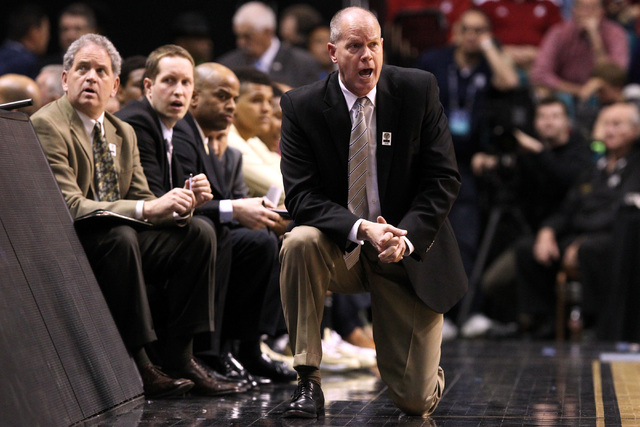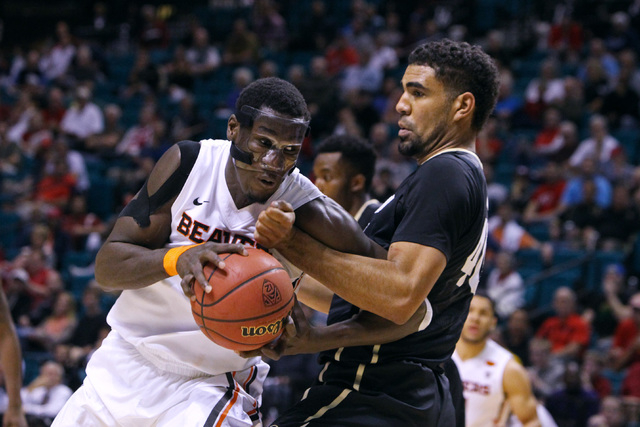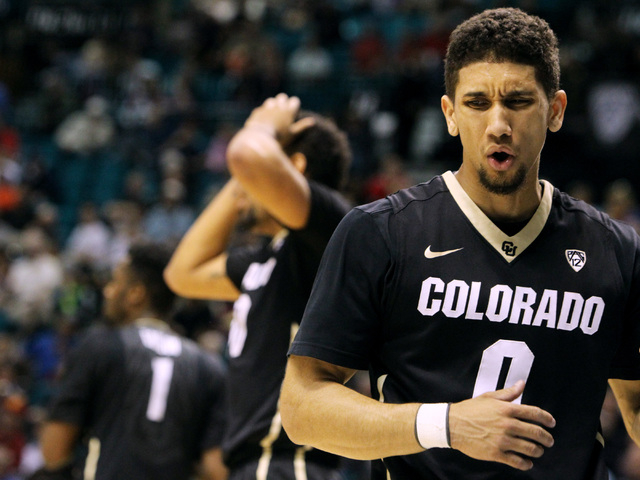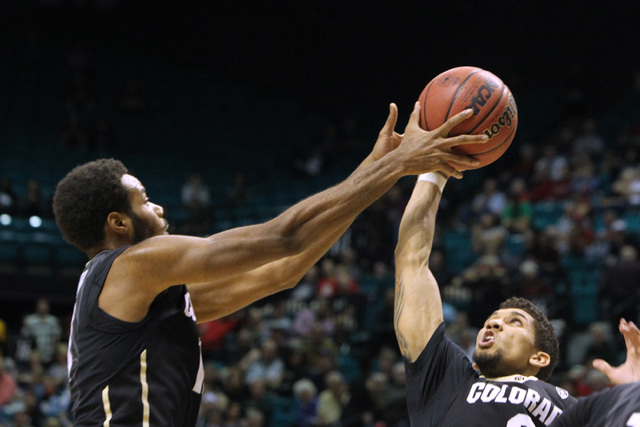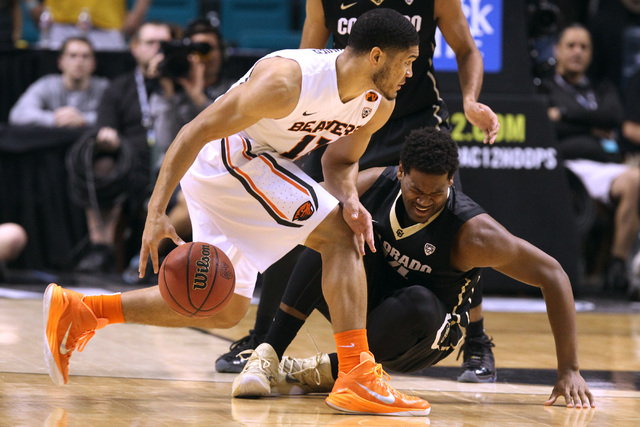 Askia Booker isn't quite finished playing college basketball.
The 6-foot-2-inch senior guard for Colorado shook off a cold-shooting first half with a hot run midway through the second half of the Buffaloes' opening-round game of the Pacific-12 Conference tournament Wednesday. Booker scored 11 of his 20 points in about two minutes, and 10th-seeded Colorado stopped No. 7 Oregon State 78-71 in front of 9,875 at the MGM Grand Garden.
Colorado (15-16) will meet No. 2 Oregon at 6 p.m. today in the quarterfinals. But coach Tad Boyle's team wasn't the only one thinking upset Wednesday. Southern California rallied from a 15-point deficit against Arizona State, and the No. 12 Trojans advanced with a 67-64 win over the No. 5 Sun Devils. They will face No. 4 UCLA at 2:30 p.m. today.
Booker struggled in the first 20 minutes, going 0 of 6 from the floor, with his six first-half points coming from the foul line. But he got hot in the second half.
It started when Booker nailed a 3-pointer with 11 minutes left. Then he hit another. Then he drove the lane and scored on a layup. Then he hit another 3. Suddenly, Colorado, which was battling to keep up with Oregon State, led 63-54.
"When I started off, I played like crap in the first half," Booker said. "I took some quick shots. But my coaches and teammates told me to be aggressive, and once I hit that first shot, I kept shooting and they kept falling. Things open up eventually when you get hot."
Said Oregon State coach Wayne Tinkle: "He hit a couple of threes and broke our spirit."
Boyle credited his team's willingness to battle.
"I think it takes mental toughness," he said. "I think it takes a group of guys who refuse to lose and have that kind of mentality. We didn't come here with the idea of winning four games in four days. We came here with the idea of beating Oregon State."
The Beavers got as close as 67-63 with 6:05 to play, but an 8-2 spurt gave the Buffaloes a 10-point lead with 3½ minutes left.
Gary Payton II and Malcolm Duvivier scored 17 points apiece for Oregon State (17-14).
USC (12-19) used an effective zone defense to get back into the game against Arizona State (17-15). The Trojans forced the Sun Devils into shooting 23 percent from 3-point range (5 of 22) and 35 percent from the floor (23 of 65).
"Our zone has been very good for us the last month of the season," USC coach Andy Enfield said. "Our guys are really learning how to switch and recover and then rebound out of it."
Elijah Stewart led the Trojans with 27 points, and Shaquille McKissic led Arizona State with 16 points and nine rebounds.
Also advancing to today's quarterfinals was California, as the No. 8 Golden Bears got 25 points from David Kravish and routed No. 9 Washington State 84-59. Cal (18-14) will face top-seeded Arizona at noon.
In Wednesday's final game, Chasson Randle's 3-pointer with 2.4 seconds left lifted No. 6 Stanford to a 71-69 win over No. 11 Washington (16-15). The Cardinal (19-12) will face No. 3 Utah in the quarterfinals at 8:30 p.m. today.
The Huskies had a chance to increase their lead when Dan Kingma was fouled with 29 seconds left and Washington leading 69-68. But Kingma missed the front end of a one-and-one, and Stanford got the ball to Randle, who hit the shot.
Contact reporter Steve Carp at scarp@reviewjournal.com or 702-387-2913. Follow him on Twitter: @stevecarprj.