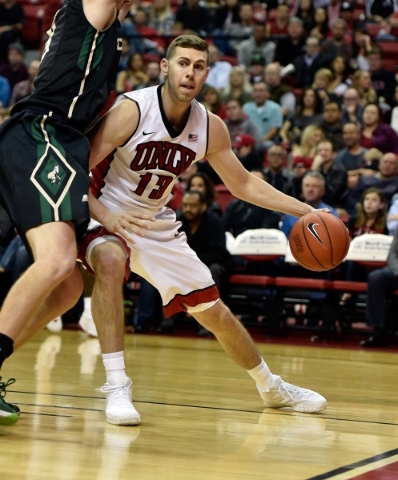 Everything is lined up for UNLV coach Dave Rice to deliver on his promise of fast-break basketball.
He has an athletic, deep team capable of putting on full-court defensive pressure. He has a variety of skilled offensive players. There is a 30-second shot clock. And, equally as important today, an opponent that runs is visiting the Thomas & Mack Center.
"It should be an up-and-down game," Rice said. "I think it will be a game that will be exciting for the fans to watch."
The Rebels (1-0) host New Mexico Highlands, a Division II team from the Rocky Mountain Athletic Conference, at 7 p.m. in what shapes up as a shootout.
It's a mismatch that also shapes up as a potential blowout, but none of that talk is coming from the Rebels' side. When the possibility of playing down to the level of the opponent was brought up, junior forward Ben Carter sounded offended.
"This is a brand new team," Carter said. "I want it to be known that this year's team isn't like past teams. The makeup of this team is a lot different. In past seasons, that might have been the case. We have a different approach.
"We've got to take every opponent seriously. We don't look at any game as an easy win because that's not how it is in college basketball. It's easy for some guys to look past it and say, 'This should be a blowout.' But we need to take games like this and really come out with a lot of intensity."
In 137 games under Rice, the Rebels have scored 100 points three times. This game has a shot to be the fourth.
The Cowboys (1-2) are allowing 83.3 points per game, with a victory over Eastern New Mexico and double-digit losses to Grand Canyon and West Texas A&M. It's a team that plays four guards most of the time and looks to push the ball in transition.
"They like to run, they like to score, and so do we, so it should be really fun for the fans to watch if the refs don't call too many fouls," UNLV guard Jordan Cornish said.
In the Rebels' season opener, a 74-72 victory over Cal Poly on Friday, the teams were whistled for a combined 54 fouls. UNLV made 25 of 40 free throws and committed 19 turnovers, and Rice wants to see the free-throw percentage (62.5) rise and the turnover number fall.
"Free throws win ballgames," said Carter, who had five points and six rebounds in 15 minutes off the bench. "We almost let one slip away because of missed free throws."
Cornish, who started the opener and had four points and four assists, is returning to a reserve role. Patrick McCaw, demoted for being three minutes late to a practice, reassumes his expected starting job.
McCaw's 15 points led the Rebels against Cal Poly, and 7-foot Stephen Zimmerman Jr. scored 12 in his college debut.
The Cowboys are on the schedule because their coach, Craig Snow, once worked with UNLV assistant Ryan Miller on the New Mexico staff. New Mexico Highlands plays at Wyoming on Thursday.
— Contact reporter Matt Youmans at myoumans@reviewjournal.com or 702-387-2907. Follow him on Twitter: @mattyoumans247.
Check our GameDay page for full coverage of the UNLV-New Mexico Highlands game.