Butler pulls off upset in Las Vegas Invitational championship
November 26, 2016 - 8:39 am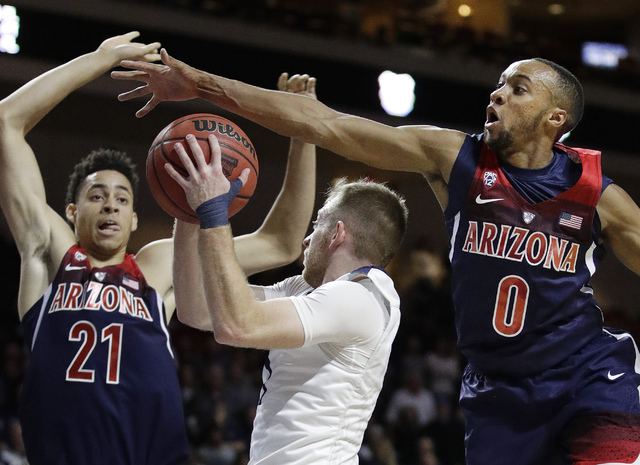 Arizona controlled the paint all game against Butler in the Continental Tires Las Vegas Invitational championship. At least until it counted.
Junior forward Tyler Wideman dunked and drew a foul with 29 seconds remaining in a tie game, lifting the Bulldogs to a 69-65 victory over the No. 8 Wildcats on Friday night at Orleans Arena. Butler, picked to finish sixth in the Big East this year, closed a tense game with a 12-4 run to earn a signature win and a tournament title.
"We have six new guys that have never played in a Butler uniform that have all played important roles for us," Bulldogs coach Chris Holtmann, whose team is coming off back-to-back NCAA Tournament appearances, said. "People have called this a rebuilding year. I don't know what it's going to be, honestly."
The Bulldogs (6-0) lost the rebounding battle 35-26 and were outscored 36-24 in the paint, but they did enough to beat a thin Arizona team playing on back-to-back days.
Forward Kelan Martin led Butler with 16 points, while forward Andrew Chrabascz added 14 points and seven rebounds. Both made the all-tournament team, along with teammate Kamar Baldwin, while Chrabascz was named the Most Valuable Player.
Arizona freshman forward Lauri Markkanen, one of two 7-footers to start for the Wildcats, scored 15 points but only played 21 minutes due to foul trouble. Only eight Arizona players saw the court, and two of them fouled out.
The Wildcats (5-1) still went on a 15-2 run late in the game to take a 61-57 lead, firing up the large Arizona contingent in the stands. Holtmann took a timeout, and the Bulldogs were able to refocus and emerge victorious.
"Those are our type of games," Chrabascz said. "We love it close. We love gritty games. We weren't too worried, we just knew we need to buckle down a little bit."
■ Vanderbilt 76, Santa Clara 66 — Forward Luke Kornet scored 18 points, guard Riley LaChance added 17 on 6-for-7 shooting, and Vanderbilt (3-3) withstood a second-half surge from Santa Clara (3-3) to finish the Las Vegas Invitational 2-2.
■ Bucknell 75, Northern Colorado 63 — Forward Zach Thomas had 22 points and seven rebounds, center Nana Foulland added 18 points on 9-of-10 shooting, and Bucknell (5-2) finished 3-1 in the tournament. Guard Jordan Davis scored 28 points for Northern Colorado (2-4).
■ Sacred Heart 61, Norfolk State 59 — Guard Quincy McKnight scored 18 points, forward De'von Barnett had eight and 10 rebounds, and Sacred Heart (2-4) picked up its only win in the Las Vegas Invitational. Guard Jonathan Wade had 28 points for Norfolk State (2-5).
Contact Ben Gotz at bgotz@reviewjournal.com. Follow @BenSGotz on Twitter.
Holiday Hoops Week events
Global Sports Classic
Who: UNLV, Alabama State, Cal State Fullerton, Jacksonville State, Northern Arizona, Texas Christian, Washington, Western Kentucky
Where: Thomas & Mack Center
When: Saturday
Tickets: Online
Schedule: Hosts bracket finals: Friday's losers, 5 p.m.; Friday's winners, 7:30 p.m.; visitors bracket finals: Friday's losers, 11 a.m.; Friday's winners, 1:30 p.m.
Neutral-site game
Who: Alabama-Birmingham vs. St. Mary's
Where: Orleans Arena
When: 2 p.m. Sunday
Tickets: Orleans Arena box office
South Point Shootout Women's Thanksgiving Tournament
Who: Arizona State, Maryland, Nebraska, St. John's, Virginia, Washington State
Where: South Point Arena
When: Saturday
Tickets: South Point box office
Schedule: Arizona State vs. St. Johns, 1 p.m.; Maryland vs. Washington State, 3:30 p.m.; Nebraska vs. Virginia, 6 p.m.