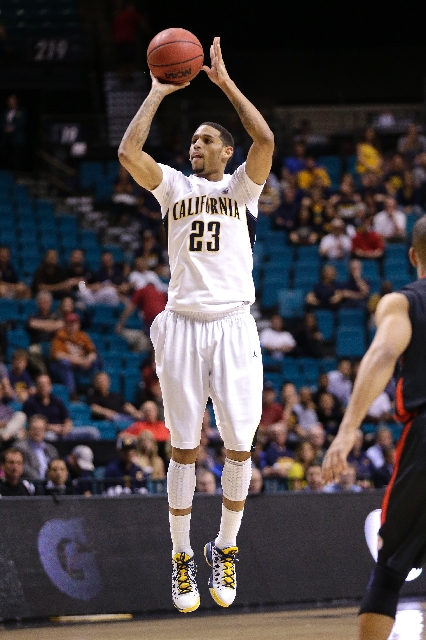 One of the most dramatic wins of UNLV's season was a 76-75 December victory at California on an offensive rebound and putback by Quintrell Thomas with 1.2 seconds remaining.
Rebels fans no doubt began thinking about that moment as soon as the NCAA Tournament matchup was revealed during Sunday's selection show.
The Golden Bears have been thinking about it since the shot went through the net. The unusual postseason rematch, which will take place in San Jose, just 50 miles from their Berkeley campus, now gives them a chance to exact some revenge.
"We're stoked. We know we can beat these guys. They kind of slipped out of our hands here earlier in the year, but that was a completely different team," Cal senior forward Robert Thurman said. "Now, I think we're twice the team we were then, and they barely beat us.
"It's so rare to have a pick like that — to have a home-court advantage and play a team that you already know what they do. It was a perfect pick for us, and we're just excited."
The loss to UNLV came during a span of six losses in nine games by the Golden Bears that left them looking like a long shot for the postseason.
Cal (20-11) slowly righted the ship, however, and eventually won seven straight games before losing to Stanford at home in the regular-season finale, then to Utah in overtime in their Pac-12 tournament opener at the MGM Grand Garden.
The Golden Bears' ability to avenge their defeat against UNLV largely rests on the shoulders of Allen Crabbe.
The 6-foot-6-inch junior guard was named the Pac-12 player of the year and led the league in scoring at 18.7 points per game. Crabbe scored a team-high 18 points in the meeting with UNLV, attempting only eight shots.
"When we saw our name going up against UNLV, we got pretty excited," Crabbe said. "We feel like we match up really well with them, and we know the way they play. We got to play them earlier in the year, and we let one slip away from us, so I think we're all pretty excited to get this rematch."
Fellow Los Angeles native Justin Cobbs also got some recognition from the conference as a second-team selection. Cobbs, a 6-3 junior guard, averages 15.5 points.
He said the game in San Jose was "kind of going to be like a home game."
Still, Cobbs said his team will be in trouble if it doesn't pick things up on the defensive end.
"These last two games haven't been a great example of how we play defense," he said. "But that stretch where we won seven straight, that was what kind of team we are and what kind of team we're capable of being when we get stops."
Thurman said that starts with finding a way to slow Anthony Bennett, who had 25 points and 13 rebounds in the first meeting against the perimeter-oriented team.
"We're going to have a different way of guarding him knowing now what he's capable of," said Thurman, who will be a part of a frontcourt assigned with that task.
"Our mentality has to be we're not going to lose. That's the mentality we're going to have to have, and I think that's the mentality we're going to have because we need to get these guys back because of what happened.
"That was a heart-wrencher, and I think we're going to have to come out and play harder than we've ever played in our lives."
Contact reporter Adam Hill at ahill@reviewjournal.com or 702-224-5509. Follow him on Twitter: @adamhilllvrj.
Video
California coach Mike Montgomery at a press conference Sunday
California forward Richard Thurman at a press conference Sunday