Californian Cassius Stanley wows for Russell Westbrook's team
Updated July 27, 2018 - 5:53 pm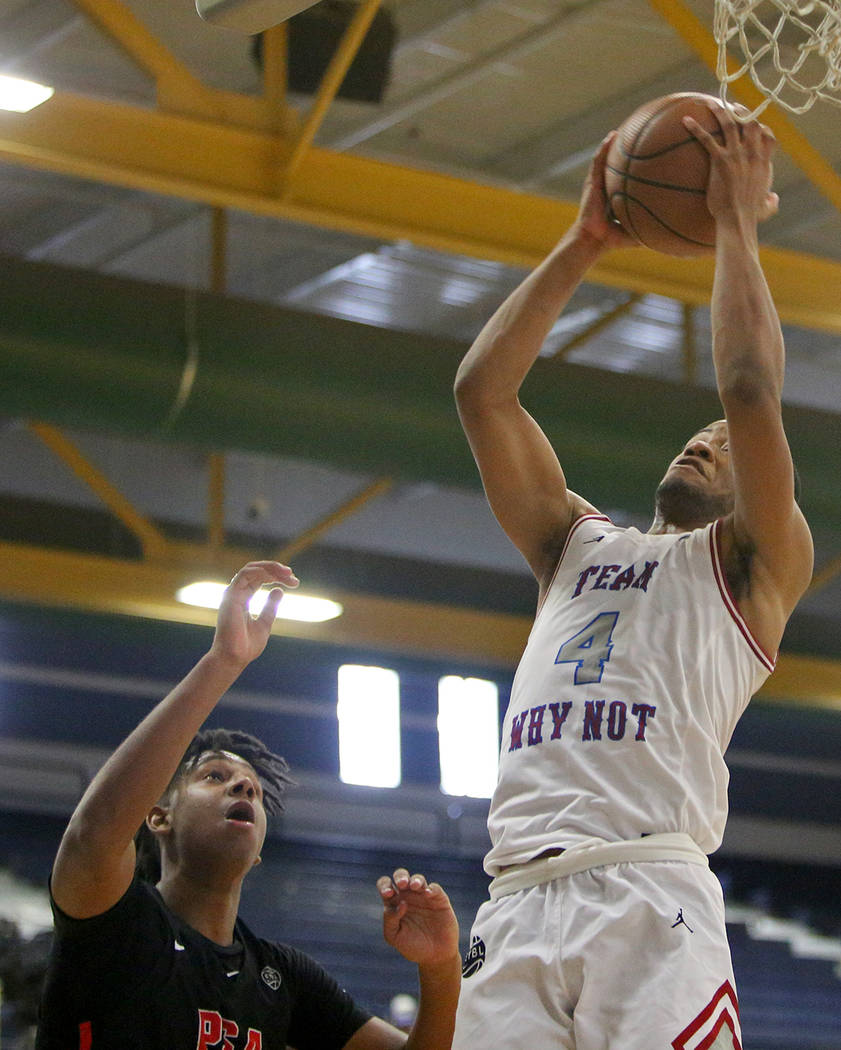 Cassius Stanley didn't jump to dunk the basketball Thursday night during a Las Vegas Classic game at Spring Valley. He pogoed off the hardwood so effortlessly, so viciously that Oklahoma City Thunder star Russell Westbrook shot out of his sideline seat in amazement.
The court is Stanley's trampoline.
Las Vegas is his backyard.
Stanley, a four-star senior-to-be wing and consensus top-40 recruit from Sierra Canyon High School in Los Angeles, has shined this year for Westbrook's grassroots basketball program, Team Why Not.
At 6 feet 5 inches tall and a muscular 205 pounds, Stanley bounces off defenders as he glides high above the basket and is developing an all-around game to go with his extraordinary athleticism.
Most of the country's top college basketball programs are courting Stanley, who mentioned Southern California, UCLA, Kansas, Oregon, Texas and South Carolina, among others.
"(A school) is going to get a guy that can dominate games on the offensive end, that is becoming a guard that can rebound," Team Why Not coach Reggie Morris said. "A guy that's super talented. And he's the nicest kid you could ever meet. You'd never know he's this good at basketball."
Stanley has been that good at basketball since elementary school. He dunked for the first time before sixth grade and developed a cult following through his basketball mixtape reels, which feature dozens of spectacular dunks.
The hype festered in the form of a five-star billing and dozens of subsequent scholarship offers. Stanley remained focused, unfazed by the attention that accompanied his profile.
"Cassius has been working out with pros and holding his own for the last two years," said Stanley's trainer, Travelle Gaines, who runs a performance facility and also trains NBA players, among others. "That gives him a lot of confidence that he can compete with the guys who he's training with. … He can see exactly where he fits today."
Stanley tumbled in the rankings before the summer, settling in at No. 34 on ESPN, but he says he doesn't pay attention to them.
He averaged 15.1 points and 5.4 rebounds in Nike's Elite Youth Basketball League and worked on developing his intangibles.
"My coach pushed me to play defense and rebound and do the other things," he said. "That's helped me. … It started with defensive rebounding and having a high motor."
Stanley prepped for the Las Vegas Classic by scrimmaging against current or former NBA players at UCLA, including Devin Booker, Brandon Jennings, Baron Davis and Zach Randolph.
Westbrook is a fixture at Team Why Not's games this week and seems to be mesmerized by Stanley's play.
"That's an NBA MVP," Stanley said. "I don't know if there are any other teams in this (tournament) that have another MVP. It's just great to have a guy right there that not only can sit on the bench but that's talking to and keeping you focused all the time."
More preps: Follow all of our Nevada Preps coverage online at nevadapreps.com and @NevadaPreps on Twitter.
Contact reporter Sam Gordon at sgordon@reviewjournal.com. Follow @BySamGordon on Twitter.
Basketball buffet
What: Las Vegas Classic (668 teams); Fab 48 (489 teams); Las Vegas Finals (48 teams)
When: Through Sunday
Where: Las Vegas Classic (35 sites); Fab 48 (18 sites); Las Vegas Finals (five sites)
Information: bigfoothoops.com (Las Vegas Classic); lasvegasfab48events.com (Fab 48); reboundhoops.com (Las Vegas Finals)