Chaparral girls overcome 0-8 start, return to playoffs
February 15, 2016 - 1:19 pm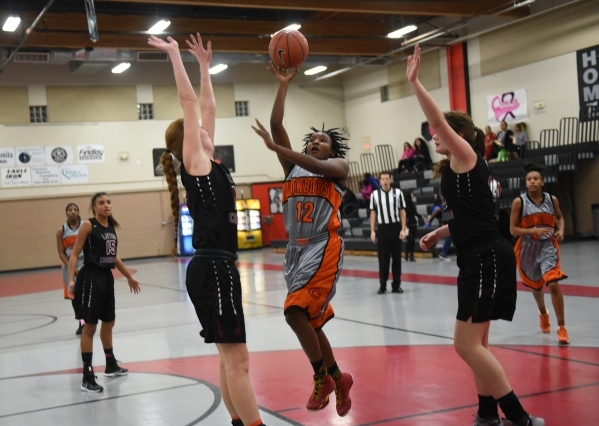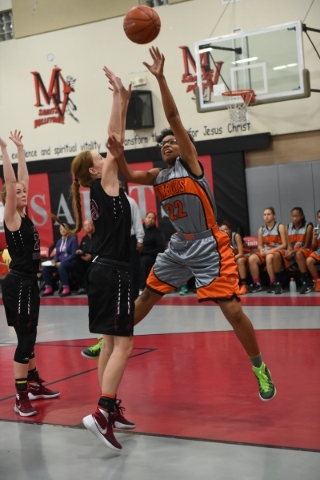 Eight games into its season, Chaparral's girls basketball team was reeling.
The defending Sunrise League champions started 0-8 and were outscored by 257 points.
It's all a distant memory now.
The Cowboys are 17-3 since the start, won their second consecutive league crown, and open play in the Division I-A Southern Region tournament when they host Sierra Vista at 6:30 tonight in a quarterfinal game. The Sunrise Region and Sunset Region tournaments also begin tonight.
"We knew that we just needed to group together and be one instead of just being individuals trying to score," said senior post Alexis Vanstory. "It just took a lot of hard work."
Included in the Cowboys' mess of a start were four losses to teams ranked among the top eight in Southern Nevada, including nationally ranked Centennial.
"We knew that the teams we were playing were not teams we were going to face in league," said senior guard Marcia Hawkins. "We've all played together for the last year. We knew we just had to keep working hard and stay humble."
Staying humble, working hard and being hungry has been the mantra all year long for the Cowboys, who won a league title for the first time since the 1980s and made only their second playoff appearance in the last 12 years last season.
But Chaparral also had adjustments to make this season after losing leading scorer Taij Criss-Felton to graduation and entering the year without a true point guard.
Hawkins, a 5-foot-10-inch shooting guard, was shifted to point. She's averaging 17.2 points, 5.2 rebounds and 3.3 assists per game, and together with Vanstory (11.0 ppg, 6.5 rpg), has picked up much of the scoring slack.
"She just stepped up when she had to," Chaparral coach Chris McFarland said of Hawkins. "She's been on varsity for four years. She's been to the playoffs twice. She has worked hard."
The Cowboys also have improved defensively. In their last 20 games, they've allowed only 41.5 ppg.
Chaparral advanced to the Southern Region semifinals last year, but lost to Faith Lutheran. Both Southern finalists advance to the state tournament. Chaparral last played at state in 2003.
The team also has had an extra source of motivation this year after watching their classmates on the football team advance to a Division I-A state semifinal.
"The girls saw the accolades the football players got, and they wanted the same thing," McFarland said. "I told them that if they want the accolades, if they want the attention, you have to go out and get it. No one is going to give it to you. You have to go out and work hard for it."
Chaparral is just two wins away from a trip to the state tournament in Reno and maybe some of those same accolades.
"It feels awesome," said senior guard Jasmine Martin. "We've done something that no one has done (for a long time) here. If we go to state, it's going to be even more awesome."
Contact reporter Bartt Davis at bdavis@reviewjournal.com or 702-387-5230.
Complete coverage of high school sports.