Clark forward Antwon Jackson commits to Arkansas State
Updated September 11, 2018 - 9:22 pm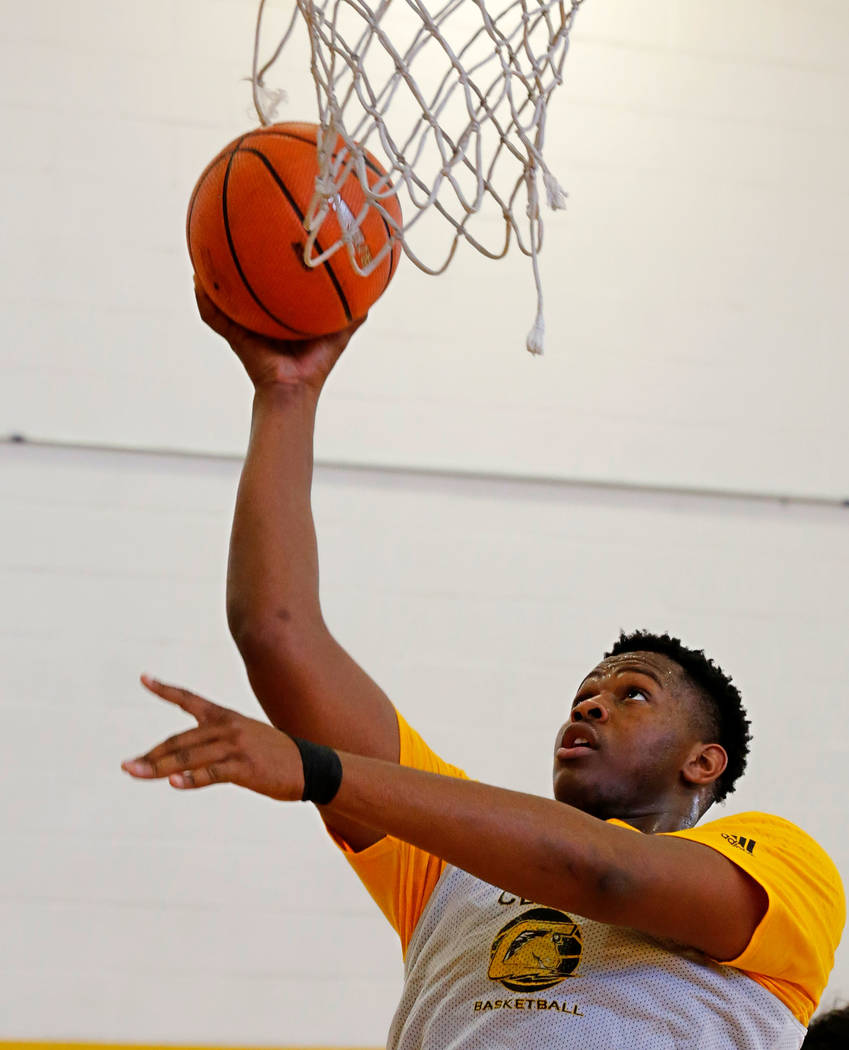 Clark senior Antwon Jackson is already reaping rewards from his oral commitment to Arkansas State.
The coaching staff sent him a meal plan that he follows to a T. And now, one of the valley's best low-post players is feeling — and moving — better than ever.
Jackson last week became the first local senior basketball player to commit to a Division I school, ending a tumultuous recruitment filled with a little discouragement and a lot of patience.
The 6-foot-7-inch power forward didn't have an offer until last month and at times was dismayed as best friend and teammate Jalen Hill racked up offers from some of the country's top colleges.
But the Red Wolves watched Jackson play during the final live recruiting period in July and were impressed with his player profile. He visited the university in August and announced his commitment via Twitter on Sept. 4.
"He's a kid that's earned what he's got," Clark coach Chad Beeten said. "He didn't have a bunch of offers or fake offers. He just kept working and working and working."
Jackson is naturally burly and grew accustomed to overpowering defenders near the basket with his size and strength.
He struggled at times with his conditioning, though, and weighed almost 280 pounds as he worked to draw attention from collegiate programs.
But Arkansas State has a vision for Jackson's development and sent him the meal plan. He started consuming more lean proteins such as salmon and egg whites and clean carbohydrates such as brown rice. And broccoli.
Lots of broccoli.
Jackson is down to 265 pounds and hopes to lose about 30 more before he arrives at Arkansas State. He works out twice a day now and is more agile and effective around and away from the basket.
"I had to start eating better. A lot better," he said. "I'm getting in better shape. I'm not getting tired as much. I'm feeling a lot better."
Jackson averaged 7.9 points and 5.8 rebounds last season, but is targeting averages of 17 points and 10 rebounds as he preps for an expanded role this winter. He's more comfortable on the perimeter, his jumper is improving, and Hill is proud of his friend's unwavering diligence.
"All the work he's put in the last four years since I've been with him at Clark, it's been amazing," Hill said. "Just to see him finally get that one offer, one is all you need, and he finally got one. It was a great fit for him, and he took it."
Volleyball tournament
The annual Durango Fall Classic returns to the Las Vegas Valley for the 24th year. Top volleyball teams from across the country will play at Durango, Green Valley, Palo Verde and Coronado on Friday and Saturday.
Championship play is Saturday night.
Gorman wins fall showcase
Bishop Gorman's boys basketball team beat California juggernaut Bishop Montgomery on Sunday to win the Ron Massey Fall Hoops Classic Tournament championship in Norwalk, California. The event featured several of the West Coast's top teams.
Noah Taitz, the Gaels' junior guard and a four-star recruit, claimed tournament MVP honors.
More preps: Follow all of our Nevada Preps coverage online at nevadapreps.com and @NevadaPreps on Twitter.
Contact reporter Sam Gordon at sgordon@reviewjournal.com. Follow @BySamGordon on Twitter.