Coach K ready to make one last run at Olympic gold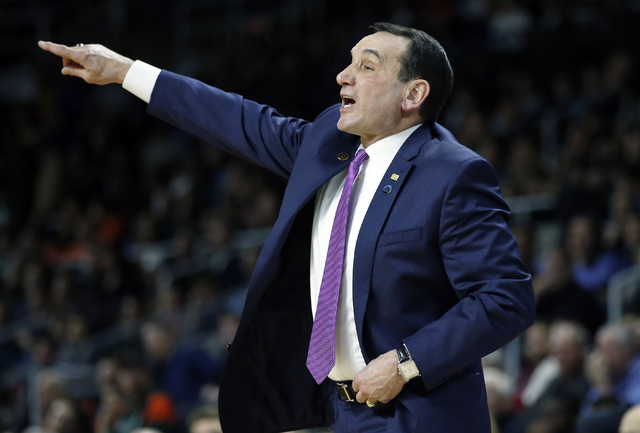 Whenever his country has asked him to serve, Mike Krzyzewski has been there to answer the call.
Whether it was as a captain in the U.S. Army during the 1960s or as head coach of USA Basketball's men's national team for the past decade, the Basketball Hall of Fame coach has delivered. Now as he wraps up his final tour of duty, the 69-year-old Krzyzewski looks to go out on a golden note as Team USA is in Las Vegas for the start of its pre-Olympic training camp for next month's games in Rio de Janeiro.
The Olympic team will practice at UNLV's Mendenhall Center from noon to 2 p.m. daily beginning Monday. All practices are closed to the public. Team USA wraps up its week in Las Vegas with an exhibition game vs. Argentina at 6 p.m. Friday at T-Mobile Arena.
"I like our versatility," Krzyzewski said Sunday. "The guys are excited to get going."
Under Krzyzewski's guidance, Team USA has won gold at the 2008 and 2012 Olympics as well as the 2007 FIBA Americas Tournament and the 2010 and 2014 world championships. The Americans are an astounding 52-1 with Coach K on the sideline since he became head coach in 2005.
Krzyzewski had four medical procedures following the college basketball season — replacement surgery on his left knee in April, hernia surgery in May and two surgeries on his left ankle in June. He has fully recovered from all and proclaims himself fit to serve.
"I'm good," he said. "I'm ready to go."
Unlike previous Olympics where the team had to be selected after being whittled down and then the final roster would be together for only a short time, that task has already been accomplished. The 12-man roster for Rio was set last month and Krzyzewski and his staff have been able to design lineups and a rotation in advance given they already know who is playing.
"It's a big plus," he said. "You're not spending time on selection. You don't have much time anyway. But we can focus on the guys who are here and get them ready. We did the same thing for Beijing (in 2008). We knew what our team was going in and that's going to be the same thing here.
"They give us their full attention and they put their work in. The important thing for this group in Vegas this week is they get a chance to start to bond as a team. That's why I like the fact we're going on a tour in the U.S. before we head to Rio. It gives us more game experience together and it's an opportunity for the guys to get comfortable with one another and with the staff."
Jerry Colangelo, the managing director for the national team and chairman of USA Basketball, said Krzyzewski has been as critical to the team's success as anyone.
"Without reservation, I give him complete credit for what we've been able to accomplish in terms of our success and in terms of turning around the culture," Colangelo said. "It's hard to believe we're going into our 12th year together and I hope we can get him one more gold medal."
And as he prepares to exit the international stage, Krzyzewski isn't leaving coaching anytime soon. He is still in charge at Duke and has not indicated plans to retire. San Antonio's Gregg Popovich takes over next year for Krzyzewski for the 2020 Olympics and there's a chance Krzyzewski may remain involved with Team USA in an advisory capacity.
"The best part of the experience has been being around the professionalism of the athletes," he said. "How hard they work. They set such a great example for the young players. We've changed how everyone in the country looks at the national team program."
Contact Steve Carp at scarp@reviewjournal.com or 702-387-2913. Follow on Twitter: @stevecarprj