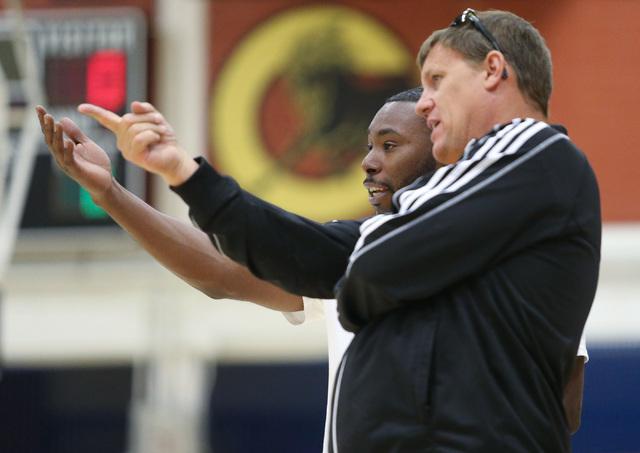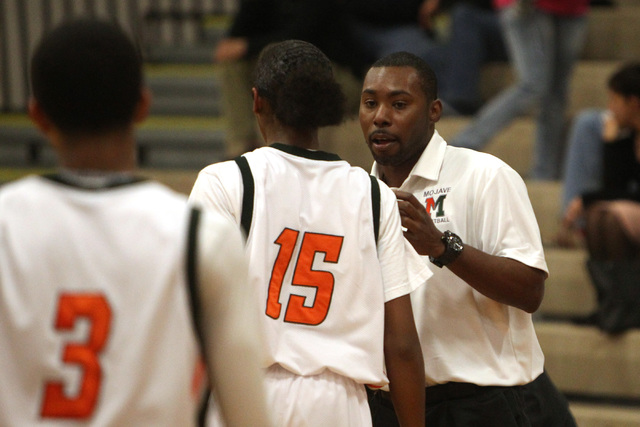 Colin Darfour guided Clark's boys basketball team to the Class 4A state title game in his only season as the Chargers' coach.
That's right. Only season.
Darfour, 34, confirmed he was fired during a meeting with school administrators last week, a move that remains confounding, even after a weekend of reflection.
"I'm extremely surprised and taken aback by the developments that have gone on," Darfour said. "I wish I had a crystal ball and I could find out exactly what it was so I can shield myself against it in the future. But at this time, it's just speculation."
A voice mail message left Tuesday morning with Clark assistant principal Gena Reagh was not returned.
Clark, which featured one senior among its top seven scorers, finished 27-5 under Darfour with three of the losses coming against Bishop Gorman.
The Chargers ended Gorman's 75-game winning streak against Nevada Interscholastic Activities Association opponents with a 68-62 road win on Jan. 31 and nearly upset nationally ranked Chino Hills (California) in December.
"Every team we lost to was an extremely high-level basketball team, and we did this with one of the youngest rosters in the city," Darfour said. "I was blessed and fortunate to coach one of the most talented groups of players that this city can put together. It was an awesome ride. Now, were there some difficulties along the way? Absolutely. But that's just how life is."
In the Class 4A title game last month, Clark let an eight-point lead slip away in the final 1:40 and lost 62-58 to Gorman. Darfour said he doesn't believe that result played into the school's decision.
"I think we had a spectacular season, and I think that was clear to everyone," Darfour said. "I don't think it was 90 seconds that dictated my future."
Darfour, a Vo-Tech graduate and former UNLV player, went 67-65 in five seasons at Mojave before being hired at Clark in June. He said he is open to coaching next season.
Former Clark coach Chad Beeten resigned this month at Crossroads (California) and is expected to be a candidate for the opening.
"I just want to thank the players that I got to coach and was fortunate enough to be around. They're an awesome group," Darfour said. "I'll always have fond memories of coaching and teaching at Clark."
THOMAS EARNS GATORADE HONOR
Centennial's Samantha Thomas was named the Gatorade Nevada Girls Basketball Player of the Year.
Thomas, who signed with Arizona, averaged 16.1 points, 6.2 rebounds and 3.1 assists in leading the Bulldogs to a third consecutive state championship.
She had 19 points, six rebounds and five assists in Centennial's 97-52 victory over Bishop Manogue in the state final.
Thomas is the fourth player from Centennial to win the award, joining Jada Brown (2012), Alexis Byrd (2010) and Italee Lucas (2007).
BASIC IN RANKINGS
Basic's baseball team is ranked No. 12 in the USA Today Super 25 preseason poll that was released Tuesday.
The Wolves return six starters from the team that won the Division I (now Class 4A) state title and are off to a 4-0 start this season.
Contact reporter David Schoen at dschoen@reviewjournal.com or 702-387-5203. Follow @DavidSchoenLVRJ on Twitter.
COLIN DARFOUR COACHING RECORD
(Team Record Postseason result)
— Clark 27-54 A state final
— Mojave 14-10
— Mojave 17-9 3A Southern Region quarterfinals
— Mojave 15-14 3A Southern Region semifinals
— Mojave 16-11 3A Southern Region semifinals
— Mojave 5-21
— Total 94-70
Complete coverage of high school sports