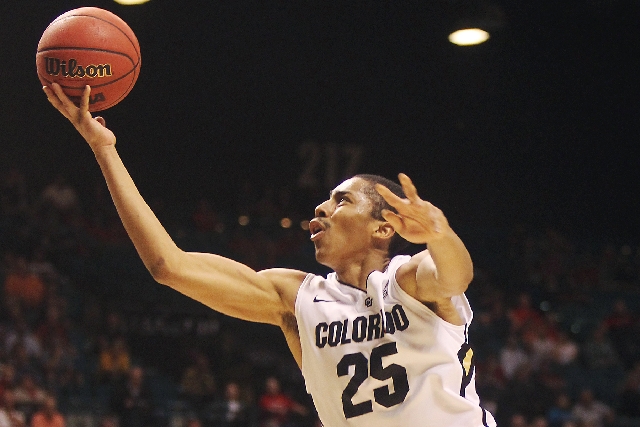 Last year it took four wins in four days. This year, Colorado's road to the NCAA Tournament might not be so rocky.
The fifth-seeded Buffaloes took their first step toward their second straight NCAA berth with a 74-68 victory over 12th-seeded Oregon State on Wednesday in the Pacific 12 Conference tournament at the MGM Grand Garden. Colorado will play fourth-seeded Arizona at 2:30 p.m. today in the quarterfinals.
The Buffaloes needed to win the Pac-12 tournament last year in Los Angeles to reach the NCAA field with the conference's automatic berth. They did so impressively and followed it up with a victory over UNLV in the first round of the NCAA Tournament.
Entering this year's Pac-12 tournament, Colorado was projected to make the 68-team field. That won't change after the victory over Oregon State, even though it wasn't a thing of beauty.
"Sometimes in tournament basketball you've got to win ugly," Buffs coach Tad Boyle said, "and today we didn't have our best offensive game. But our game is predicated on defensive rebounding, and the reason it is is for games like this."
The game was the second between the teams in five days. On Saturday in Boulder, Colo., the Beavers defeated Colorado, 64-58.
The Buffaloes played that game without their best defensive player, Andre Roberson, who had mononucleosis. But he was back Wednesday, getting 12 points and seven rebounds and giving Colorado a lift emotionally.
"He was a little rusty, but in terms of his defense, he helped change the game," Boyle said. "Andre brings a lot to our team, no question about it."
Colorado (21-10) shot 39 percent from the field but held a 43-30 rebounding edge over Oregon State (14-18). Sophomore Spencer Dinwiddie hit 9 of 11 free throws and led Colorado with 20 points.
Dinwiddie gave the team a lift at the halftime buzzer when his half-court heave caught nothing but net and gave the Buffs a 32-26 lead.
"I think it gave us momentum," Dinwiddie said. "We had given up a couple of leads, and that shot is something we always shoot at the end of practice."
The Beavers shot poorly, going 7 of 25 on 3-point attempts. The closest they got was 72-68 with eight seconds left.
Colorado and Arizona split their two regular-season meetings. A controversial call at the end of regulation cost the Buffs a chance to win in Tucson — officials ruled that time had expired before a shot attempt that went in and would have given them a victory — and they lost in overtime, 92-83.
"We don't cry over spilled milk," Dinwiddie said. "We know it goes into the record book as a loss. But we feel like we're 2-0."
In other first-round games:
— Freshman guard Jahii Carson scored five of his 34 points in overtime, and senior swingman Carrick Felix had 19 points and 12 rebounds to lead ninth-seeded Arizona State to an 89-88 overtime win over eighth-seeded Stanford.
The Sun Devils (21-11) led by six with about two minutes left in regulation, but the Cardinal (18-14) tied the score at 79 on Aaron Bright's four-point play with 38 seconds left. Bright totaled 27 points.
Carson, who missed a 3-pointer at the end of regulation, put Arizona State up three with a layup in overtime, and Evan Gordon hit 5 of 6 free throws to send the Sun Devils into the quarterfinals against No. 21 UCLA at 12:06 p.m. today.
"We definitely knew what was at stake in the locker room," Felix said. "We had to get back to what we were doing at the beginning of the season — each and every one brought their own individual energy."
— Jarred DuBois scored 22 points, and 10th-seeded Utah held on for a 69-66 win over seventh-seeded Southern California.
The Utes (14-17) will play second-seeded California at 6 p.m. today in the quarterfinals.
Omar Oraby scored 18 points for USC (14-18). The Trojans pulled within 62-61 with 2:57 left after trailing 60-47 with 8:31 remaining.
— Desmond Simmons' layup with 1:16 remaining broke a 62-all tie and gave No. 6 seed Washington a 64-62 victory over No. 11 Washington State after the Huskies had blown a 19-point second-half lead.
Washington (18-14), which plays No. 3 Oregon at 8:30 p.m. today, was led by Scott Suggs' 19 points and Abdul Gaddy's 11 assists.
The 11th-seeded Cougars (13-19) were led by Brock Motum's 28 points.
Contact reporter Steve Carp at scarp@reviewjournal.com or 702-387-2913. Follow him on Twitter: @stevecarprj.