Cougars' 2 late layups provide lead, seal victory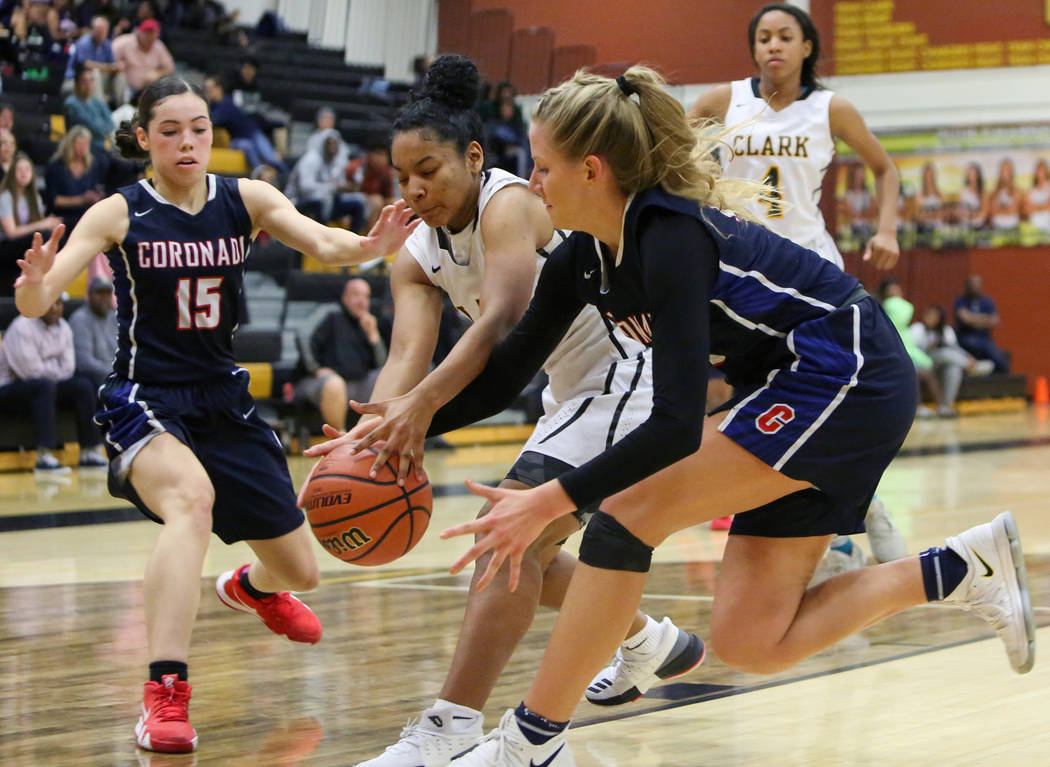 Coronado girls basketball coach Bill Crego is still determining his team's identity. But he feels like he's on the right track.
"We're a poor shooting team so far," Crego conceded. "We've got to get layups."
Worked for the Cougars on Monday night.
Coronado senior forward Haley Morton made an uncontested layup with 53 seconds left in the fourth quarter to break a 51-all tie and help the Cougars score a 55-52 victory over host Clark.
"We're figuring out how to work better together," Morton said. "I think we really pulled through in this game."
That they did.
The Chargers set the tone in the first half with their 1-2-2 and 2-2-1 trapping zone defenses, forcing the Cougars into 15 turnovers en route to a 32-26 halftime lead. But Coronado adjusted in the second half and relied on patience, ball movement and spirited man-to-man defense to chip away at Clark's lead.
"We just tried to stop them from driving, and we climbed back in it," Crego said. "That's been every game so far, we've been climbing back into the game. … We finally made it."
The teams traded baskets for most of the fourth quarter, and Dallas Balanay-Flores found Morton for the go-ahead basket after a steal in the backcourt. The Chargers (0-1) had several opportunities to retie the game or take the lead down the stretch, but open 3-point attempts rimmed out and layup attempts were denied near the rim.
Sade Williams made the game-clinching layup in transition with five seconds left, triggering a celebration for the Cougars, who made two 3-pointers.
"The energy was way better in the second half," said Morton, who finished with 14 points. "We were hustling back on defense, too."
Gabbie Etopio scored a team-high 15 points for Coronado and Tia Thornton scored 10. Marieka Dent had 15 points for Clark.
Contact reporter Sam Gordon at sgordon@reviewjournal.com. Follow @BySamGordon on Twitter.