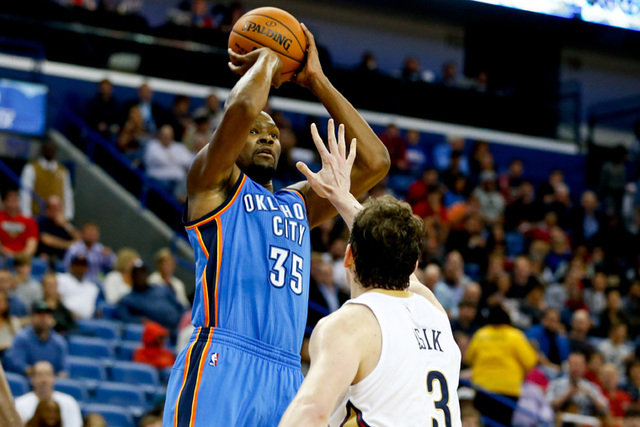 NEW ORLEANS — The NBA season finally has begun for reigning MVP Kevin Durant — seven weeks late — but the league's top scorer last season made no excuses for the New Orleans Pelicans' 112-104 victory over the Oklahoma City Thunder Tuesday night at the Smoothie King Center.
Durant played 30 minutes and scored a team-high 27 points on 9-of-18 shooting, but his much-anticipated return from a broken right foot wasn't enough to produce a win on the first game of the Thunder's three-game road trip.
"To get back to midseason form like I want to be is going to take some time, but no excuses for me," said Durant, who ran the floor smoothly but whose playing time was closely monitored by coach Scott Brooks. "I'm out there and I've got to play as hard as I can, no matter what. I've got to go out there and be the best leader and player I can be."
Even with the Thunder (5-13) back at full strength with Durant and guard Russell Westbrook, the Pelicans broke open the game with a 40-26 second quarter, built a 19-point lead and coasted to the win, snapping a three-game losing streak.
Guard Tyreke Evans scored 15 consecutive fourth-quarter points on his way to a season-high 30, and forward Anthony Davis added another monster stat line — 25 points, 10 rebounds, six steals and four blocks — to make the difference.
Forward Ryan Anderson added 23 points off the bench for New Orleans.
With the Pelicans leading 92-85 with 8:59 left, Evans took over the game — driving the ball to the basket for six consecutive layups and then climaxing the run by hitting a 15-foot jumper, giving New Orleans a 107-93 lead.
"I just wanted to be in control and not force anything," said Evans, who committed six turnovers but atoned for that by shooting 14-of-24 from the field. "If they helped, I wanted to look for my teammates. I was just in a zone where I felt like I could get to the basket, to the rim and nobody was going to stop me, so I just kept attacking. Coach ran plays for me and I was finishing at the basket."
Westbrook, in his second game back after missing 14 games with a broken right hand, scored 21 points but finished 6-for-20 from the floor after being well-defended by Pelicans guard Jrue Holiday. In the locker room after the game, Westbrook discussed with Durant the tape job on his right hand, saying it led to some sloppy ball-handling. He committed seven turnovers.
Brooks said he was most displeased with the Thunder's lackluster defense in the Pelicans' 40-point second quarter, which led to a 69-52 halftime deficit.
"We didn't defend, we didn't take care of the basketball," Brooks said. "They got to the free throw line 25 times (in the first half). They got into the paint. It's about playing with a physical presence. It's about playing with toughness, and we didn't do that."
New Orleans (8-8) led 82-64 with 2:30 left in the third quarter, but the Thunder (5-13) used a 10-3 spurt — with guards Reggie Jackson and Jeremy Lamb scoring four points each — to end the quarter and pull within 85-74.
The Thunder closed the gap to 90-85 with 9:24 left on a 3-pointer by Lamb, but the Pelicans scored the next 10 points — all on layups, four by Evans and the other by guard Jrue Holiday — to take command, 100-85.
Davis was a force on both ends, scoring 21 of his 25 points in the first half. In the fourth quarter, when the Pelicans put the game away, he and Evans consistently broke down the Thunder's defense with the high pick and roll.
"You knew a team like that would make a push, but Tyreke came through big for us during their run and gave us some great support offensively," Davis said.
"We played extremely hard tonight," said New Orleans coach Monty Williams. "That is something we haven't seen consistently, playing hard for 48 minutes."
Durant said he simply needs to get more games under his belt to fully recover his conditioning. But he looked across the court and marveled at Davis' early-season play.
"A player like that, you just got to let him be great," Durant said. "Just watch the greatness, because he's getting better every single day — and just enjoy it. Sometimes you might take it for granted down the line, but just enjoy what you're watching, because he's a special player."
NOTES: Thunder coach Scott Brooks said he continued to be stunned that G Russell Westbrook scored 32 points and had eight assists in just 24 minutes in a 105-78 victory over the Knicks last Friday after missing 14 games with a broken right hand. "It's crazy that he did it," Brooks said. "What Russell did in the first game is obviously incredible, borderline phenomenal." … Pelicans coach Monty Williams said the rest of the NBA must be on edge with a healthy Durant returning to the Thunder lineup. "Nobody stops Kevin Durant," he said. "He is an all-world player."